AM/FM Radio Is America's #1 Mass Reach Media: Here's Why It Matters
According to a new Nielsen study of 500 advertising campaigns, reach is the number one media sales driver
Byron Sharp, widely followed author of "How Brands Grow," says advertisers need broad reach to get new customers
Agencies and brands incorrectly perceive radio's weekly reach to be 62% versus Nielsen's 93% reality
The radio industry needs to do a better job marketing its strengths by using its airwaves to promote to advertisers
Quarter after quarter, Nielsen's Total Audience Report reveals AM/FM radio is America's number one mass reach media. It's bigger than social, bigger than TV, and bigger than smartphones. Why is this important to advertisers?
A major new study and an influential marketing book widely read among CMOs and brand managers explain why reach is so important to building brands and growing sales.
Reach is the #1 media sales driver
At the June 2017 Advertising Research Foundation conference, Nielsen unveiled a massive ROI study of nearly 500 different advertising campaigns. Here are the factors that move the sales needle most: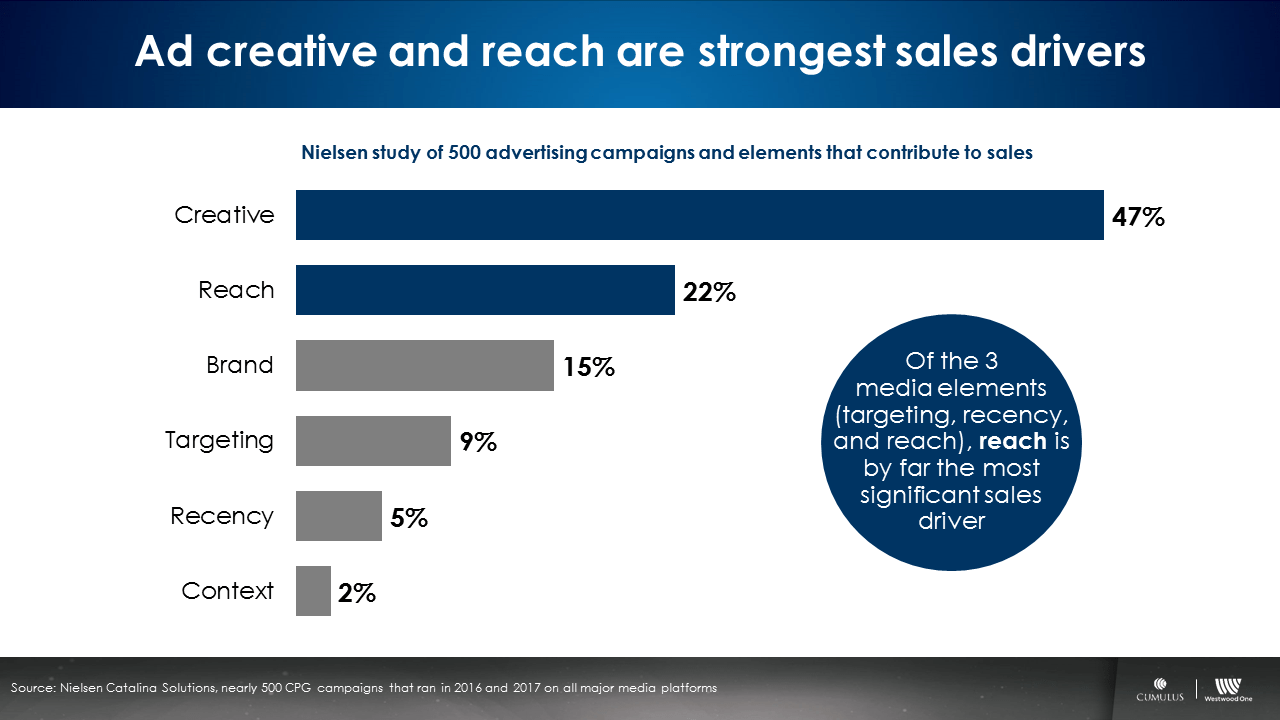 The two biggest sales drivers are ad creative and reach. Nielsen's conclusion is to grow sales, you have to reach a lot of people. Reach beats targeting as well as recency (hitting consumers just as they consider a purchase).
There has been a lot of excitement in marketing circles about data-driven targeting. Using purchase data to find the right audience certainly plays a role in driving sales. That's why Westwood One became the first audio company in the U.S. to sign on to the Nielsen Marketing Cloud, a treasure trove of purchase data connecting to over-the-air radio listening.
Targeting is certainly a ROI lever, yet reach's significance as a sales driver is almost two and a half times greater.
Byron Sharp's "How Brands Grow:" you need broad reach to get new customers
The hot marketing book among the world's most admired brands is How Brands Grow by Byron Sharp. According to Ad Age, "At its heart, How Brands Grow is about recognizing that a brand's consumers come and go, so winning means winning more often and that requires broad reach."
Ad Age notes Sharp's core premise is, "Mass marketing is alive and well: Churn in a brand's consumer base is inevitable. So it's important to have broad and frequent reach. The unavoidable turnover among customers makes increasing household penetration crucial."
Unilever Chief Marketing and Communications Officer Keith Weed states, "If you get too targeted, you reinforce people who love your brands to use more. There are only so many cups of tea you can drink in a day."
Perception and reality: brands and agencies have the wrong idea about radio's reach
While reach is the new black thanks to Nielsen ROI studies and Byron Sharp's influential work, there is still a problem. Advertisers horribly underestimate AM/FM radio's reach.
In a just released Advertiser Perceptions study of 316 agency and media decisions makers, AM/FM radio's weekly reach is estimated to be just 62%. That hasn't changed since 2015 when a similar Advertiser Perceptions study conducted revealed radio's perceived reach to also be 62%.
The reality? Nielsen says AM/FM radio's actual weekly reach is 93% of all Americans.
Brands and agencies even have the wrong idea about TV use
Marketers and their agencies even have flawed perceptions when it comes to American TV use. An Advertiser Perceptions study for the Video Advertising Bureau found, "Media agency executives and marketers underestimate how much time Americans spend watching TV because their own media habits are different."
Broadcasting & Cable reports, "Media buyers are younger, more affluent, urban, male, career-oriented and tech-centric than the general population and spend more time on the internet and other emerging platforms."
AM/FM radio should market to advertisers
EVP of Corporate Marketing for Cumulus and Westwood One President Suzanne Grimes has called for broadcasters to use their own airwaves and harness the massive reach of American AM/FM radio stations to better tell radio's story to advertisers.
In summary:
According to a new Nielsen study of 500 advertising campaigns, reach is the number one media sales driver
Byron Sharp, widely followed author of "How Brands Grow," says advertisers need broad reach to get new customers
Agencies and brands incorrectly perceive radio's weekly reach to be 62% versus Nielsen's 93% reality
The radio industry needs to do a better job marketing its strengths by using its airwaves to promote to advertisers
Radio's stunning reach is both our strongest asset and best kept secret among advertisers. Given the proven importance of reach to sales lift, the industry needs to do a better job of touting its impressive reach to advertisers and agencies.
Pierre Bouvard is Chief Insights Officer at Cumulus | Westwood One.
Contact the Insights team at CorpMarketing@westwoodone.com.