As Search Costs Increase, AM/FM Radio Is A Smart Way To Grow Customers
Paid search costs are exploding
Traditional media has stronger ROI than search and social
Search and social impact drop when traditional media is reduced
AM/FM radio generates strong increases in customers, digital impact, and impressive ROI
Allocating 20% of a digital budget to AM/FM radio produces significant reach growth and greater brand impact
Paid search costs are exploding. A just released MoffettNathanson report on the online travel industry reveals marketing costs (as a percent of revenue) are soaring. They are up 26% for Expedia, 17% for Priceline, and a whopping 95% for TripAdvisor.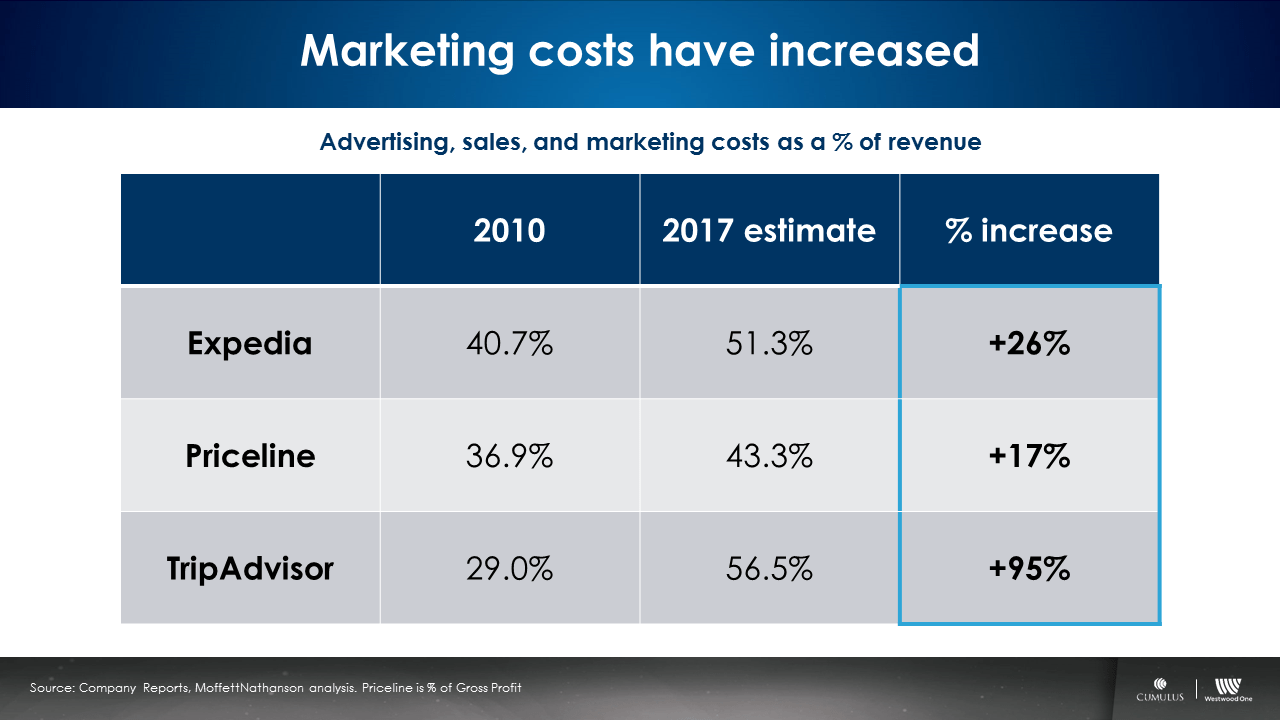 What's behind the marketing cost surge? MoffettNathanson explains that more of Google's search results are yielding paid links. They also cite "the shift towards mobile where travel search results on smaller screens yield only paid search links above the fold."
MoffettNathanson notes that new players in the market (Airbnb, trivago) make it harder for existing travel players to "win the third or fourth paid search slots for certain travel keyword auctions."
A pair of new studies from Neustar and Accenture reveal:
Traditional media generates stronger brand ROI versus social, short-form digital, and search. Neustar found, "TV advertising consistently outperformed other options over the seven-year period examined from 2010 – 2016 with up to seven times the relative lift over paid search, and five times better than display advertising."
A reduction in traditional media causes search and social ROI to drop. Accenture found "reducing TV investment results in -27% loss in search ROI or -22% loss in social ROI."
A little digital goes a long way. According to Accenture, "short-form and social reach saturation at low investment levels."
AM/FM radio solves search's price inflation crisis. Nielsen ROI studies reveal AM/FM radio drives powerful ROI and massive growth in customers.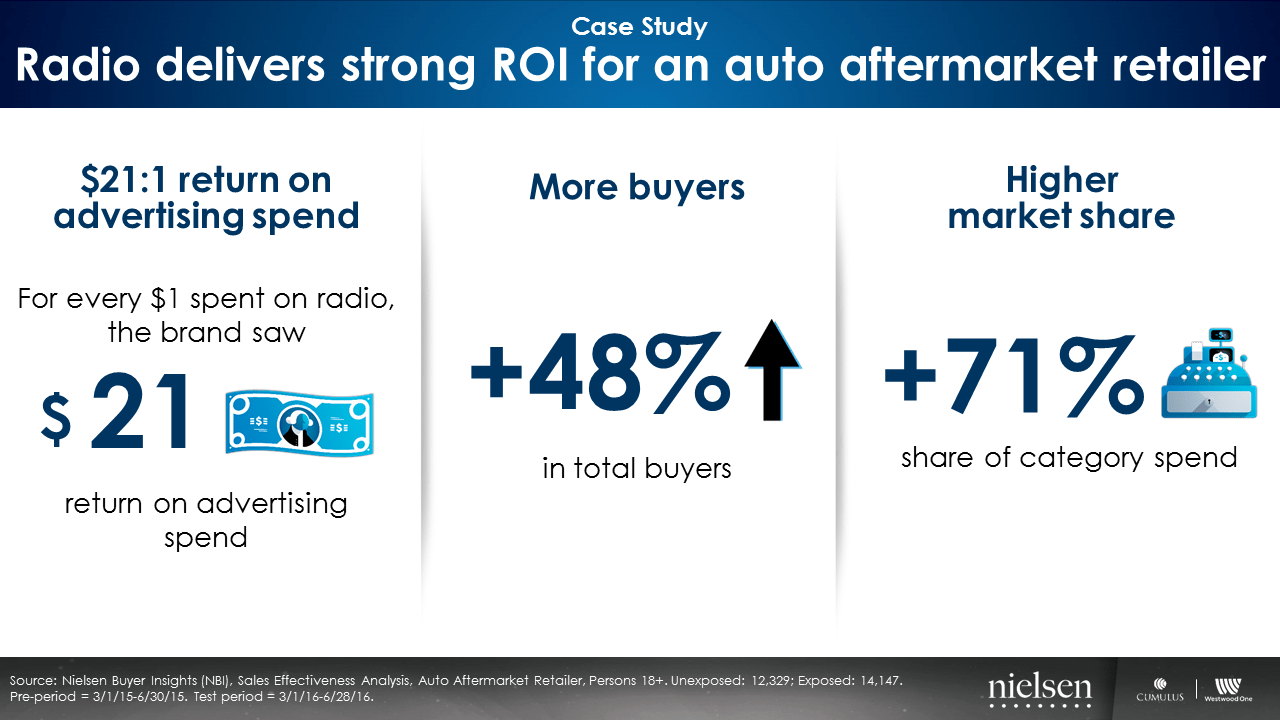 AM/FM radio grows retail customers. Nielsen found a radio campaign for an auto aftermarket retailer resulted in a stunning 48% increase in buyers, a 71% growth in market share, and for every dollar of radio advertising, the retailer generated $21 in sales.
The same study found that the AM/FM radio campaign generated an astonishing 64% increase in new customers. AM/FM radio advertising is a new customer machine.
Check out these studies. It's clear AM/FM radio advertising creates digital impact:
A major motorcycle brand's radio campaign led to a 33% increase in website visitation
Amazon's radio ads had the highest sales conversion of all media
Among those reached 3+ times by a radio campaign, half visited the website of a major home improvement retailer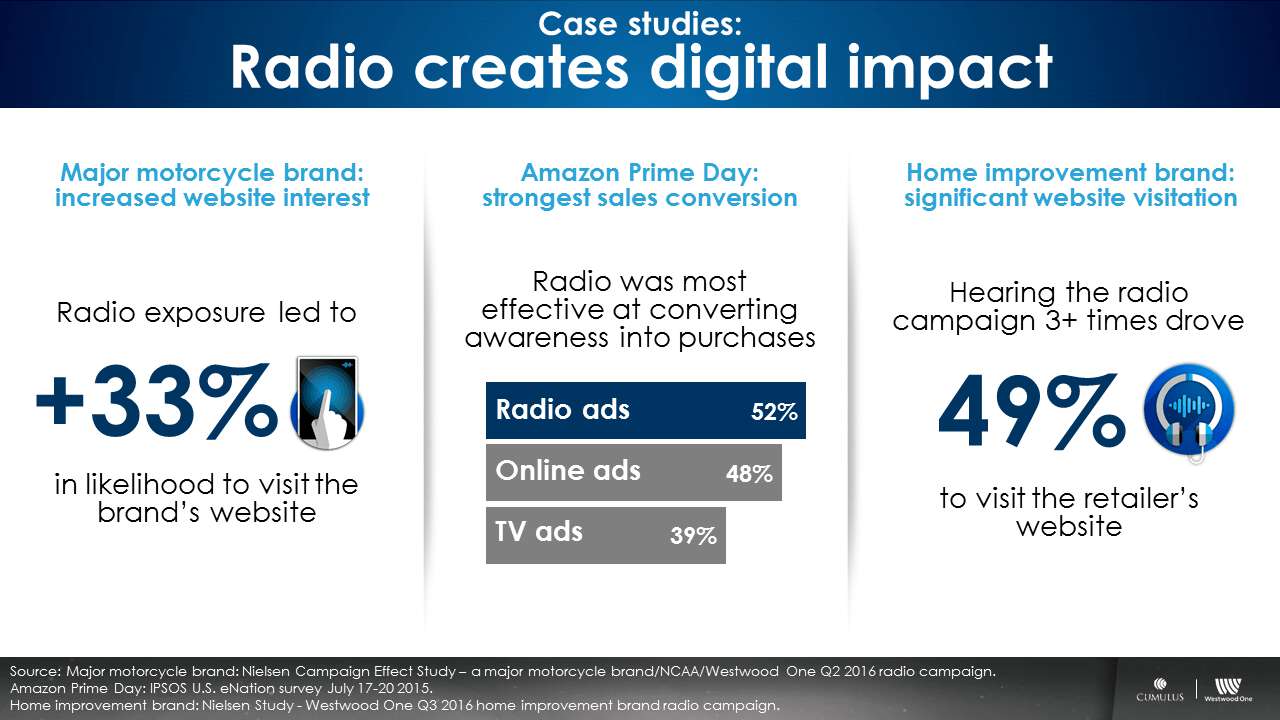 Allocating 20% of a digital budget to AM/FM radio results in a 29% increase in campaign reach and greater brand impact. A $2M digital campaign generates 45% reach. Redistributing $400,000 (20%) of the digital budget to AM/FM radio increases total campaign reach from 45% to 58%. This reach growth creates improvement in brand awareness, consideration, purchase, and brand advocacy.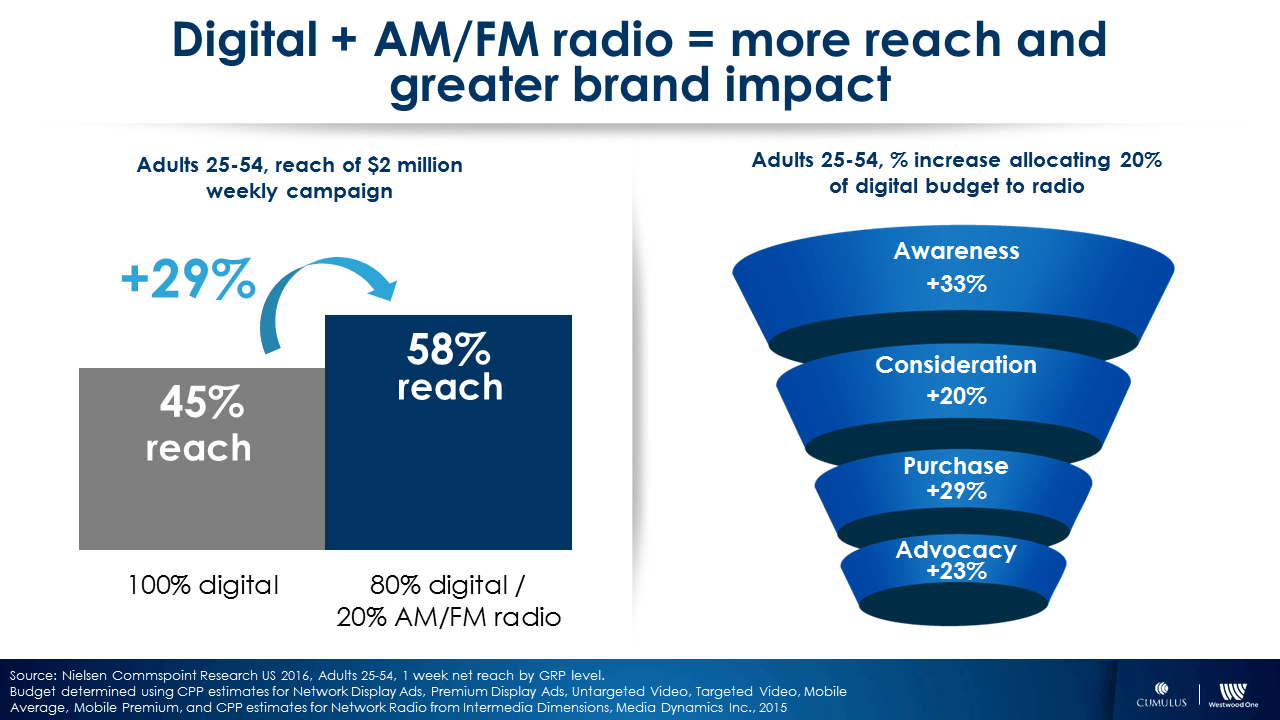 Key takeaways:
Paid search costs are exploding
Traditional media has stronger ROI than search and social
Search and social impact drop when traditional media is reduced
AM/FM radio generates strong increases in customers, digital impact, and impressive ROI
Allocating 20% of a digital budget to AM/FM radio produces significant reach growth and greater brand impact
Though search costs continue to rise, AM/FM radio remains a stable and effective alternative for advertisers looking to make an impact.
Pierre Bouvard is Chief Insights Officer at Cumulus | Westwood One.
Contact the Insights team at CorpMarketing@westwoodone.com.