AM/FM Radio's New ROI Juggernaut: The NextRadio Smartphone Platform
Imagine being able to accompany an over-the-air radio commercial with an interactive ad on a mobile app that provides store directions and information about the retailer. What if that app could generate data to prove if the consumer went to the retailer? Now, imagine being able to provide a profile of consumers who visited the store as a result of the campaign.
Sound far-fetched? The future is here.
Welcome to NextRadio, a smartphone radio app with a powerful data layer that "closes the loop" between radio advertising exposure and store visitation, proving AM/FM radio advertising ROI.
Westwood One, America's largest radio network, is rolling out NextRadio as the first interactive audience measurement tool for over-the-air FM radio advertising campaigns. Westwood One's NextRadio solution will deliver consumer insights and intelligence that optimizes campaigns and proves ROI to national advertisers.
Suzanne Grimes, EVP, Corporate Marketing, Cumulus Media and President Westwood One says, "NextRadio enables the interaction of broadcast radio and brand content on your smartphone. This capability is now a reality for a quarter of a billion Westwood One listeners who get more control over their experience, while advertisers get massive and actionable insights and results. In addition, NextRadio's collaboration with industry partners, including Nielsen, further validates this alliance as transformative for our business."
Paul Brenner, President of NextRadio notes, "The ability to quantify and prove ad exposure and retail visitation provides hard evidence of radio's impact, and is an undeniable competitive advantage for Westwood One. Through this alliance, our rich consumer data is now available for a mass audience reach, allowing us to connect with larger brands and drive new business opportunities through Westwood One's innovative advertiser solutions."
Two and a half million Americans use the NextRadio app to listen to over-the-air FM radio via the FM chip found in millions of smartphones. Soon the NextRadio platform will dramatically expand its consumer reach with new streaming functionality.
NextRadio interactive companion ads
Here are a few examples of the beautiful companion ads that fire in the app and sync to over-the-air radio ads. Consumers can enter contests like the Demi Lovato flyaway promotion, book at room at Starwood's hip Aloft hotel chain, or engage with Allstate's iconic Mr. Mayhem personality.
Major retailer generates powerful impact and verified store traffic
In May, Westwood One ran a NextRadio campaign for a major retailer. The interactive schedule aired on 250 NextRadio affiliates in 119 markets. NextRadio's "Dial Report," a real-time attribution dashboard that depicts campaign ROI metrics, generated these key findings: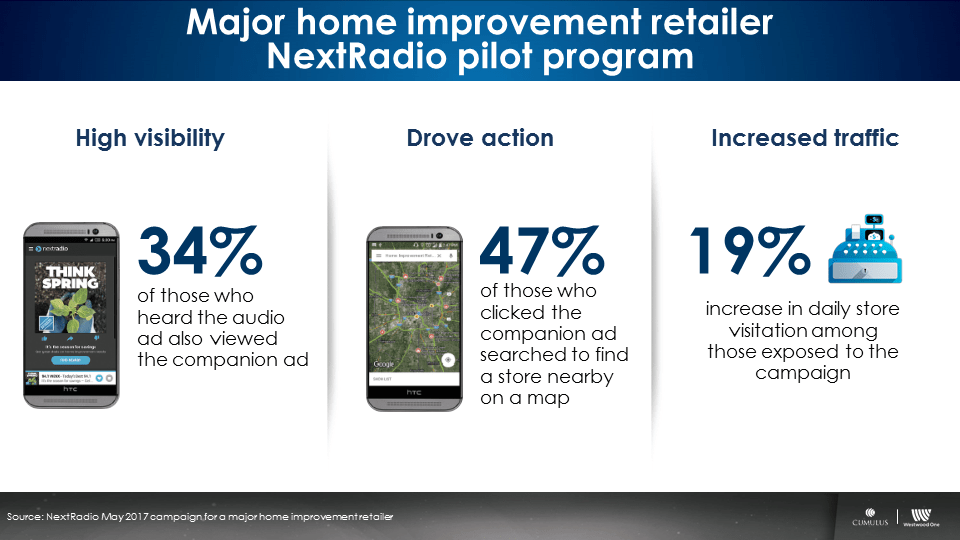 High visibility: 34% of those who heard the radio ad viewed the companion ad.
Drove action: 47% of those who clicked the companion ad searched to find a store nearby on a map.
Increased store traffic: There was a 19% increase in daily store visitation among those exposed to the campaign.
Visitor profile aligns with retailer's customer: Consumers exposed to the campaign and who visited the store were older and more upscale, matching the retailer's customer profile.
NextRadio brings together two of the most powerful media platforms: the smartphone and America's number one mass reach media, AM/FM radio.
Westwood One is excited to be the first American radio network to embrace this powerful interactive platform and offer brands and agencies NextRadio mobile advertising solutions and ROI measurement.
Pierre Bouvard is Chief Insights Officer at Cumulus | Westwood One.
Contact the Insights team at CorpMarketing@westwoodone.com.