Nielsen Launches First-Ever Audio Data Management Platform With Westwood One As A Charter Client
Westwood One is the first radio company to launch a data management platform with the Nielsen Marketing Cloud.
Today, we are putting the power in the hands of brands. Utilizing purchase data we can now target real customers through America's #1 mass reach medium, AM/FM radio.
Suzanne Grimes, EVP, Corporate Marketing, Cumulus Media, and President, Westwood One says, "Purchase-based marketing is now a long-awaited reality for our advertisers, and proudly a first-mover advantage for Westwood One. Radio now offers specificity of audience alongside the biggest reach in media."
Damian Garbaccio, EVP, Commercial – Nielsen Marketing Cloud notes, "Never before have radio audiences been linked to such a rich source of actual purchase data across industries—something Nielsen is uniquely equipped to do. The Nielsen DMP has the data, analytics and reporting advertisers need to understand and act on incredibly deep consumer insights."
Nielsen's Marketing Cloud directly connects radio listening with purchase data
For the first time in the history of radio, over the air AM/FM radio listening is now directly connected with consumer purchase data. Nielsen has placed radio listening from the Portable People meter (and by Fall, the radio diary) into their data management platform.
Westwood One can now target audiences across our networks and programs based on consumer purchasing habits. Purchase targeting gets better return on investment and sales lift compared to traditional age/sex targeting.
As this visual indicates, there is all sorts of amazing data in the Nielsen Marketing Cloud: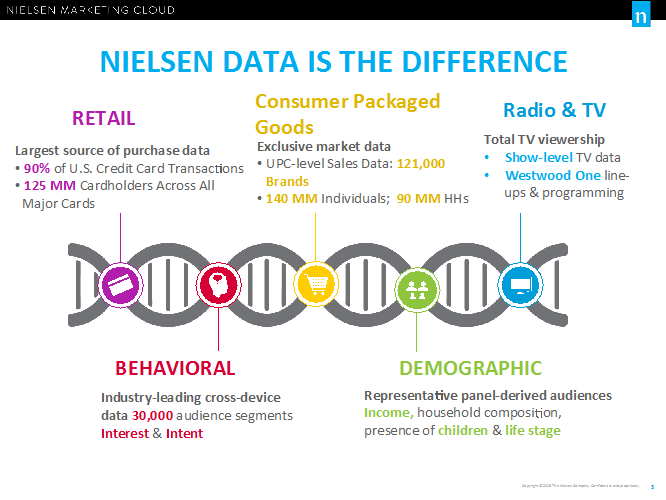 Automotive:
car registrations from JD Power.
Consumer packaged goods: anything you buy in a grocery store or pharmacy. Nielsen Catalina is the leader in CPG sales data harvested from grocery shopper cards that get you store discounts.
Retail: any time you swipe a debit or credit card, most of it ends up in Nielsen Buyer Insights database.
Nielsen radio and TV audience data: all national radio programming formats and all of Westwood One's networks and premium content like the Zach Sang Show, NFL, NCAA March Madness, NHL, etc.
Here's a look at car ownership among heavy radio listeners: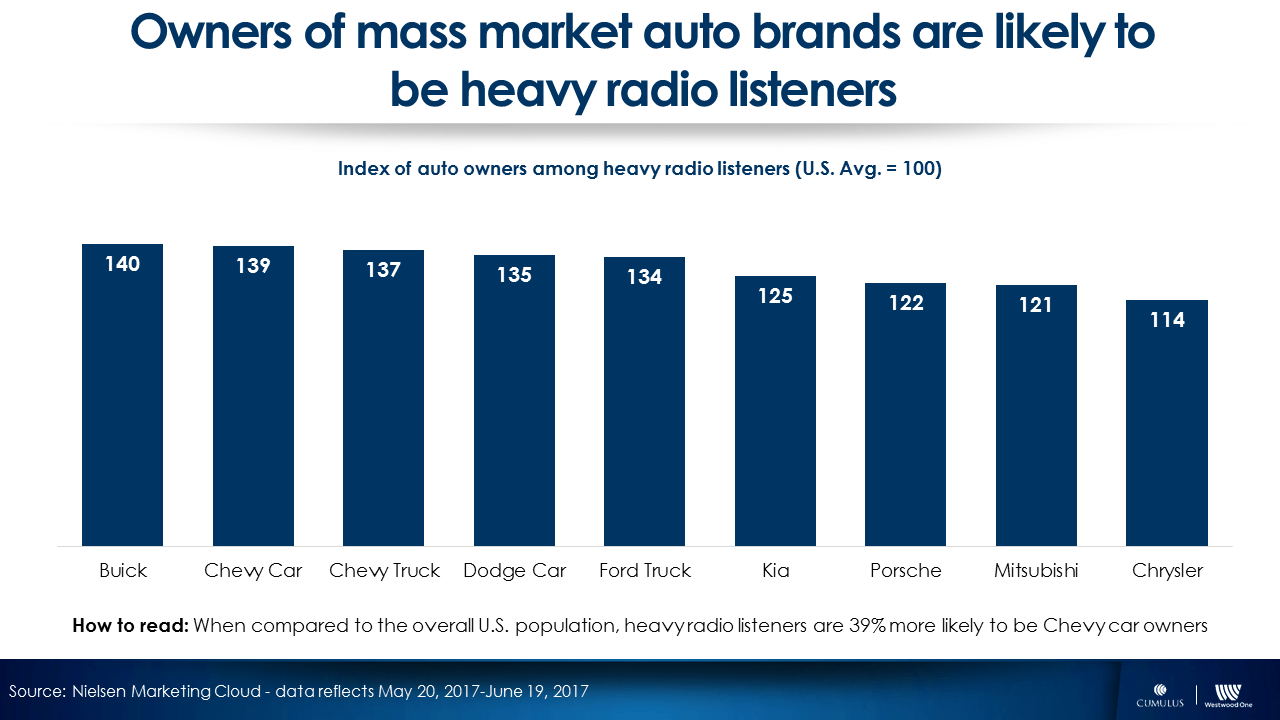 Heavy radio listeners are 39% more likely to be Chevy Car owners.
Here is e-commerce site shopping among heavy radio listeners: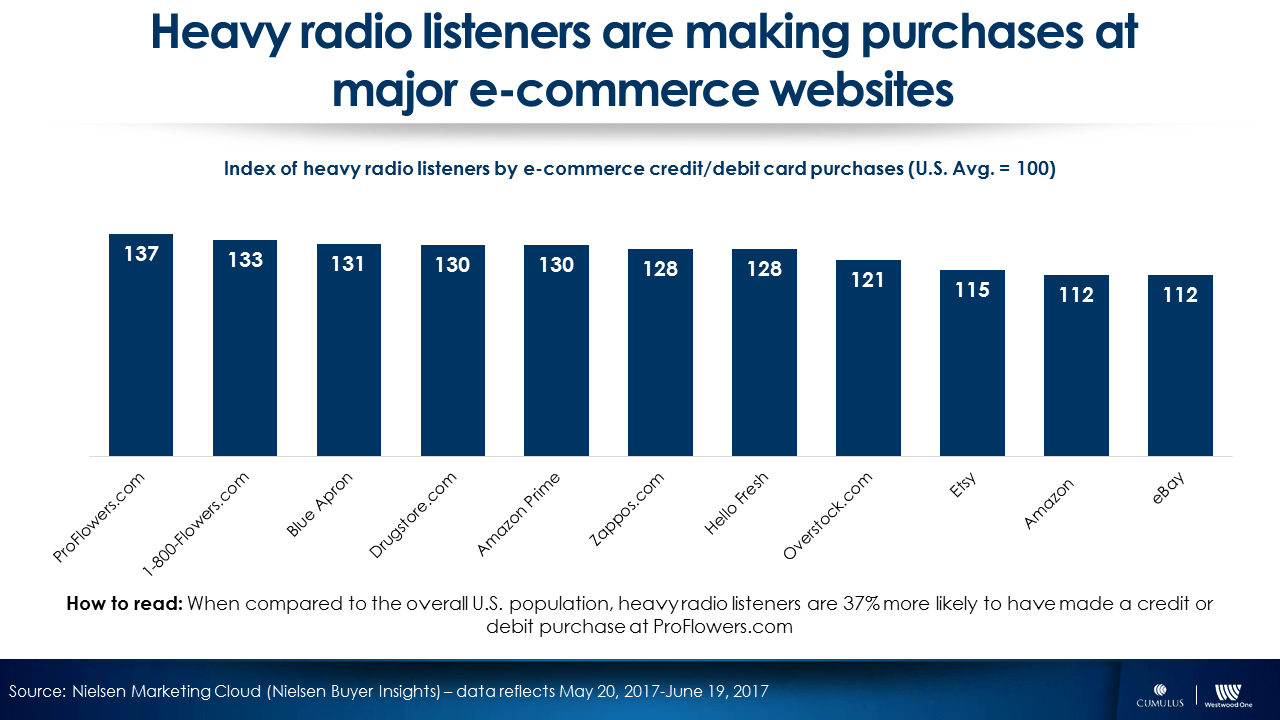 Heavy radio listeners are 37% more likely to use ProFlowers.com.
Here is hotel brand usage among heavy radio listeners: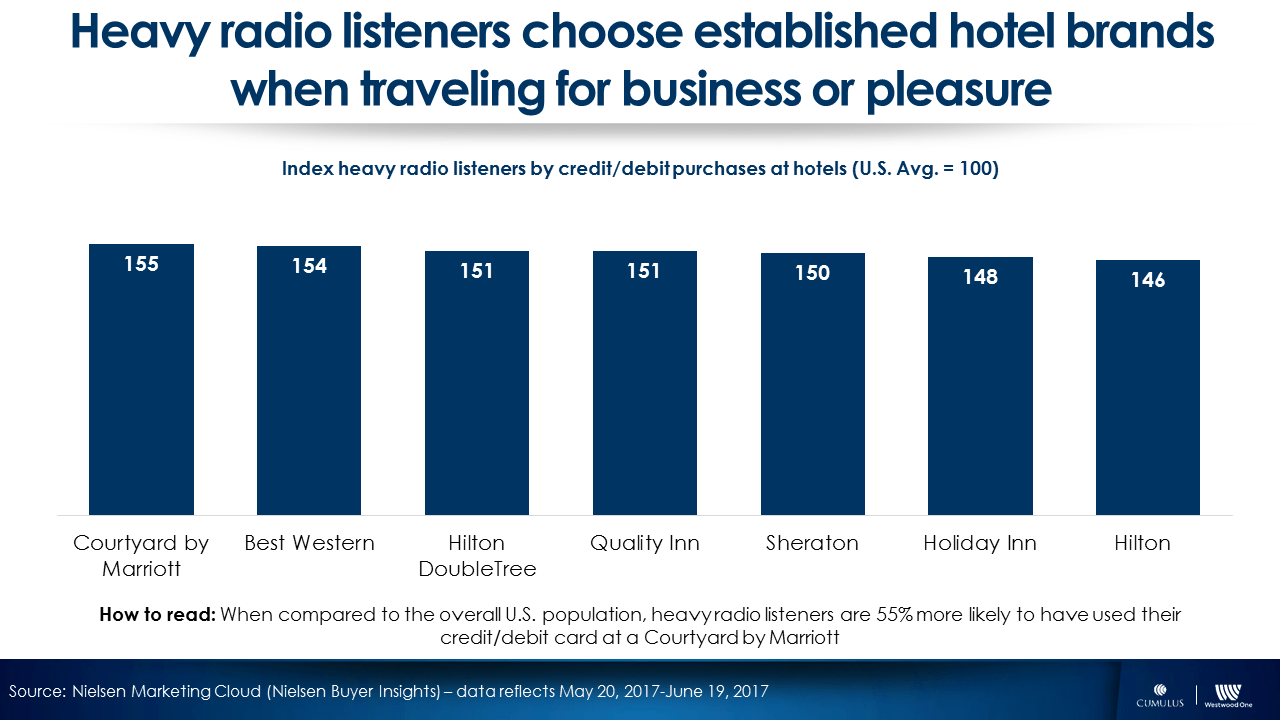 Heavy radio listeners are 55% more likely to be customers of Courtyard by Marriott.
First ever connection between radio listening and consumer packaged goods
Here's something you've never seen. Grocery/pharmacy purchases matched to over the air radio listening.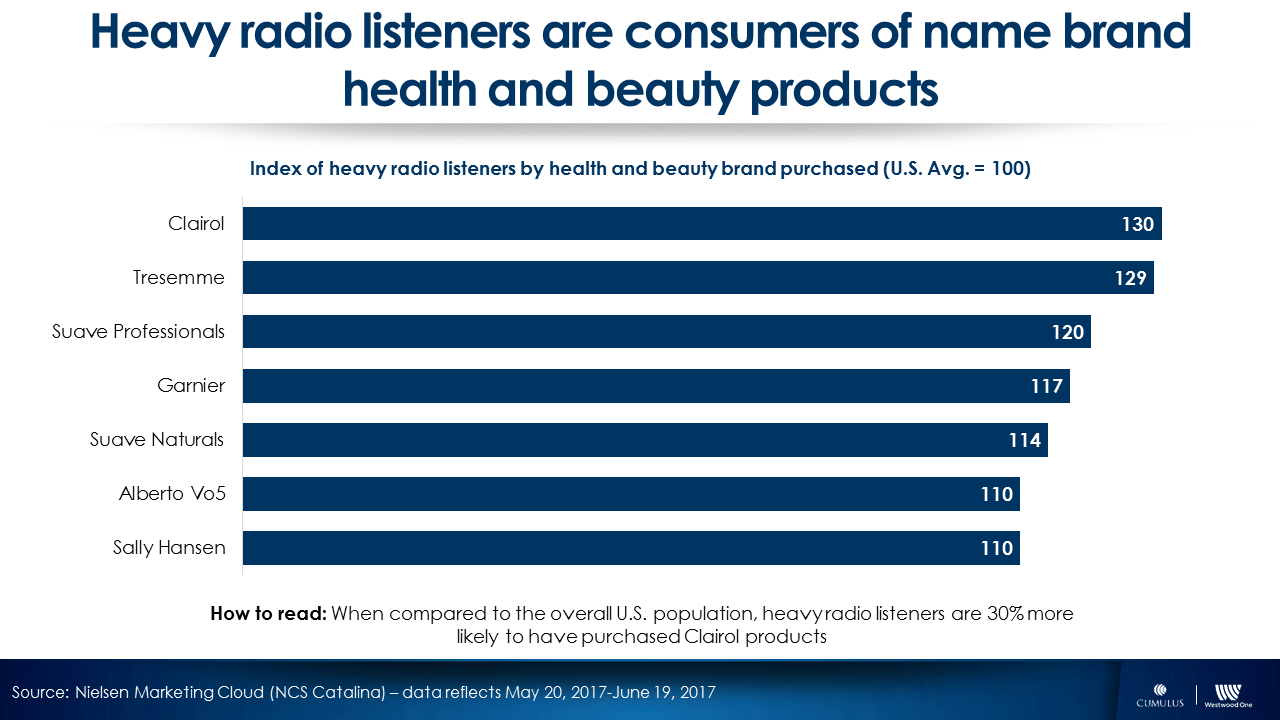 Here's home cleaning product usage among heavy radio listeners: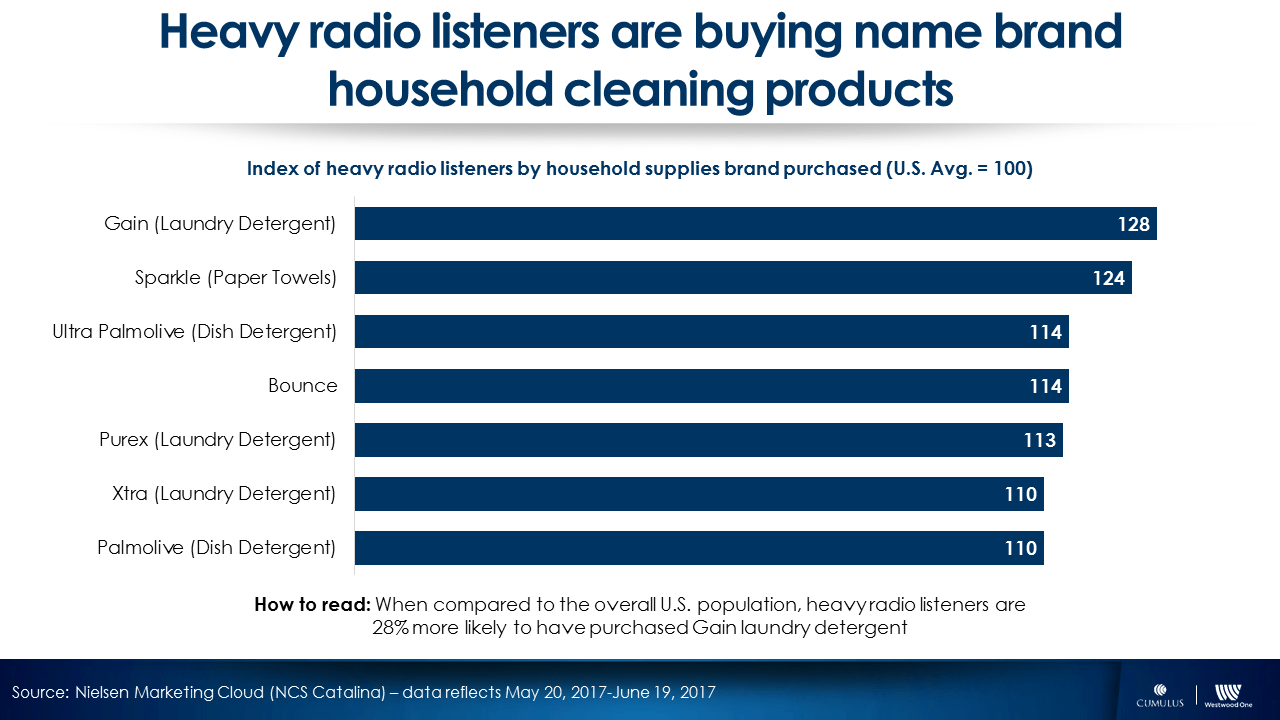 Welcome to the new age of "Mass Targeting" and "Targeted Reach"
As you can see, the sky is the limit on being able to connect radio listening to what people buy and where they shop.
We saw this slide recently at a conference. It is a perfect representation of the marriage of purchase targeting and radio.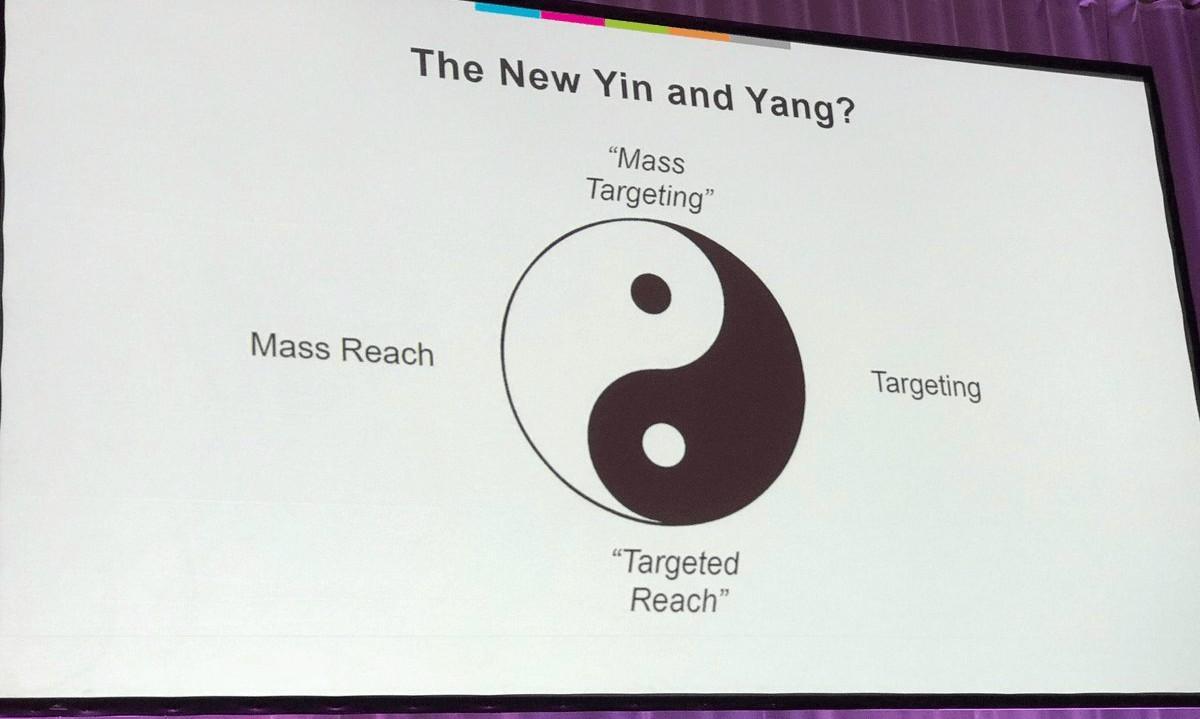 With the Nielsen Marketing Cloud, Westwood One can now bring advertisers the power of targeting via purchase data with the stunning #1 mass reach of American AM/FM radio.
Pierre Bouvard is Chief Insights Officer at Cumulus | Westwood One.
Contact the Insights team at CorpMarketing@westwoodone.com.