Let Us Be More Like Cole Swindell; See Beyond A Tweet, See A Person
I wonder just how much understanding there is in listening more, speaking less.
How much the 'power of now' is a part of each station's social strategy?
Stations tend to pride themselves on how a post or tweet "went viral," but rarely do I hear how radio stations use social to be in the audiences' daily lives with real meaning.
Perhaps we're so infatuated with the word "viral," that we overlook it's the everyday meaningful moments that produce more energy for brands over time.
Everyday moments are what generate real power.
Case in point – Country star, Cole Swindell.
I reached out to Cole's 'people' to ask who exactly is running his Twitter account because the interaction, compassion and acknowledgment are fantastic.
Jacoby Plyler, Digital Marketing Mgr. at KP Entertainment, said, "Honestly, Lori, it's all him. He takes time to sit down and devote a few minutes throughout the day to answer and respond to people.
He truly cares about his fans, and when he sees someone wanting to meet him or couldn't get tickets, he just makes it happen for them. If you see it on Twitter, it's Cole."
Take a look at this small sample of tweets: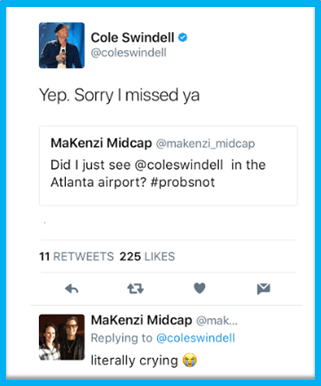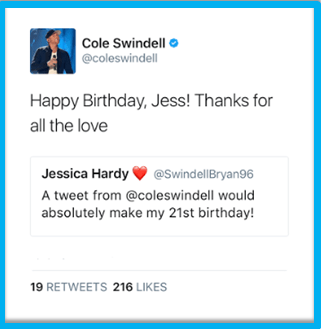 What's awesome is that Cole doesn't make it all about himself. He helps out fans of other artists, too, when he can: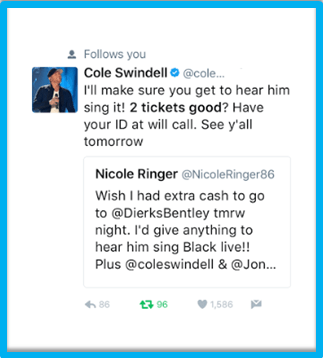 Cole interacts with radio talent, stations and retweets fans – his account is a steady stream of acknowledgment: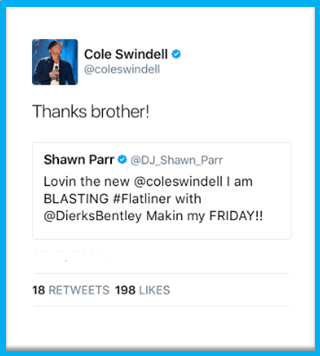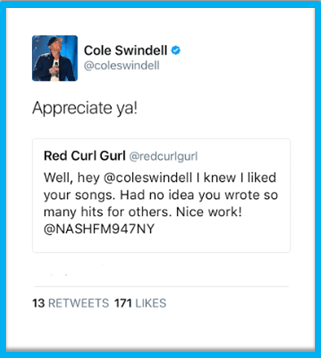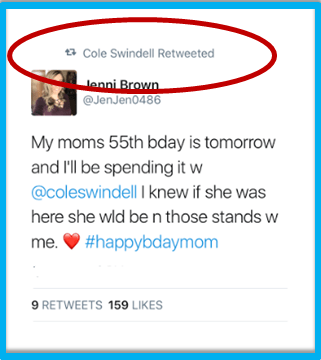 Being in the moment can have a bottom-line effect.
But if we're so busy talking at people, we're not listening. If we're not listening, we're missing opportunity to bolster word of mouth, and increase tune-ins.
Besides revenue and conversion, each station's key performance indicator in the social space should also be the intangible; how we use social each week to remind at least one person they matter.
Make this goal part of the conversation in programming and promotion meetings.
Here's how you get started:
Identify someone you trust that is in tune with the station's image, its voice and fan expectations, and work from that origin.
Appoint this person the 'holy crap' captain (or maybe just the 'do good' captain).
Speak as though tweets and posts are people (because they are).
Believe every person counts and consistently work to earn meaningful exchange with fans.
Let us never forget what radio can do that the pure plays and other juke box type distractors cannot. We have talent – whether live, voice-tracked, or syndicated – that have the opportunity to make fans feel something every day.
People naturally feel closer to what reminds them that they matter.
There's a profound payoff to the intangible exchanges through social. Yet we reap what we sow. And we won't reap loyalty (and listening) if we don't socially invest in the fans.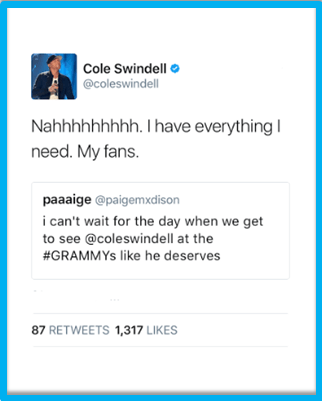 Lori Lewis is Vice President, Social Media at Cumulus | Westwood One.
You can email her anytime at lori.lewis@cumulus.com.