How Much Of Your Ad Budget Does What It's Supposed To?
Media offers advertisers these propositions:
TV: seeing and hearing
Magazines: seeing
Digital video: seeing and hearing
Digital display: seeing
Outdoor: seeing
AM/FM radio: hearing
How does each media perform against their promise?
61% of the time, TV commercial audiences do not see the ads. A new study from the distinguished Council for Research Excellence reveals when TV ads are on, 40% of the time the audience is looking at their phone or tablet. 21% of the time they are not in the room. Only 39% of the time are "eyes on TV." Many TV viewers are only hearing the ad, not viewing it. That's because TV audiences are looking at Facebook on their phones.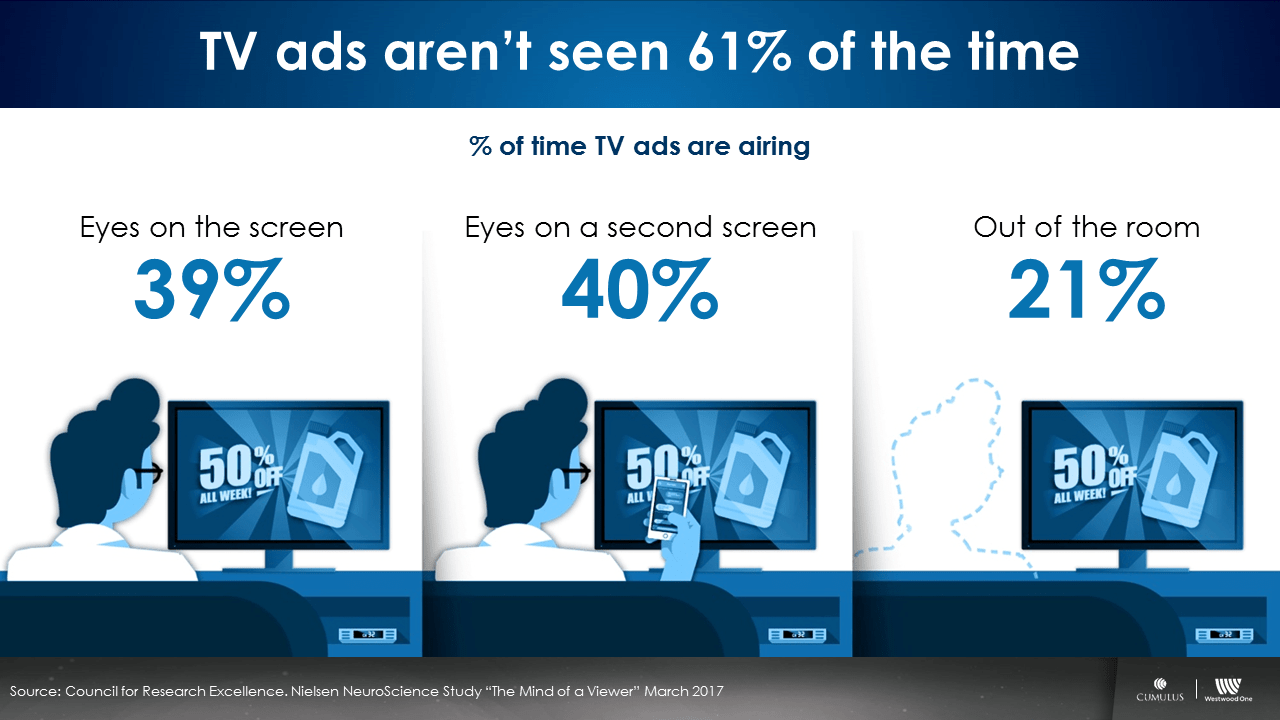 Magazine ad exposure is 30% lower than TV. According to Erwin Ephron, the father of modern media planning, "Using TV as the baseline of 100, my estimate is a Magazine reader, as measured by MRI, has a 30% lower probability of seeing an ad than a TV viewer, as measured by Nielsen. The reasons? Print readership counts are inflated and many reported issue readers don't turn every page."
Few online video ads are deemed viewable by the world's largest ad agency. GroupM, the massive media agency, found few video ads on Facebook and Twitter meet their viewability standards. In fact, only 2% of Facebook video ads actually count as viewable. Additionally, when online video ads are seen, they can be associated with objectionable content.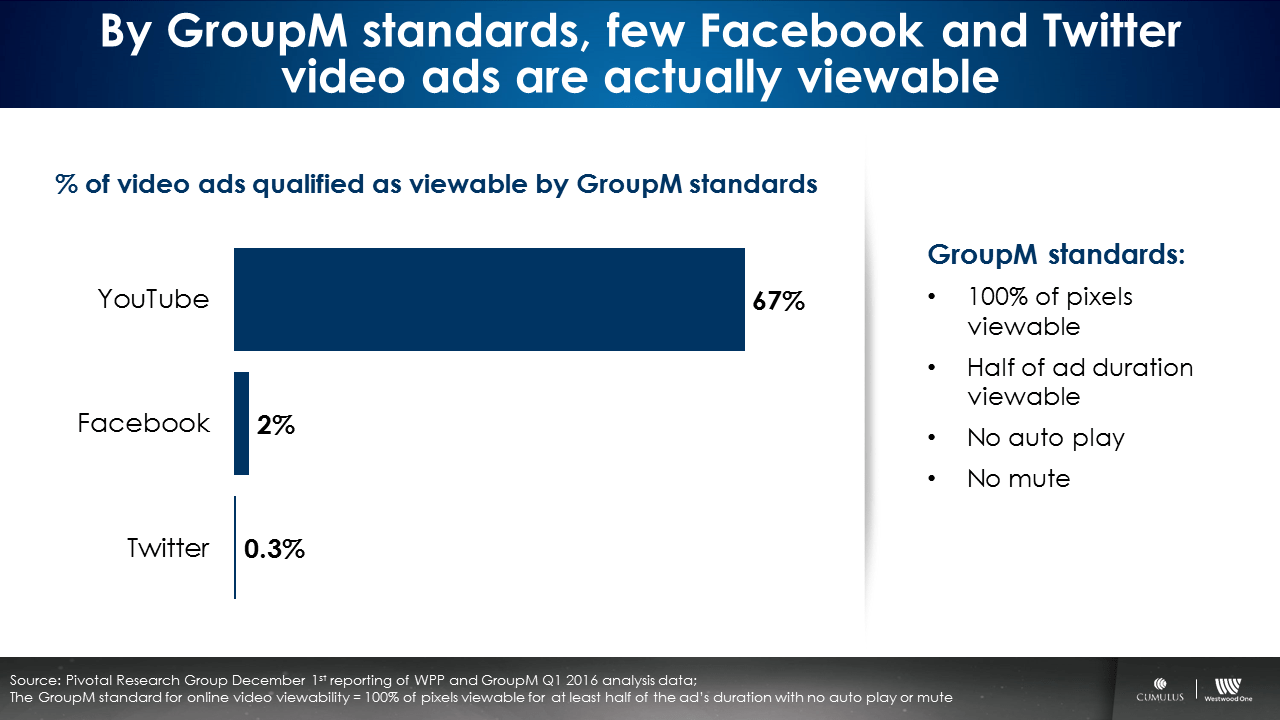 Half of digital ads are not seen. According to comScore, "While most non-viewable ads are simply delivered to parts of the web page that are out of view, a meaningful percentage is being delivered to bots and other forms of invalid traffic that is by definition not viewable to a human."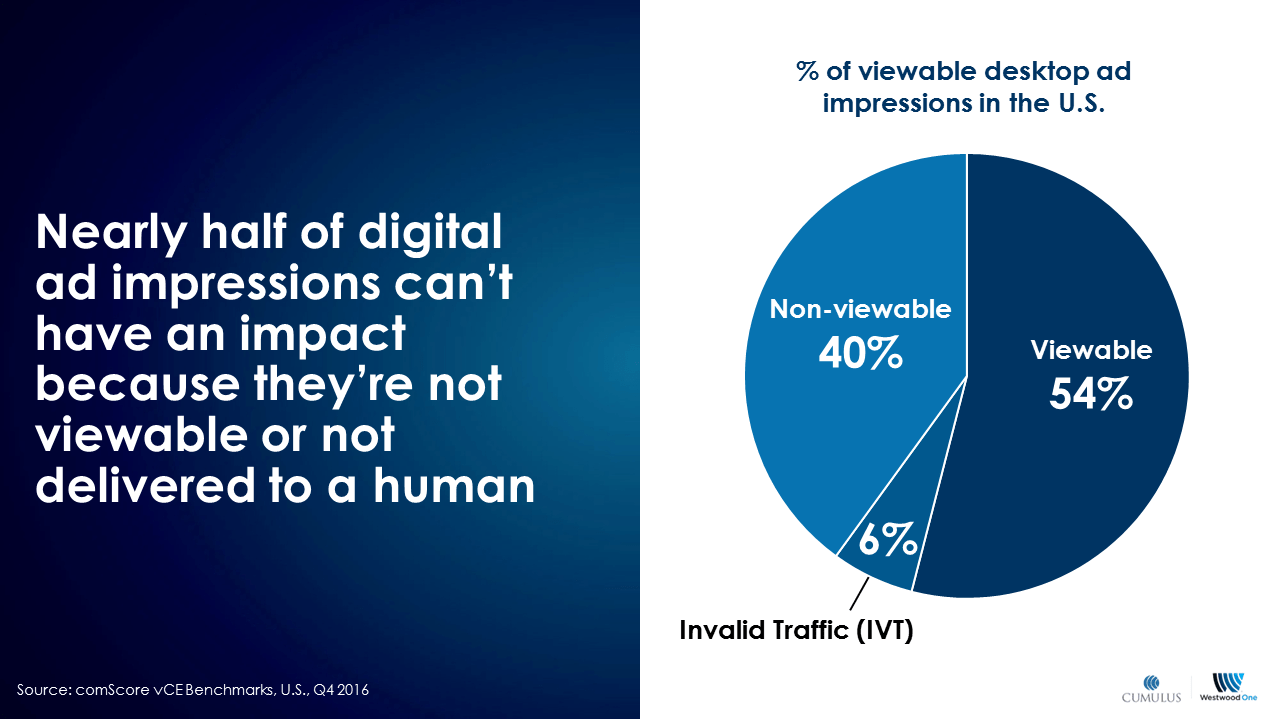 Billboard advertising makes strong progress on ad viewability measurement. The outdoor industry has been doing a lot of work to understand the viewability of billboard ads. Geopath, the outdoor audience measurement service, has created "likelihood to see" factors that are applied to audience data for billboards. They take into account size, angle, distance from the roadway, and other attributes. The end result? The probability of consumer eye contact with the ad for a meaningful length of time.
Pandora suffers from "empty room syndrome." The ads are on, but no one is there to hear them. Pandora has no idea if anyone is actually listening.
AM/FM radio audiences deliver exactly what is promised: ads are heard. TV and other media measurement over-count and inflate audiences. AM/FM radio's audience measurement system, the Portable People Meter, hears what the consumer hears. The radio listener is more likely to hear a commercial than the TV audience is to "see" a TV ad.
Erwin Ephron explains: "PPM measures "hearing." If the PPM hears a Radio message, the person carrying the PPM will hear it also. But the [TV] peoplemeter doesn't measure "seeing." It measures people in the room with a TV on, and some will not be watching the screen."
Ephron concludes, "PPM is the only media measurement that doesn't over-count audience. It reports hearing for Radio. Hearing is the measure of Radio advertising exposure which is the direct link between media spending and consumer response. And despite the groaning over higher CPMs, that is exactly what advertisers are willing to pay for."
Pierre Bouvard is Chief Insights Officer at Cumulus | Westwood One.
Contact the Insights team at CorpMarketing@westwoodone.com.