The TV Upfront: History, 2017 Issues, And What It Means For Radio
Many of the elements of the TV advertising upfront were invented by ABC, a feisty number 3 network in the 1960s. Here is some context:
Premiere week. In 1962, ABC debuted all shows in the week after Labor Day to woo carmakers launching new models. CBS and NBC soon followed suit and by the mid-60s, Premiere Week was a major national event. Erwin Ephron, father of modern media planning said, "The Fall debut of new season programs helped to create the upfront by requiring advertiser commitments by the Spring."
Audience guarantee. In 1967, ABC negotiated the first guaranteed cost per thousand impressions (CPM) deal with American Home Products. "The other networks soon learned buyers would pay a premium for a guaranteed buy and wouldn't be as picky about the programs," Ephron explains. "The TV networks were no longer selling shows; they were selling CPMs. To get the hits at a reasonable price, you had to take the rest and you had to buy it all upfront. If you did that, the networks would guarantee audience delivery."
CPM and audience guarantees revolutionized the TV business by removing all advertiser risk.
Flash forward to the just-completed 2017 presentations. Some major themes were brand safety, mass reach, curbing commercial clutter, and creating digital impact.
1. Brand safety: With advertiser concerns about digital fraud, online ads appearing next to something awful, and Facebook's ongoing measurement woes, TV networks stressed their safe ad environments.
Jo Ann Ross, CBS Head of Ad Sales, noted, "[There are] real people watching your commercials in hit shows with zero fraud, all from a source you can trust, unlike some digital platforms." Ms. Ross showed a cruise line ad that ran near a sinking ship video on Google-owned YouTube. "At CBS, we don't let this kind of ship happen to you."
Lyle Schwartz, president of investment for GroupM North America, the largest media agency in the U.S., notes, "There's always tension, but media brands (TV networks) feel emboldened this year with the brand safety issues."
2. Mass reach: Networks touted the mass reach power of television to get the word out and build brands. Joe Marchese, Fox Networks Group ad sales chief, says Fox "dwarfs Facebook and YouTube in delivering your message. On any given Tuesday, Fox primetime delivers 700 Facebooks."
3. Curbing commercial clutter: With one eye on Netflix and the other on Nielsen C3 ratings, Turner Networks announced ad load reductions on networks and key programming. Turner Ad Sales President Donna Speciale believes, "Eliminating clutter creates a more viewer-friendly commercial environment, which in turn helps boost C3 (Nielsen) ratings as well as brand recall."
4. Creating digital impact: Linda Yaccarino, Chairman of NBCU Ad Sales, cited a study from Accenture that found "over one-quarter of paid search advertising's brand impact — specifically, ad awareness and purchase intent — should be attributed directly to linear TV."
What AM/FM radio can learn from this year's TV upfront:
1. AM/FM radio is safe for brands and trusted by consumers. AM/FM radio listeners spend most of their listening time with their most preferred station. It keeps them company, makes them laugh, and keeps them connected. No wonder radio ads and personalities are trusted so much by consumers.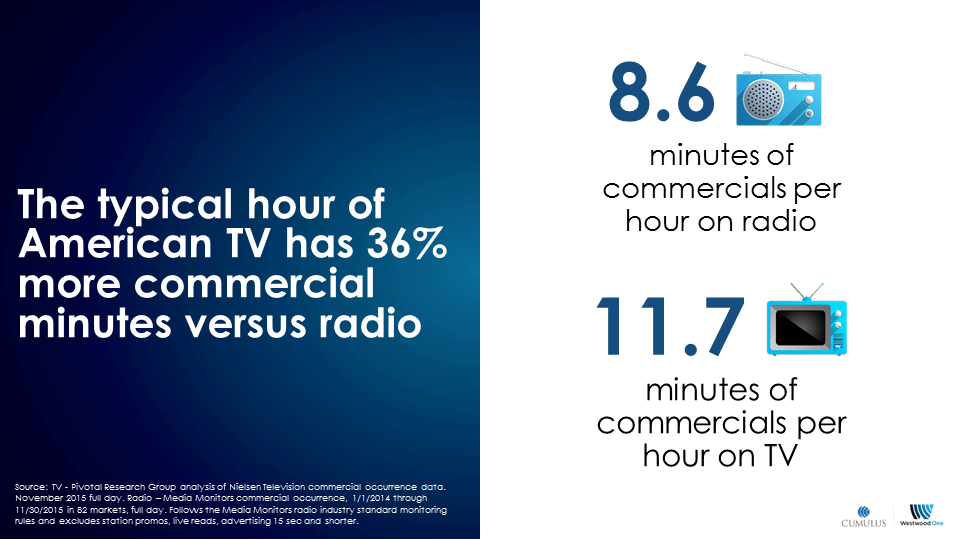 2. Reach is still the new black. The bigger the reach, the greater your target. As America's number one mass reach medium, AM/FM radio can reach more of the right audience for advertisers.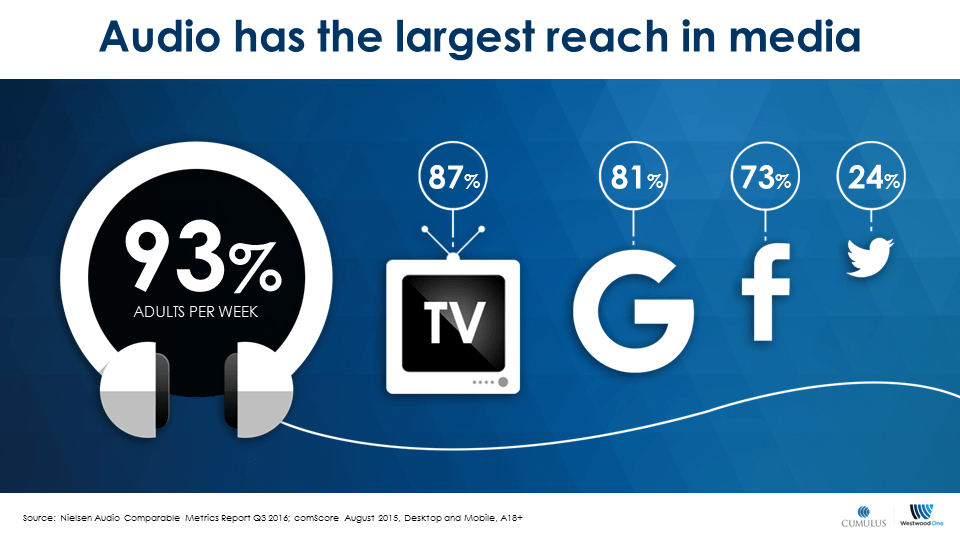 3. AM/FM radio commercial time is significantly lower than TV. While TV says they are working to reduce commercial clutter, they run 36% more commercial minutes than radio. AM/FM radio holds 93% of its lead-in audience through its commercials.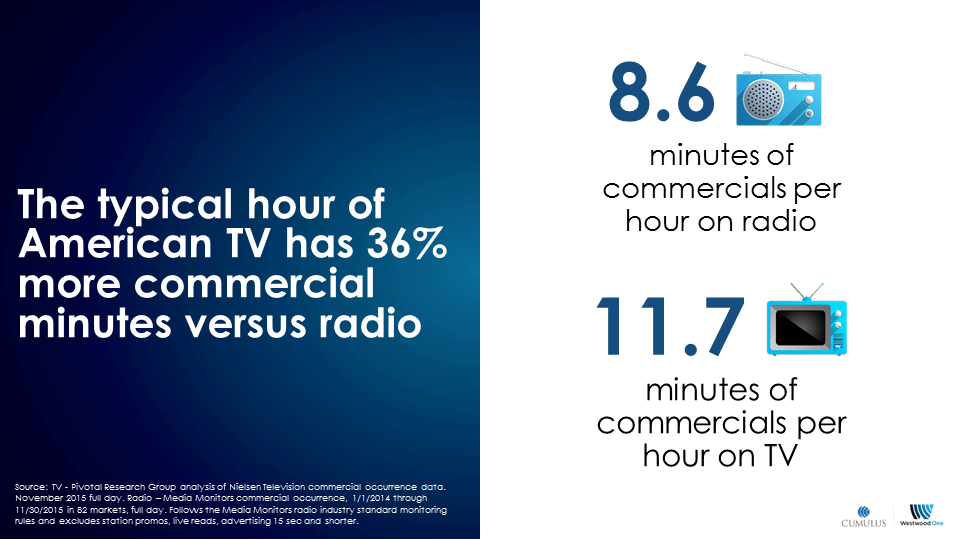 4. AM/FM radio has a halo effect on digital impact. Recent Nielsen studies for multiple advertisers reveal that those exposed to radio campaigns have higher recall of all other elements of the media plan, especially digital ads.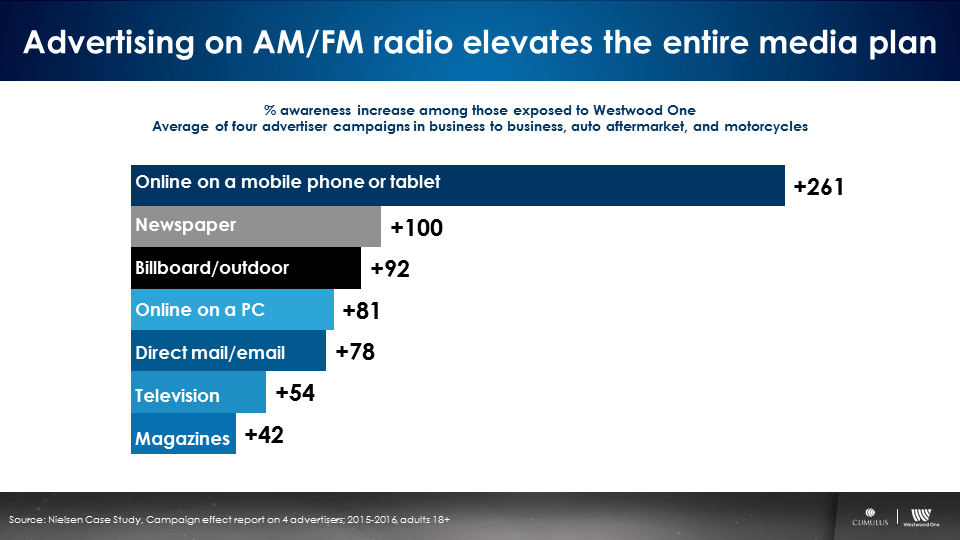 Erwin Ephron wryly concludes: "A Spring upfront for the following year's budget is a preemptive selling strategy that all media envy." It is also the perfect time for AM/FM radio to answer the call and fill gaps left by other media.
Pierre Bouvard is Chief Insights Officer at Cumulus | Westwood One.
Contact the Insights team at CorpMarketing@westwoodone.com.