The Evolving Digital Audio Landscape: Pandora Is Down, Spotify And Broadcast Streaming Radio Grow
Since 2006, Triton Digital has provided ad insertion technology and streaming measurement for the digital audio marketplace. Triton provides monthly national streaming audio audience estimates for America's largest radio broadcasters, as well as pureplay digital operators including Pandora and Spotify. Estimates provided include Average Active Sessions (a similar metric to Nielsen Audio's Average Quarter Hour), session starts (number of tuning sessions per month), and average time spent listening (per occasion).
With so many digital listening options available, what is resonating with consumers? Here's a look at current trends in the digital audio landscape, based on year over year trending of Average Active Sessions during Monday through Friday, 6 a.m. through 8 p.m. ("primetime" for digital audio listening):
1. Pandora has lost audience versus last year. Although Pandora remains the largest player in the digital audio space, its audience growth has stalled in recent months. Fourth quarter 2016 marks the first quarter that Pandora has sustained a year over year decline (-1%) in Average Active Sessions. Compared with growth margins of more than +20% in 2014, this recent decline demonstrates the effect of increasing competition and saturation.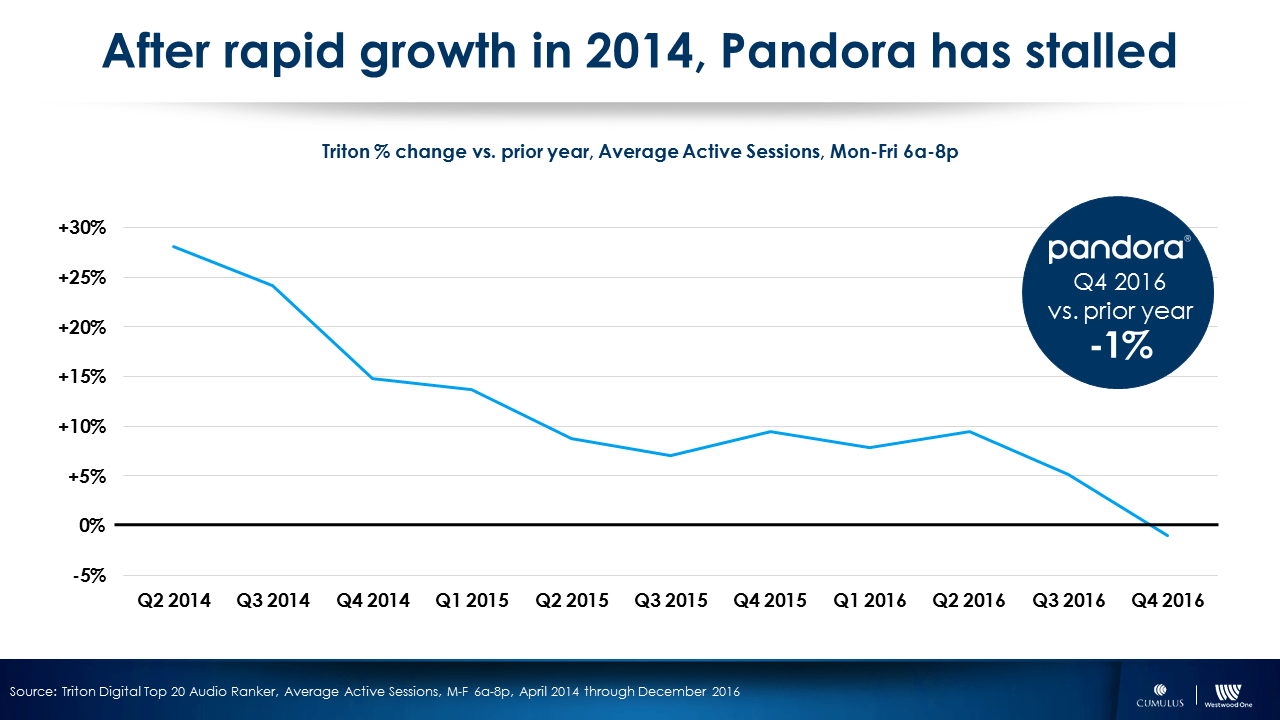 2. Spotify shows consistent growth. Spotify has enjoyed rapid growth in quarterly Average Active Sessions throughout 2016. While still ranked second behind Pandora in Average Active Sessions, Spotify is narrowing the gap, posing a challenge to Pandora's lead. Spotify's average time spent listening per occasion trails the other major players. Consumers can listen to just the artist, album, or song they desire. The result? Very short listening occasions and a decrease in message frequency for advertisers.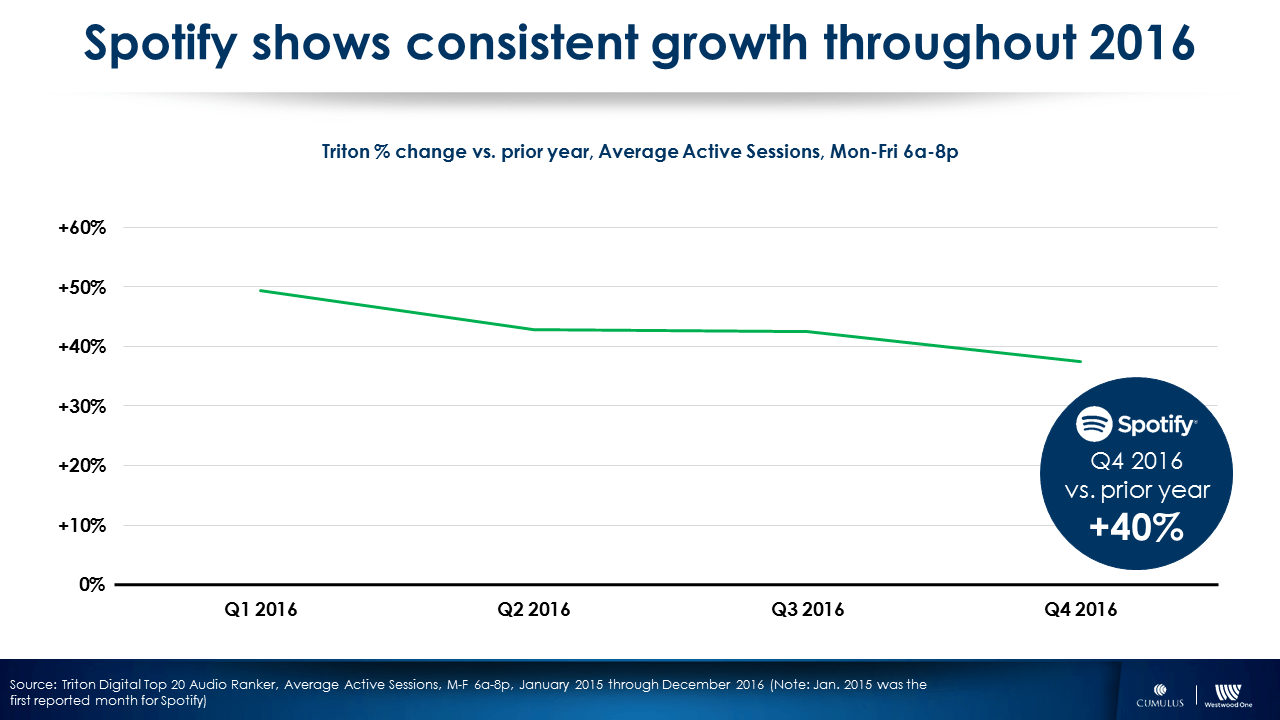 3. Cumulus' streaming audience is on the upswing. Cumulus' streaming audience has consistently improved as it grows streaming Average Active Sessions by 2% from Q4 2015 to Q4 2016. This marks the 5th straight quarter Cumulus stations have grown their streaming audience.
According to Nielsen, Cumulus' ratings growth for its over-the-air broadcasts are up 14% over the prior year in Portable People Meter markets. Cumulus' streaming audience has also grown.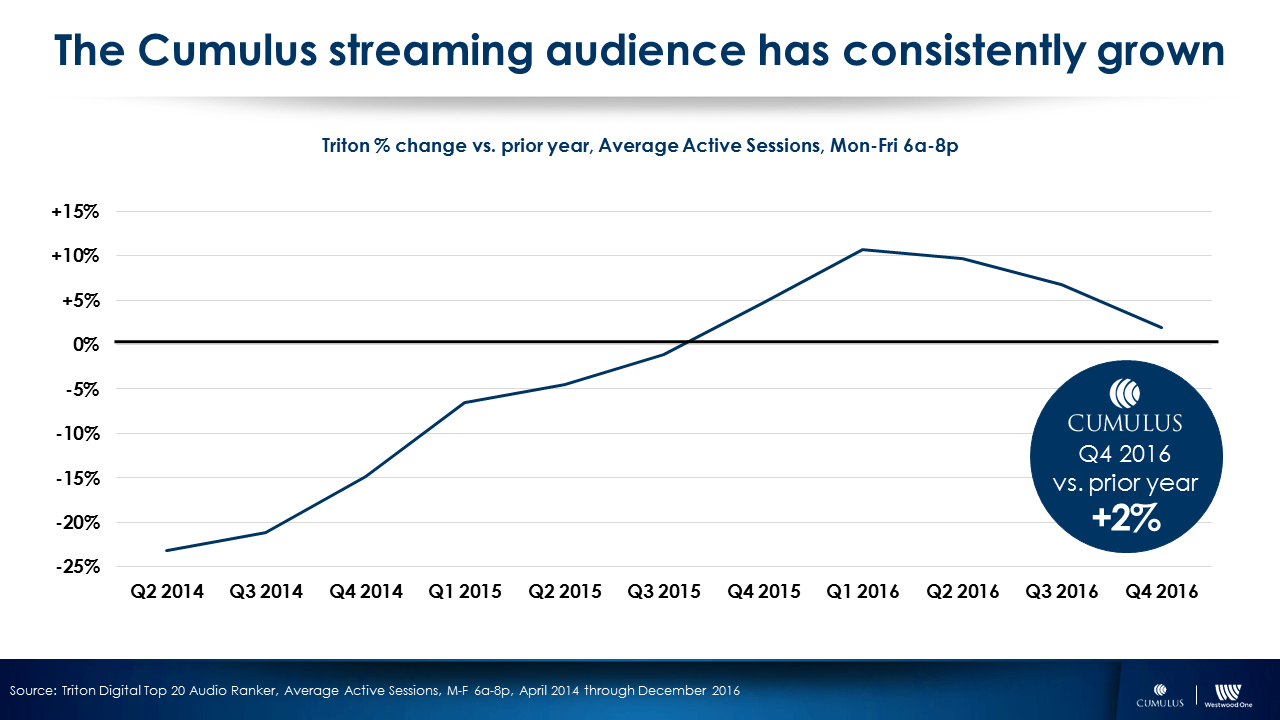 4. Cumulus leads the majors in time spent listening. Of the four major players, Cumulus has the highest time spent listening. This presents advertisers with an engaged audience listening for long periods of time.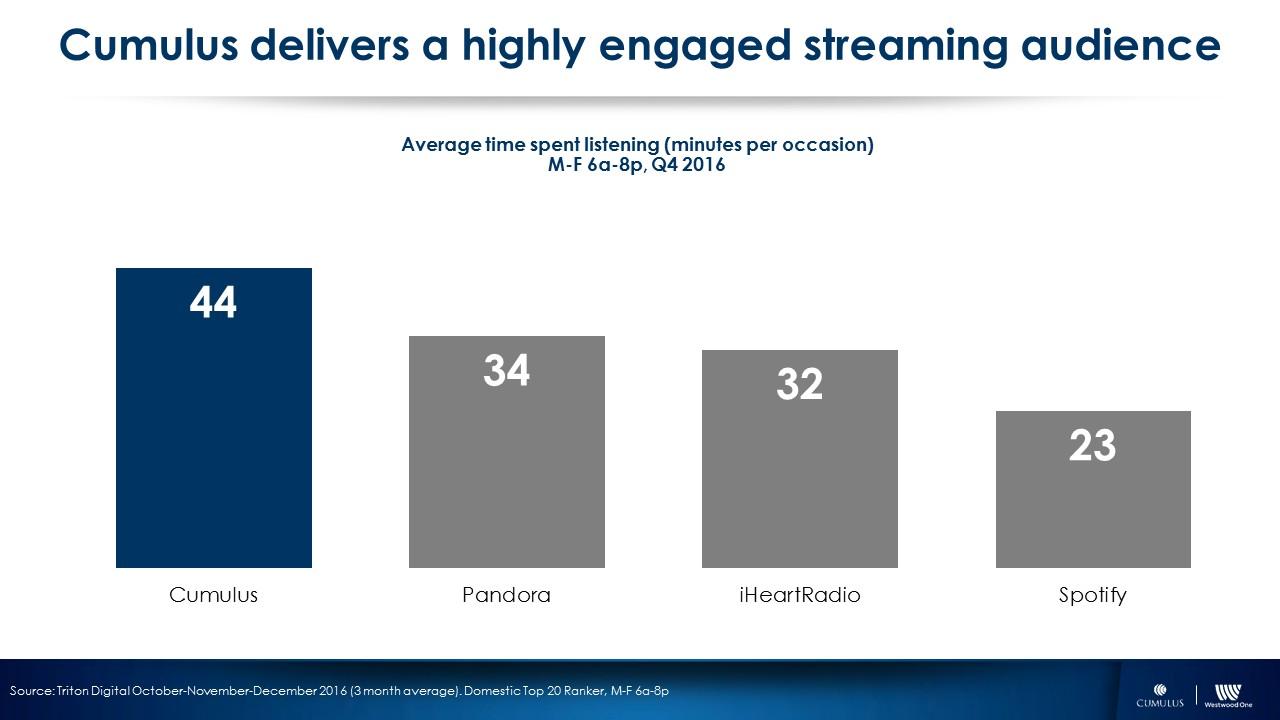 5. AM/FM radio broadcast streaming shows consistent growth. Broadcast streaming of AM/FM radio stations consistently attracts a growing audience. This includes the Cumulus Streaming Network, CBS Radio, NPR Member Stations, iHeartRadio, ESPN Radio Corporate, EMF Corporate, Univision, Townsquare Media, Salem Communications, Hubbard Broadcasting, New York Public Radio, and Beasley Broadcasting.
Average Active Sessions for AM/FM radio streaming has grown year over year for the fifth straight quarter. Listeners are increasingly looking to AM/FM radio stations for music, information, entertainment, and a sense of community. Streaming makes this destination content available wherever listeners demand it.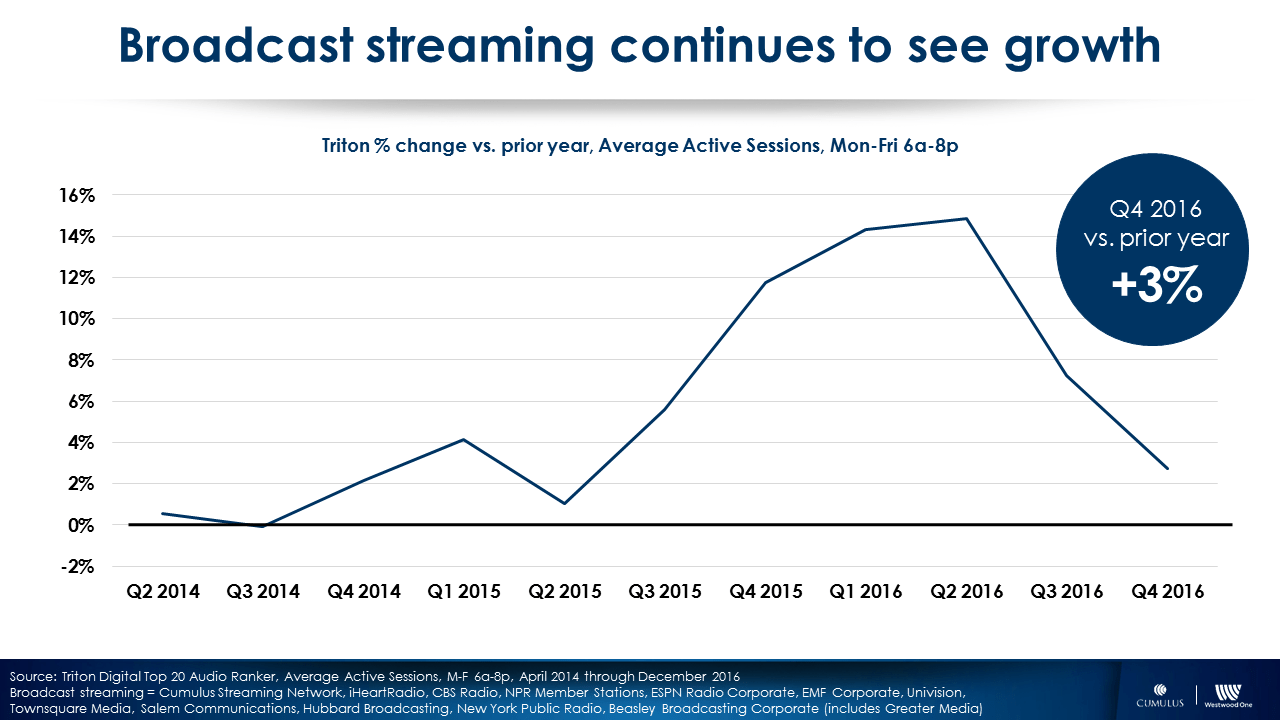 Key takeaways:
Pandora's growth has stalled: Pandora has reached maturity as an audio entertainment provider, making way for new competitive platforms to emerge
Spotify continues to grow: However, Spotify's comparatively low time spent per occasion makes it hard for brands to achieve reach and frequency
Cumulus sees increases: The Cumulus streaming audience is on an upswing, providing brands with more access to a highly engaged audience
AM/FM radio streaming is growing: Broadcast radio players have thrived in the competitive digital audio marketplace by providing compelling content that listeners crave
Doug Hyde is Senior Director, National & Local Insights at Cumulus | Westwood One.
Contact the Insights team at CorpMarketing@westwoodone.com.