Country Radio: Four Hits From The Heartland
Country is America's radio format, owning airwaves with the best tailgate anthems, ballads, and songs for love and heartbreak. With the Academy of Country Music Awards coming up this Sunday, we take a look at this community-driven audience to better understand where they come from, what's important to them, and what they predict will happen.
Here are four hits to get you ready for Country Music's Party of the Year®:
1. Country music is huge. The format dominates, reaching 30% of Americans weekly. It also scores the top spot in audience share, making it the most listened to radio format in America.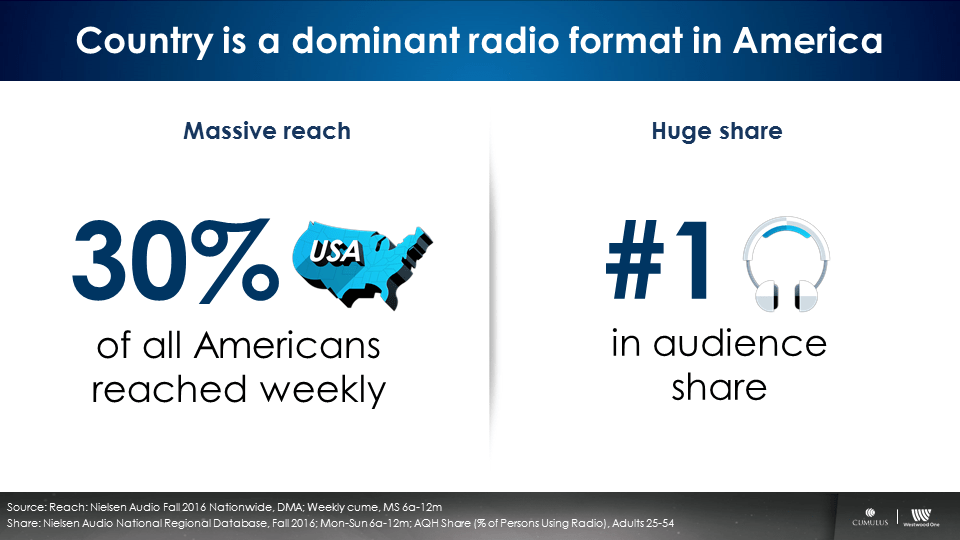 2. Country delivers an important audience for marketers – the American heartland.
Harris Diamond, CEO of McCann Worldgroup, recently told the Wall Street Journal, "So many marketing programs are oriented toward metro elite imagery." The article continues: "Marketing needs to reflect less of New York and Los Angeles culture…and more of Des Moines and Scranton." He's talking about the heartland, where country listeners are more concentrated than on either coast. Country listeners are more likely to live in the central regions of the U.S., noted below in blue.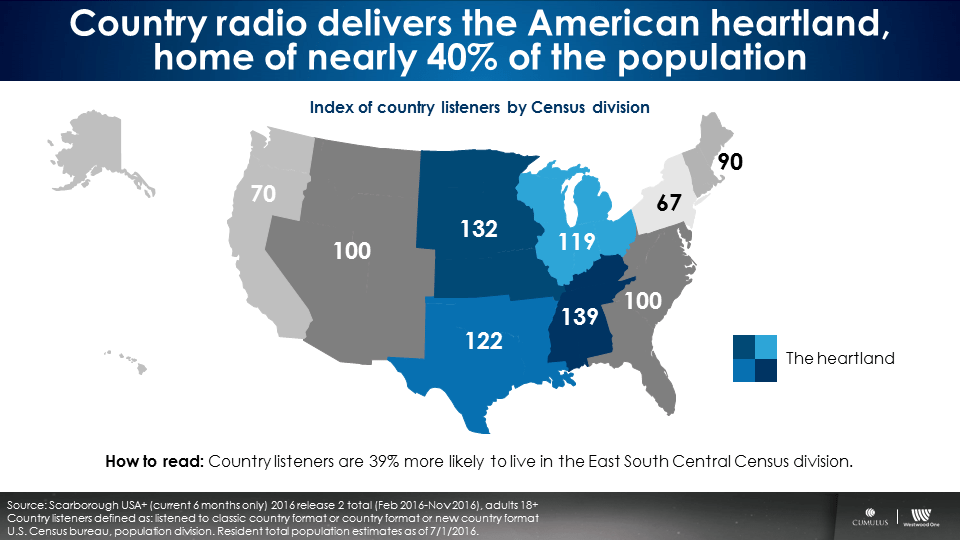 3. Country radio is a community-driven environment.
95% of country listeners feel a duty to the core values of family and community while 89% say that tradition is important to them. That means brands advertising on country radio can create meaningful connections with these listeners.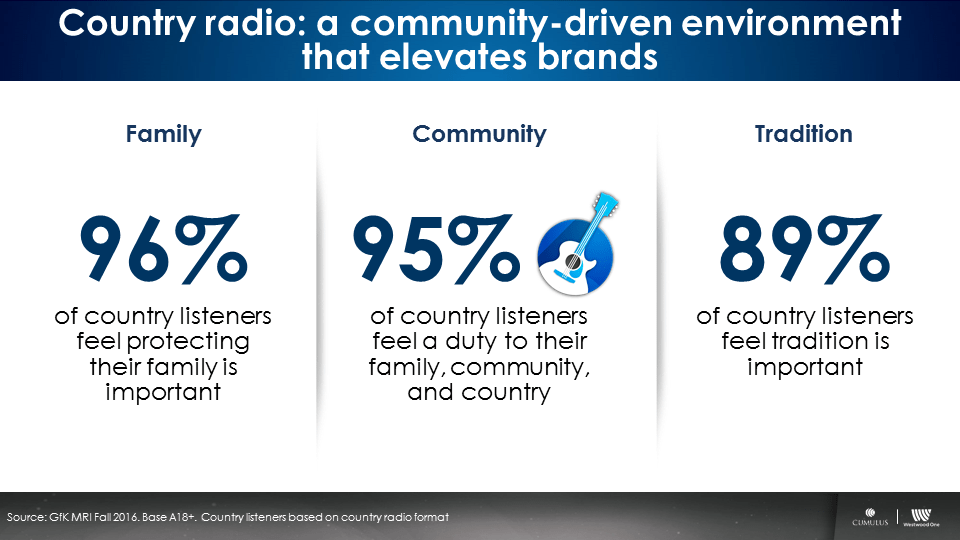 4. Country listeners keep it "Humble and Kind."
In NASH's first-ever NASH Country Pulse Poll, country radio listeners across the U.S. were asked their Academy of Country Music Awards predictions. The frontrunner for "Song of the Year" was Tim McGraw's 27th country hit, "Humble and Kind," followed by two of 2016's biggest ballads – "Blue Ain't Your Color" by Keith Urban, and "Die a Happy Man" by Thomas Rhett. Country fans connect with songs of the heartland.
Click here for more predictions
Don't miss the action from Westwood One Backstage at the ACM Awards featuring exclusive, multi-platform content, a star-studded radio row, live performances, social media experiences, A-list interviews from Keith Urban, Miranda Lambert, Florida Georgia Line, and more of country's biggest stars and hottest new talent, and five-hour night of event coverage from the red carpet. Click here to find out more.
Lauren Vetrano is Content Marketing Manager at Cumulus | Westwood One.
Westwood One has sponsorship packages for the hottest events in music and entertainment. Contact CorpMarketing@westwoodone.com or your Westwood One representative for details.