Reach Is The New Black: A Funny Thing Happened On The Way To The Media Plan
We tend to like our media planning theories in the form of ruthlessly decisive absolutes:
Don't waste ad money on people who don't buy the category!
Put all your money into mobile and social!
We've simplified a complex media environment with ironclad media planning theories. Over the last five years, media spending has adhered to these sentiments and veered toward digital and targeting at the expense of mass reach media like TV and radio.
Jack Myers: marketers returning to legacy media to grow ROI
This prevailing wisdom was challenged when highly respected media economist Jack Myers stunned the industry by predicting: "the beginning of a long-term trend of marketers returning to legacy media."
Myers asserted: "There is a growing body of evidence … that the target audience, reach, and awareness of ad campaigns has declined over the past decade, and that this decline has impacted on the ROI [return on investment] value of advertising. Their analyses point to the best solution being a reinvestment in television first, followed by out-of-home, radio and to a lesser extent print."
What is the best way to get the most reach but also the right precision? It's all about balance
The Wall Street Journal reported on P&G's experiences with targeting at the expense of reach. "P&G two years ago tried targeting ads for its Febreze air fresheners at pet owners and households with large families. The brand found that sales stagnated during the effort, but they rose when the campaign on Facebook and elsewhere was expanded last March to include anyone over 18."
You need both mass reach and targeting to move the sales needle. P&G's CMO Marc Pritchard concludes: "We targeted too much, and we went too narrow…and now we're looking at: What is the best way to get the most reach but also the right precision?"
Advertiser Perceptions: optimism is up for mass reach media
What was on the minds of media decision makers this year as thoughts turned to 2017 advertising plans? For that, we turn to media industry business intelligence firm Advertiser Perceptions, recently featured in Adweek.
As the name implies, Advertiser Perceptions probes spending sentiments of marketers who control media budgets and the media agencies who plan media and make buys. A key question asked is:
"For each type of advertising, will your [company's/clients'] spending decrease, remain the same or increase in the coming 6 months?"
Advertisers Perceptions subtracts "Decrease" responses from "Increase" answers to generate a net Optimism Index.
According to Wave 23 of the Advertisers Perceptions Intelligence Reports, broadcast television had a sharp increase in spending optimism.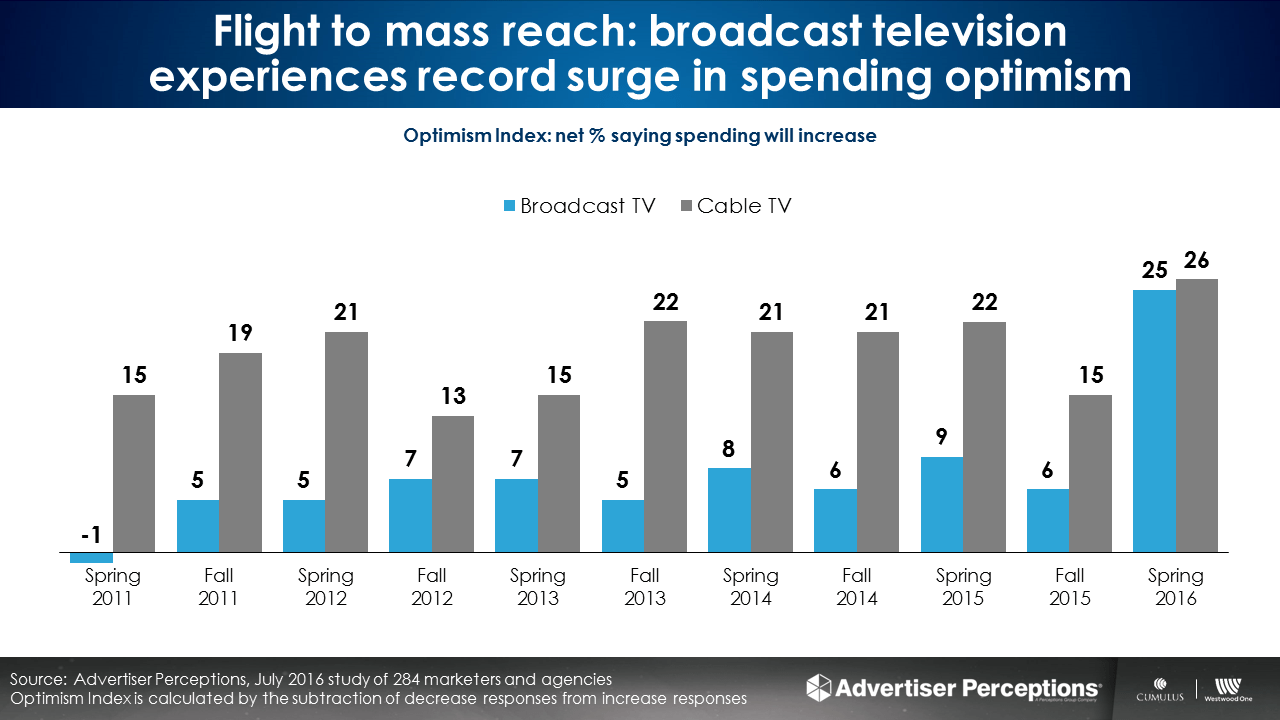 AM/FM radio surges in spending intention
Marketers now express a newfound appreciation for AM/FM radio with the highest media optimism/spend intention net score since radio began measurement in fall of 2014.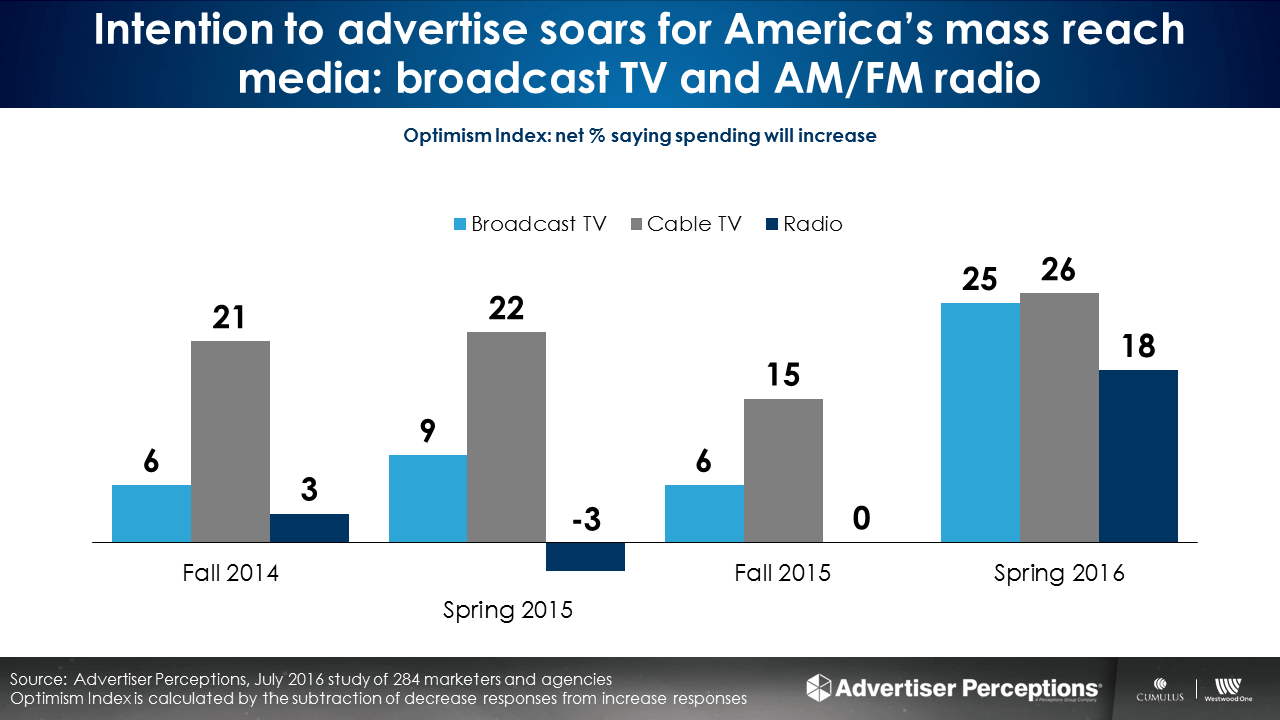 The ruthless absolutes of the last five years are dissolving. The spending optimism gap has narrowed significantly since the beginning of the decade.
In spring 2011, there was nearly a 100-point difference in net "plan to spend" optimism between the highest and lowest media. In spring 2016, this difference compressed to only 42 points.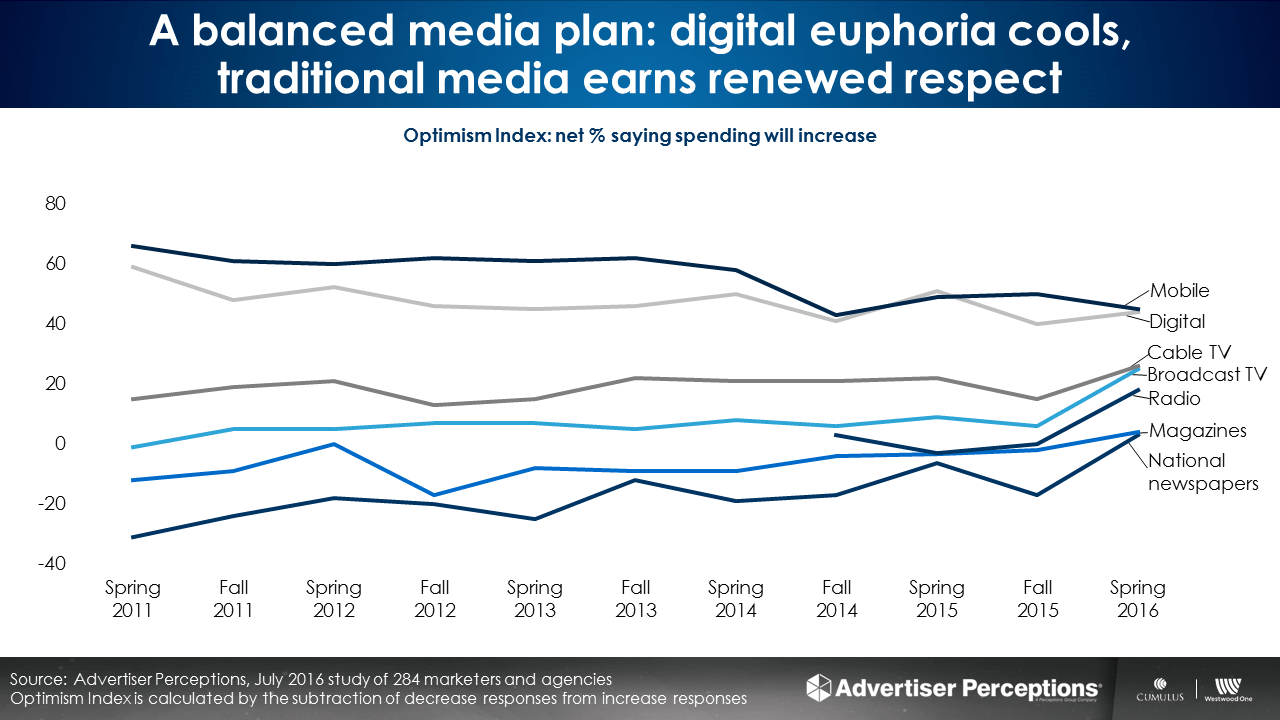 The media outlook is more nuanced this year. Decision makers seek balance in their media plans.
Reach is the new black
Erwin Ephron, father of modern media planning, taught us "advertising messages work most directly with the few customers who are in the market at the time." Thus, it is important for a campaign to cast a broad net reaching as many "in-the-market" consumers as possible.
America's largest mass reach media? Per Nielsen, AM/FM radio is #1 and TV is #2. To grow sales and customers, these mass reach media play a strong role.
A funny happened on the way to the media plan: radio is rediscovered
Long derided, broadcast television grows in advertiser esteem. Long ignored by national marketers, AM/FM radio is experiencing newfound appreciation.
Pierre Bouvard is Chief Insights Officer at Cumulus | Westwood One.
Contact the Insights team at CorpMarketing @westwoodone.com.