Radio Works For Major Auto Aftermarket Retailer, Delivering $21 Of Sales For Every $1 Spent On Advertising
Advertisers often ask if radio can prove its ROI and sales lift. The answer is YES. Radio works.
Over the last several years, Nielsen has conducted over 20 different studies showing radio's stunning return on investment across many different categories.
Today we release the results of a brand new Nielsen ROI study, commissioned by Westwood One, demonstrating the massive return radio delivers for an auto aftermarket retailer.
An auto aftermarket retailer wanted to assess the sales impact of its radio investment. Nielsen matched the Portable People Meter panel with credit and debit card spending data in order to compare purchases of those exposed to the radio campaign with consumers who were not exposed.
Nielsen examined the three-month national radio campaign, which ran from March to June 2016. Nielsen evaluated the impact of the entire radio campaign, not just ads airing on Cumulus or Westwood One-affiliated stations. The campaign achieved a national reach of 50% and delivered an average 56 gross rating points per week against the client's target demo of men 25 to 54. The advertiser used a variety of creative highlighting its customer rewards program as well as key product lines sold in its stores.
Here's what Nielsen found:
1. Return on advertising spend (ROAS) was massive. The auto aftermarket retailer generated $21 of incremental sales for every one dollar spent in radio!
Nielsen calculated ROAS by dividing the total sales boost by the radio ad investment. This proves the tangible and concrete evidence of radio's impact on sales.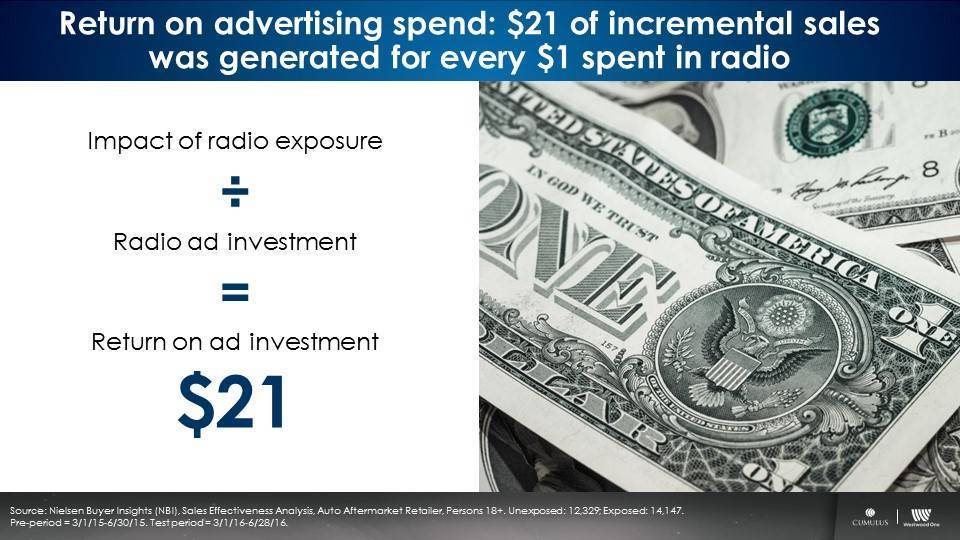 2. AM/FM radio is a new customer machine. Nielsen found the radio campaign drove a 64% increase in new customers. To get new customers, you need massive reach. The radio campaign reached one out of two Americans in the target demo. In comparison, Pandora only reaches 14% of Americans in a typical day. In all, the radio campaign resulted in a 48% increase in total buyers.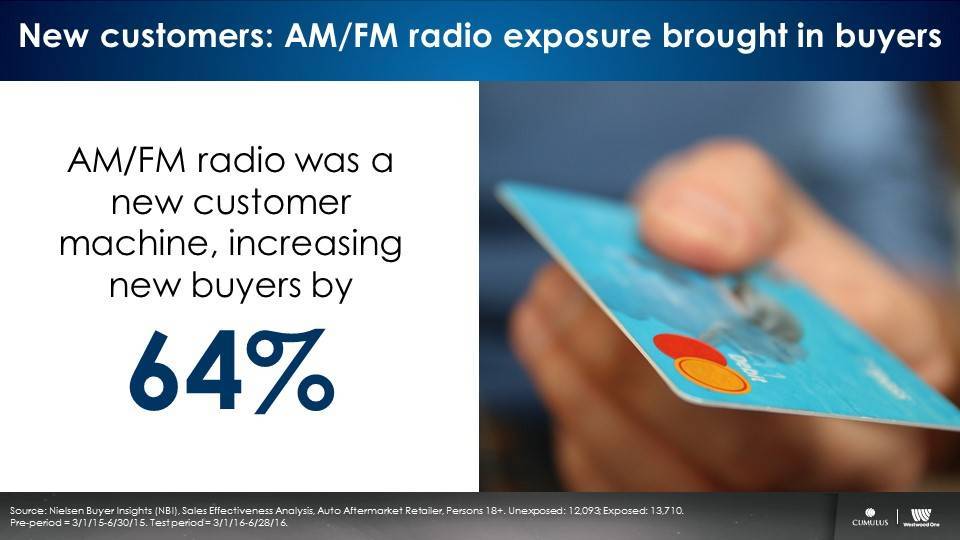 3. Frequency works! Radio had impact across all frequency levels but it especially boosted sales among those who heard the ad seven or more times. Those that were exposed to the radio campaign the most represented nearly half (45%) of the total sales increase.
However, all frequency is good. Thirty-one percent of the sales lift was generated among consumers who heard the ad once or twice. Reaching customers and potential customers multiple times is good for business.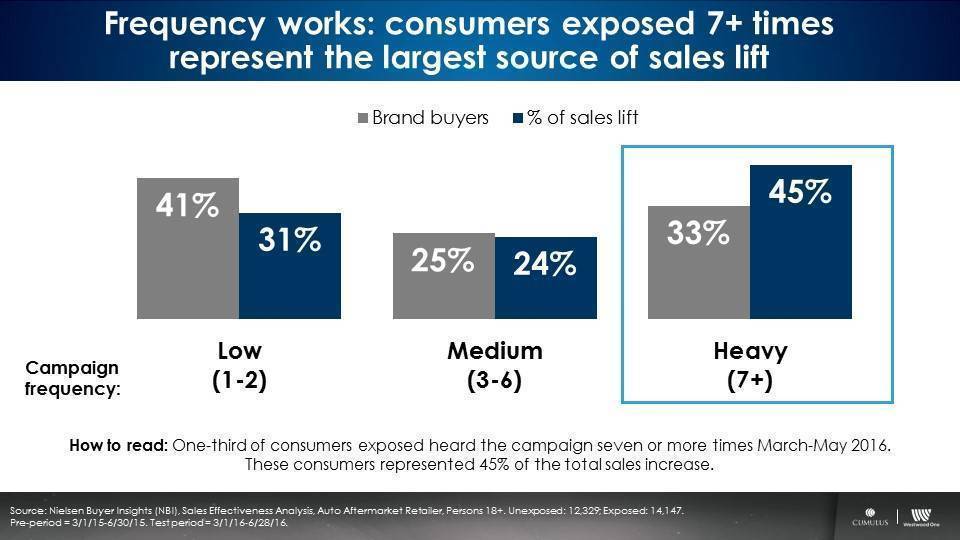 4. Significant share growth. Among consumers who heard the campaign, the auto aftermarket retailer had a 71% increase in the share of dollars spent in the auto aftermarket category.
Among those exposed, the advertiser had a 13.2% share of spend in the category versus only a 7.7% share among those not exposed.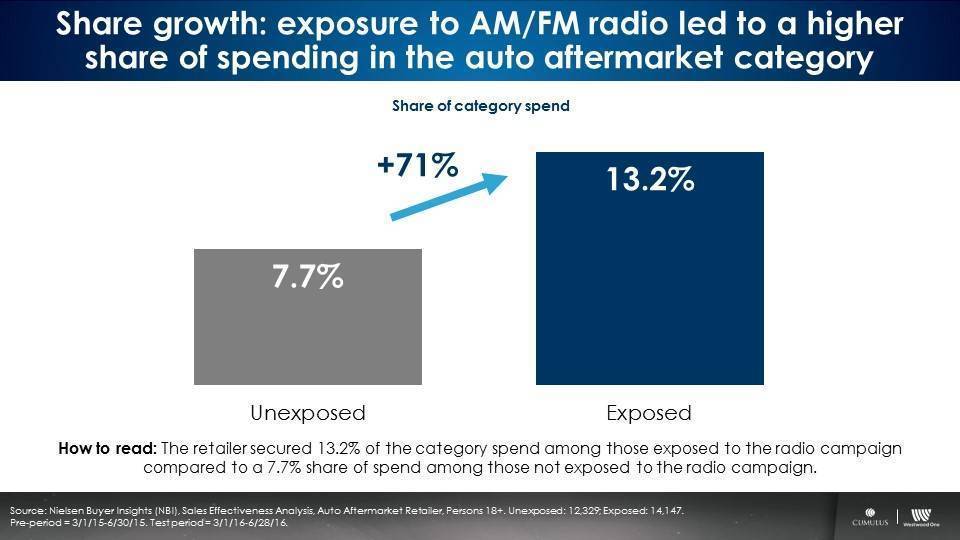 5. Ever wonder what would happen if your brand stopped advertising? (Hint: Bad things.) By examining the people in the study who didn't hear the radio advertising, we learn what happens to sales when ads are not heard. It isn't pretty. Compared to consumers who were exposed, those who were unexposed to the radio campaign saw a steep drop in sales due to lower store visits and spend per visit. Overall, the unexposed group saw a 50% drop in total spend at the retailer compared to those who were exposed.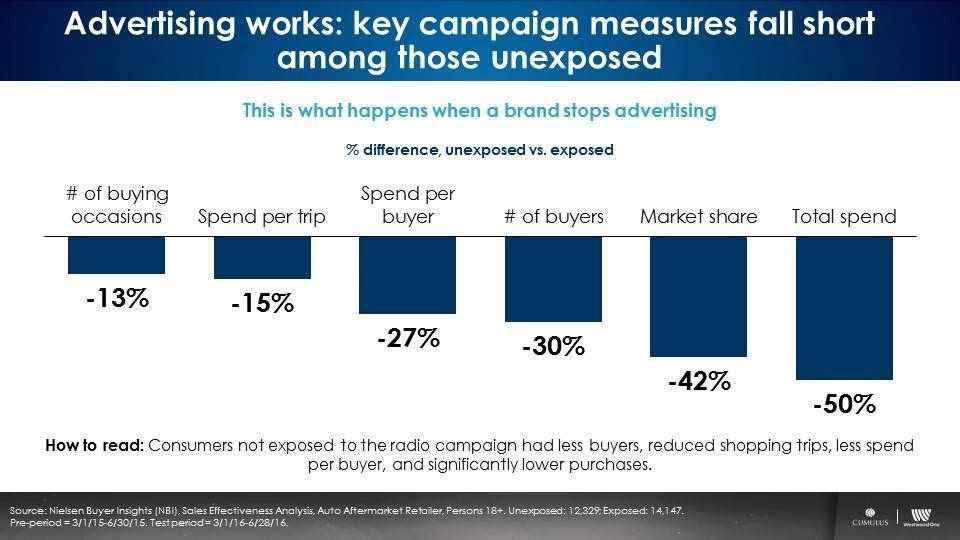 Radio advertising works! Thanks to the radio campaign, the retailer attracted more total buyers, a higher market share of category dollars spent and generated an astounding $21 of incremental sales for every dollar of radio advertising. That's Nielsen quantified impact and ROI!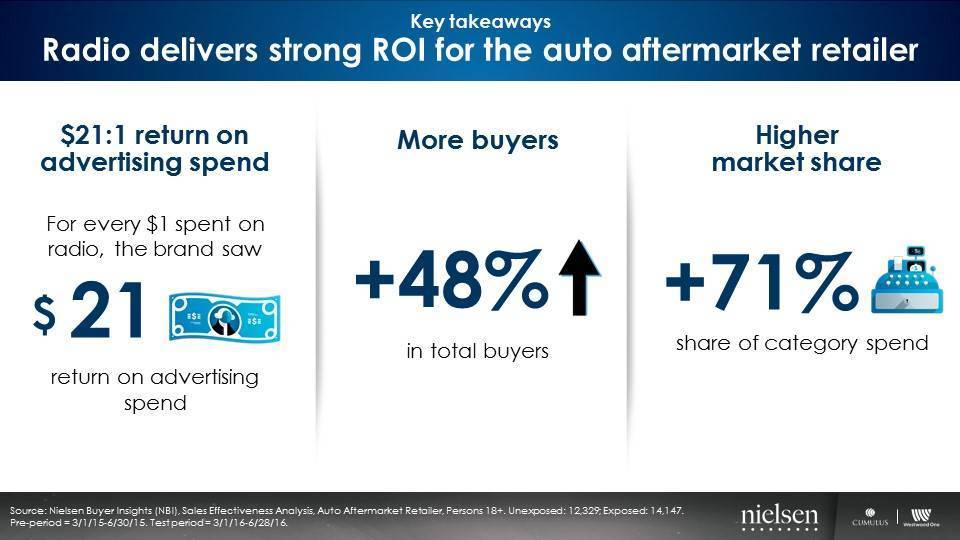 Pierre Bouvard is Chief Insights Officer at Cumulus | Westwood One.
Contact the Insights team at CorpMarketing@westwoodone.com.