NFL On The Radio Shows Stable Ratings
There has been a lot of media coverage on this season's NFL TV ratings. Despite the coverage, Americans continue to seek out the NFL on the radio. In the first four weeks of the NFL season, Nielsen radio ratings reveal stable audiences for NFL national radio broadcasts.
Westwood One, the exclusive network radio partner for the National Football League, examined audience ratings for the first 13 games in each of the Portable People Meter local markets where a national broadcast aired. The result: ratings overall are relatively unchanged from the year before.
Adult 25-54 average quarter-hour radio ratings for 13 national primetime NFL games aired during the September 8 through October 5 Nielsen Portable People Meter survey are down on average just 3.5% compared to corresponding broadcasts a year ago. The September 26 national NFL broadcast that ran opposite the first Presidential debate did suffer audience loss. Without that game opposite the debate, the 12-game average NFL radio rating change on Westwood One was -1.3%. Overall, the NFL on the radio shows stable ratings.
The chart below shows a breakout of the first 13 primetime games of the season and how they compared to the corresponding games in 2015: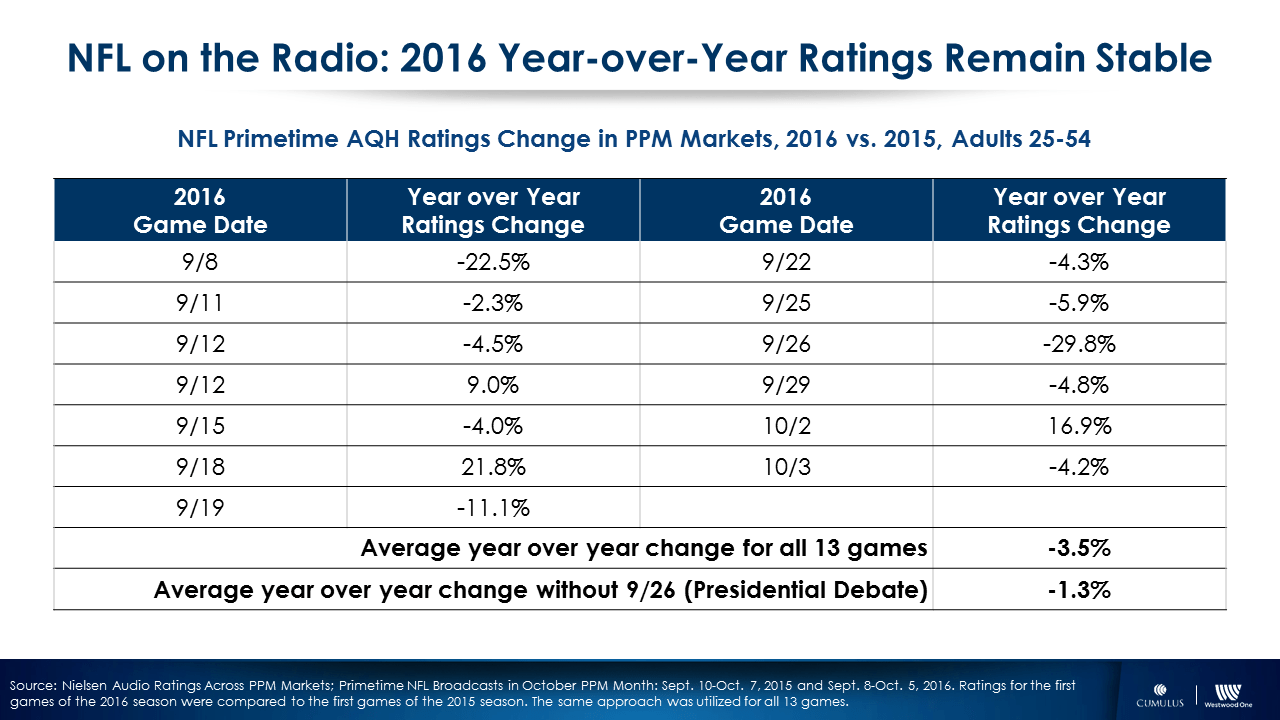 What this means: NFL continues to be a powerful way to reach consumers
Overall, consumers continue to seek out America's most popular sport across multiple platforms. The controversy over this season's NFL television audience is overblown. According to Nielsen, almost as many people have tuned in to NFL games on TV this season as last season. Time spent watching the NFL on TV might be off due to the election coverage, but the NFL continues to be America's most powerful media property.
The recent radio ratings further showcase the power of NFL programming for advertisers to engage fans. The NFL on Westwood One provides incremental reach and enhanced campaign frequency to TV campaigns. We make your TV better.
Contact us today at corpmarketing@westwoodone.com to talk about your sports media investment.