Holiday Shopping 2016: 5 Things To Know
by Pierre Bouvard | October 27, 2016
The 2016 holiday shopping season is just beginning. Deloitte expects a 3.6% to 4% increase in November through January holiday sales over last year. Deloitte says this growth is due to elevated consumer confidence, a strong labor market, and growth in disposable income. The election "should not have a negative impact on sales and retailers may benefit from a pickup in postelection consumer spending."
Here are key consumer and media insights to maximize sales this holiday season.
1. Americans still flock to discount and department stores for holiday shopping. While e-commerce is growing, the U.S. Chamber of Commerce says 93% of sales occur offline. The last several years, consumers started shopping earlier and earlier, so retailers need to plan accordingly.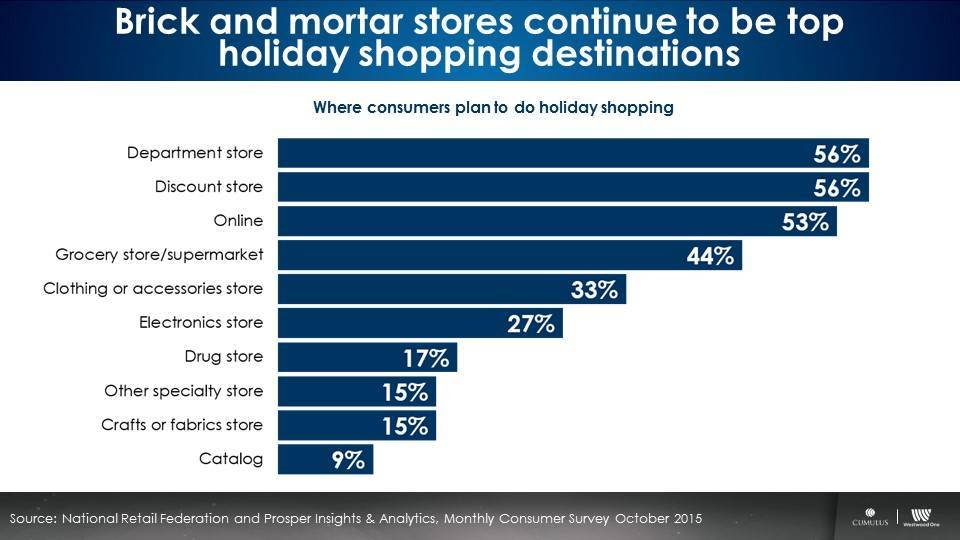 2. AM/FM radio is the best way to reach holiday shoppers: 94% of adults 25-54 are reached during holiday weeks. During holidays, media habits can become erratic and shift — not so with radio. AM/FM radio reaches virtually all shoppers around the holidays. AM/FM even has strong reach on holiday weekends: 77% during Thanksgiving weekend and 74% on Christmas weekend.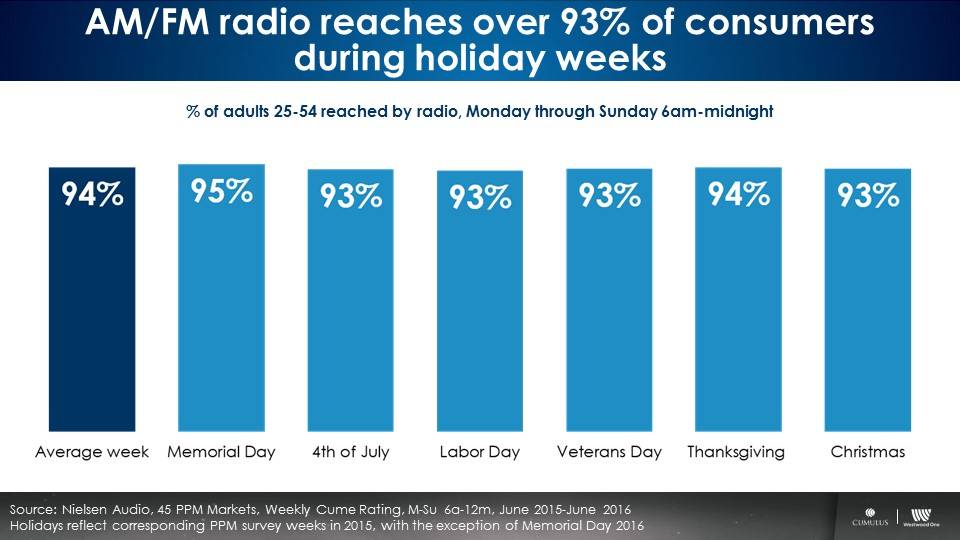 3. Radio and outdoor media influence purchases the most. A major retail shopping study conducted by Starcom Mediavest revealed that media closest to the point of purchase have the greatest impact on sales. Starcom found a lower correction to purchase with TV, print, and digital video.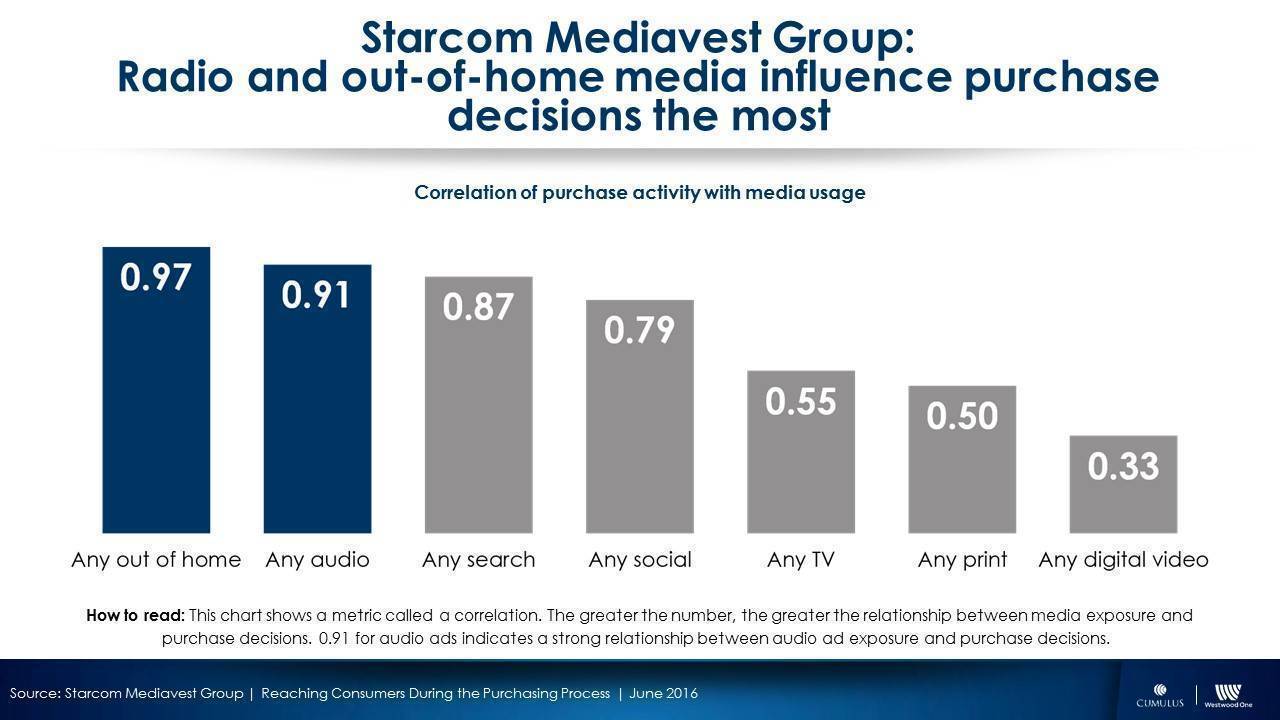 4. AM/FM drives more sales than streaming, because most AM/FM listening occurs away from home. Two-thirds of AM/FM listening occurs away from home closest to purchases. Most streaming time spent occurs at home for "background music" purposes, when ads are hard to hear.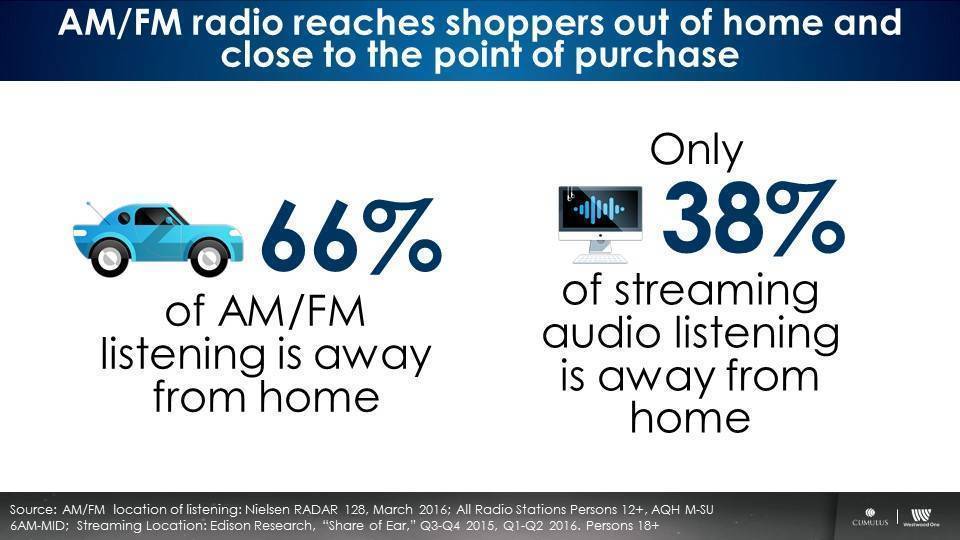 5. What's the ROI of radio advertising for department stores and mass merchandisers like Target and Walmart? MASSIVE. Department stores have a 17:1 return on investment. According to Nielsen sales life studies, every $1 of radio advertising yields $17 in incremental sales. Mass merchandisers have a $16:$1 return on investment. A dollar of radio advertising generates $16 of incremental mass merchandiser sales. Radio boosts sales at top holiday shopping destinations.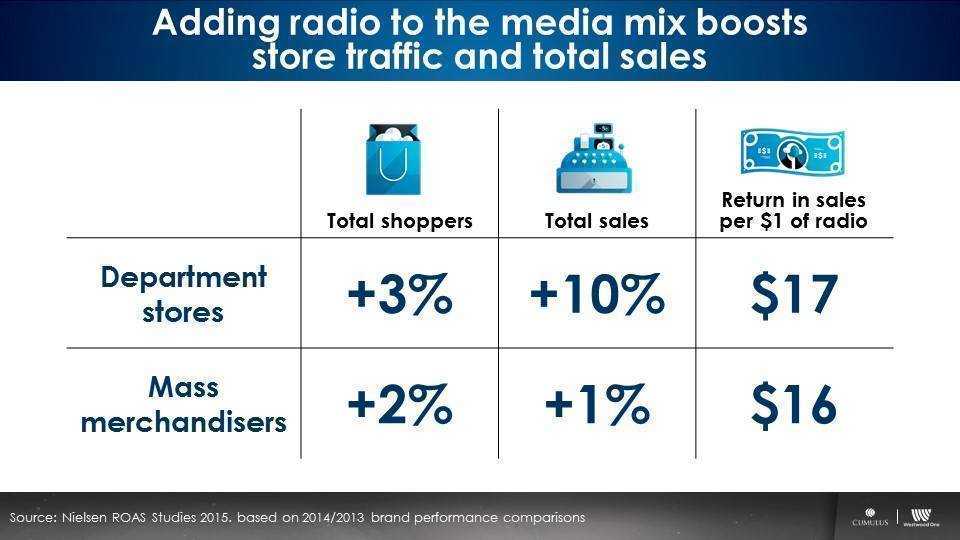 To recap:
1. Department stores and mass merchandise stores are the leading holiday shopping destinations.
2. AM/FM's number one mass reach remains strong during the holidays, ensuring retail messages are heard.
3. The media with the highest correlation to purchase are outdoor and radio; TV, print, and online video are weaker.
4. Radio drives sales so strongly because the majority of listening occurs away from home. Streaming has less purchase impact, since it's mostly used as at-home background music.
5. AM/FM radio rocks holiday shopping ROI. Nielsen reports $1 of radio advertising generates $17 of department store sales and $16 of mass merchandiser sales.
Want spectacular retail holiday sales? Put AM/FM Radio on your holiday media plan!
Pierre Bouvard is Chief Insights Officer of Cumulus | Westwood One. Follow him on LinkedIn and Twitter.
Contact us today at corpmarketing@westwoodone.com to find out about exclusive holiday sales opportunities.