The NFL Ratings Controversy And How The NFL On Westwood One Can Make Your NFL TV Better
The headlines blared. "Ratings Fumble for NFL Surprises Networks, Advertisers" (Wall Street Journal). "Time to panic over declining viewership?" (Sports Business Journal).
Pivotal Research's Brian Wieser indicates 18-49 NFL TV ratings are down 11% in the first 21 days of games of the season.
Why all the hubbub?
The NFL is big business. PricewatershouseCoopers forecasts media sports rights will reach $19.9 billion by 2018, larger than revenue from sponsorships ($17.5 billion) and live gate revenue ($19.8 billion).
Wall Street analyst MoffettNathanson explains: "Sports programming is the glue of the media world and there has been no stickier product than the NFL."
MoffettNathanson reports the NFL represents 19% of Persons 18-49 GRPs across CBS, Fox, NBC, and ESPN. The firm estimates the NFL's share of total network ad revenue to be a quarter to half of the four major networks that carry the NFL.
How radio can make your NFL TV better
Amid all the discourse, a new cross media study from Nielsen reveals how the AM/FM radio coverage of the NFL supplements NFL TV viewing by adding reach and frequency.
Nielsen examined an advertiser's TV and radio ad campaign. Here is what they found:
1. The NFL on Westwood One amplifies frequency among light NFL TV viewers.
Light TV viewers represent people who watch about 12 hours of TV weekly. They tend to be the most desirable group for advertisers because they are younger, affluent, and more employed than the overall TV audience.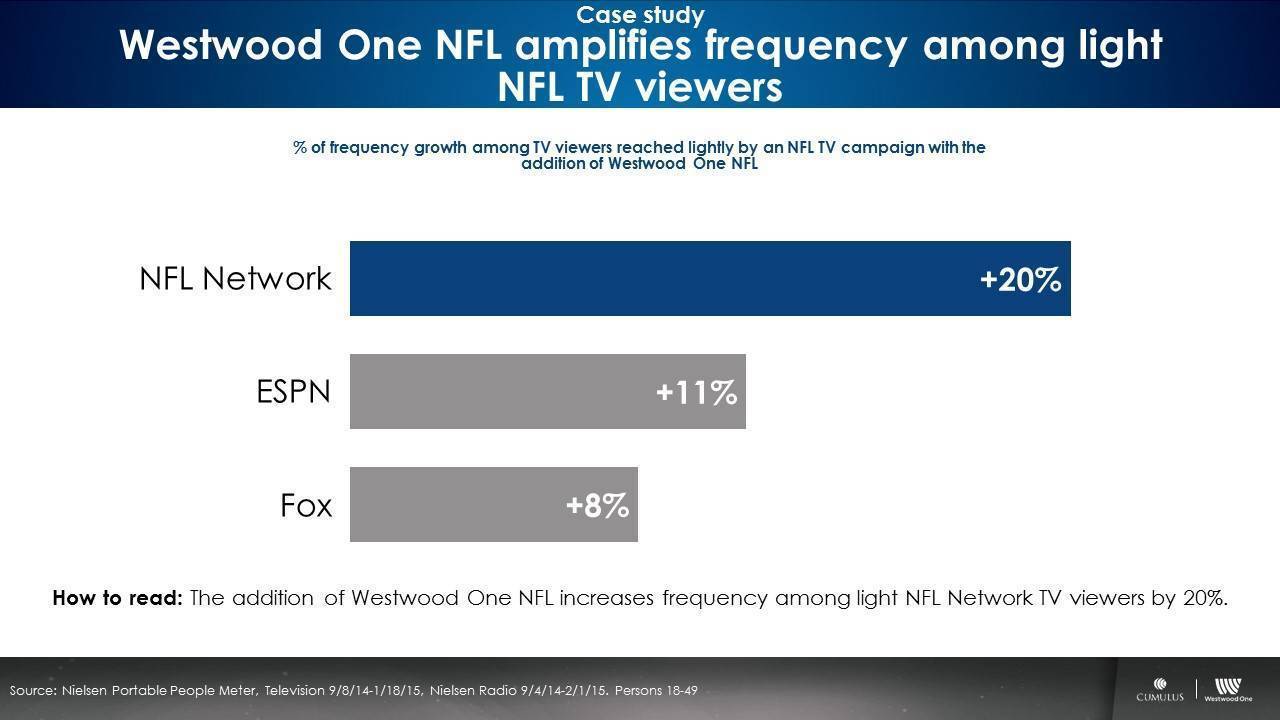 Westwood One increases campaign frequency by 8% among light NFL viewers on Fox. Frequency to the brand schedule grew 11% among light NFL viewers on ESPN.
2. Adding a Westwood One NFL radio campaign to an NFL Network TV schedule increases campaign frequency by 19%.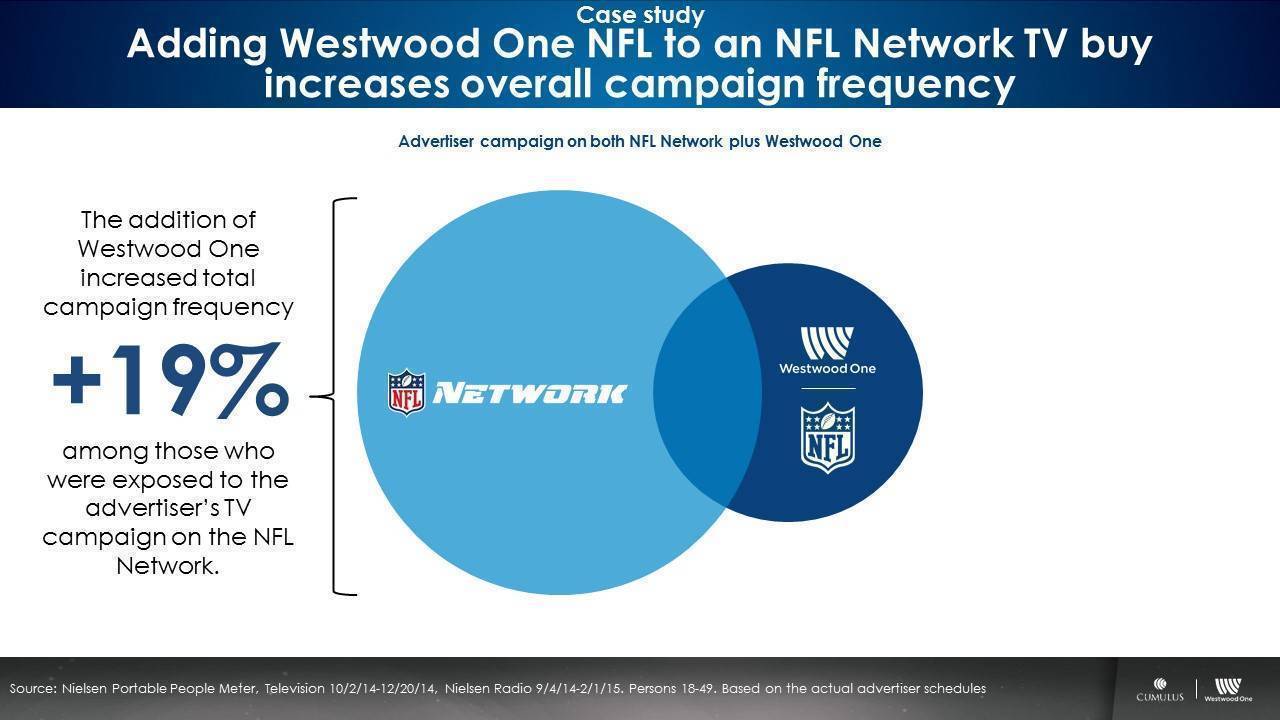 3. Westwood One adds 53% incremental reach to an NFL Network TV schedule.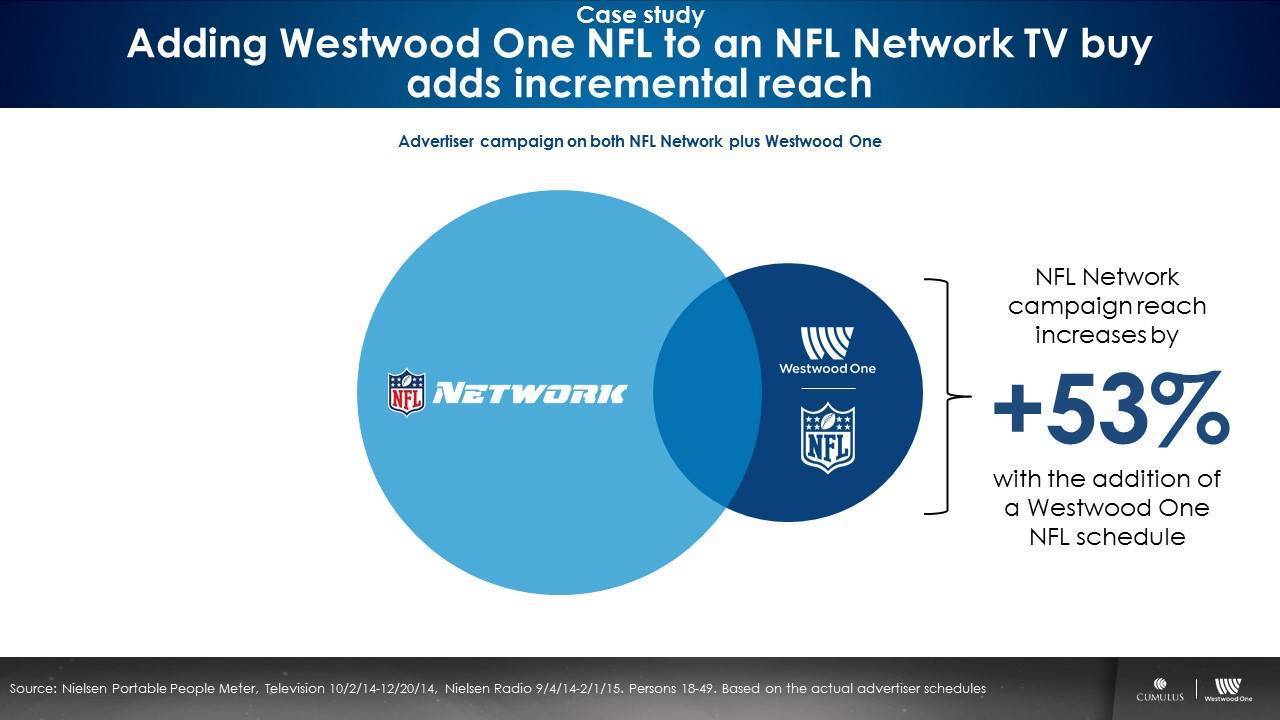 This decisively answers the often asked question, "What can radio add to my NFL TV investment?" A lot! According to Nielsen, Westwood One amplifies frequency and expands reach.
4. Nielsen reports Westwood One's CPMs are only 5% to 20% of NFL TV CPMs. The NFL on Westwood One efficiently adds incremental reach and amplifies frequency.
Most observers believe it is far too early to determine if the NFL TV ratings erosion of the first month of the season is the new normal or just a brief pause. Regardless, it's clear the NFL on Westwood can enhance an NFL TV investment by expanding reach and growing frequency.
Pierre Bouvard is Chief Insights Officer of Cumulus | Westwood One. Follow him on LinkedIn and Twitter.
Contact us today at corpmarketing@westwoodone.com to talk about your sports media investment.