How Advertisers Can Replace TV's Declining Viewers: The NFL On Westwood One
by Pierre Bouvard and Brandon Berman | August 22, 2016
It's time to have a serious conversation about the power of sports audio to enhance the media plan. The second quarter earnings season has ended and media analyst Todd Juenger offers his sober conclusions:
"We believe the U.S. television industry is entering a period of prolonged structural decline, caused by a migration of viewers from ad-supported platforms to non-ad-supported, or less-ad-supported platforms."
Here's a scary chart for TV advertisers from the researchers at MoffettNathanson. Look at the persons using television trend: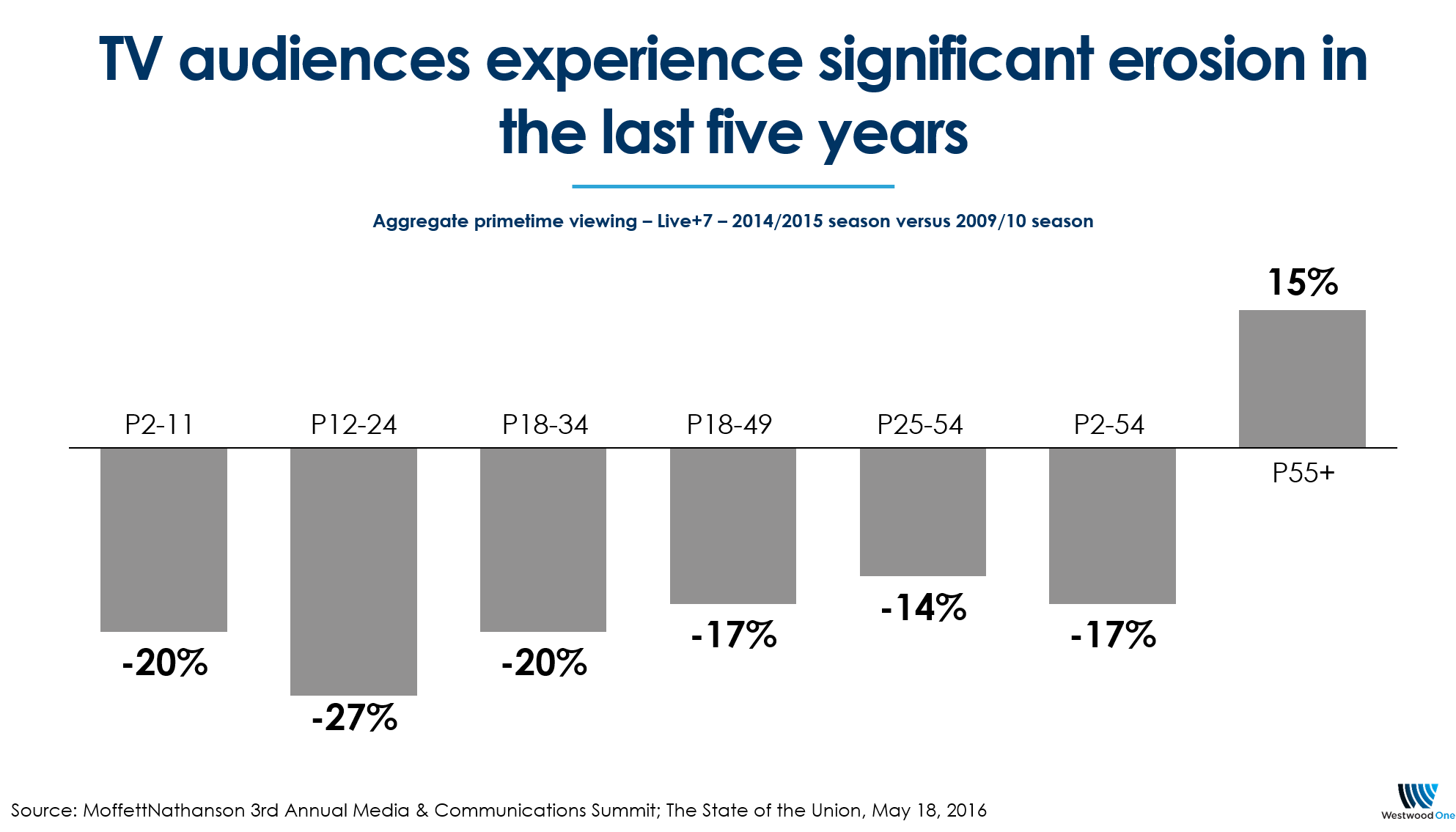 What does the steep drop in 18-49s mean for TV networks? Median ages are soaring: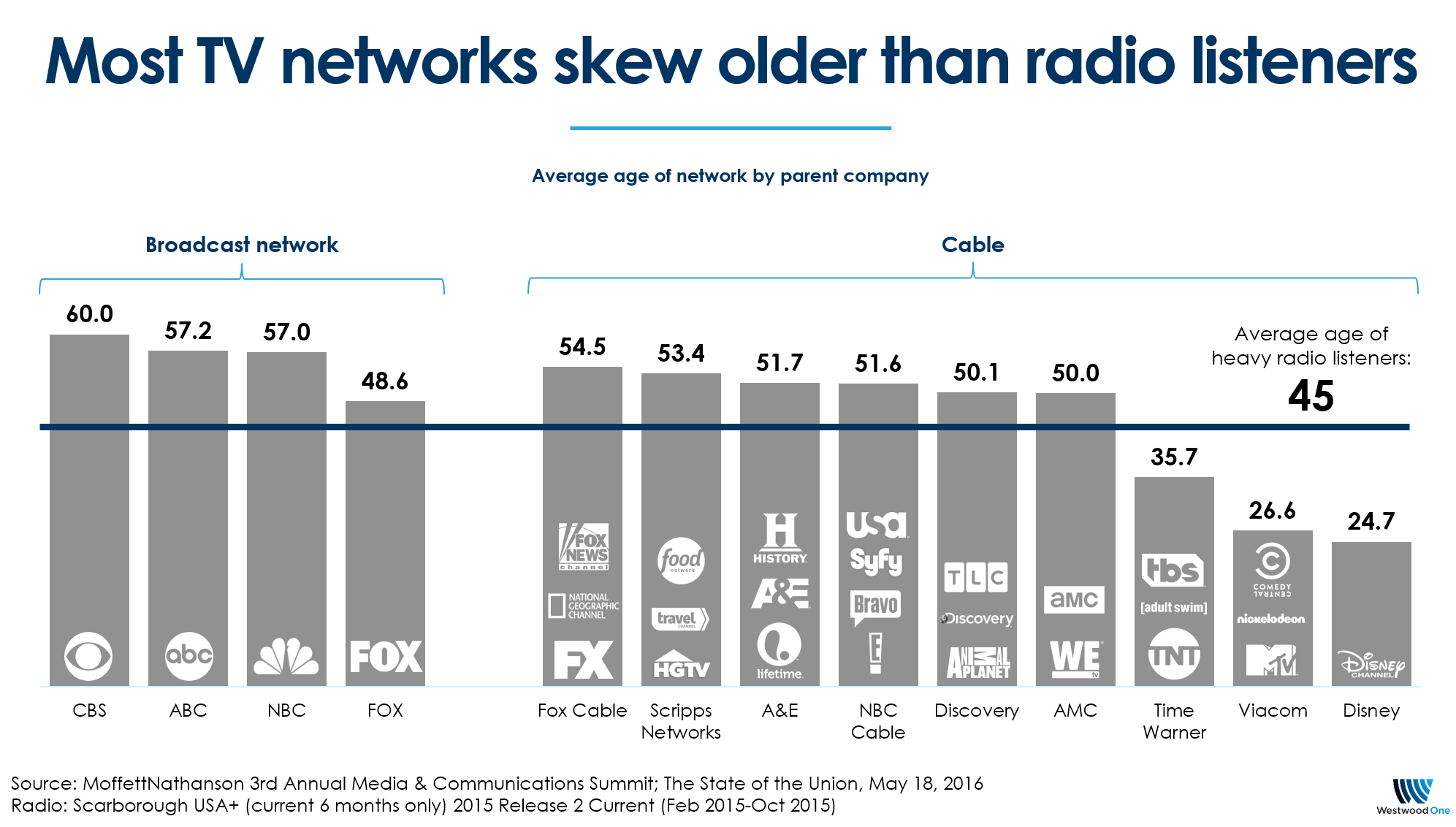 Think you can fix TV's woes with just mobile and online video? Careful…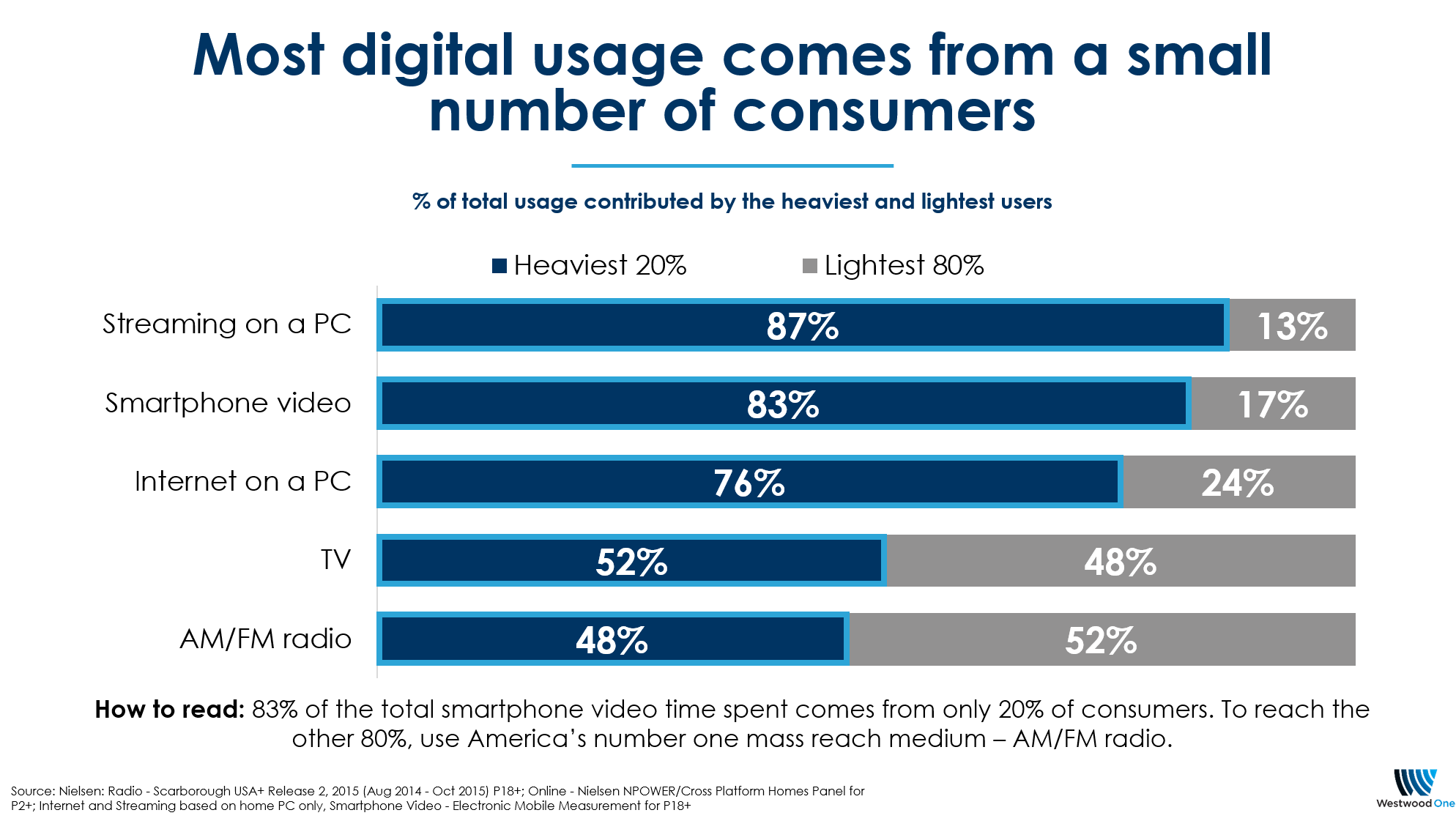 Nielsen recently revealed that the vast majority of mobile and video impressions come from only 20% of Americans. Mobile and online video can help, but you are still missing 80% of America.
Wall Street was shocked recently over the news that ESPN has lost more than four million subscribing homes over the past year. Since 2010, ESPN has lost 10 million homes.
Here's ESPN's subscriber trend:
2010 99.8 million homes
2014 95.2 million homes
2016 89.9 million Homes
Source: Nielsen 2016, Cable Universe Estimates
Sports programming provides unrivaled levels of engagement, tapping into passion while driving a sense of community among fellow fans. ESPN should continue to be a crucial aspect of your sports media plan.
We propose Westwood Sports can make your TV better. Westwood One Sports can make your mobile and online video investments better. Westwood One Sports can make your ESPN investments better!
Westwood One is the most significant sports audio platform in the world.
Name a marquee sport. We have the exclusive audio rights:
NFL. Super Bowl. NCAA. March Madness. Olympics. Masters. NHL championships. Stanley Cup.
The list goes on and on.
We can replace lost reach.
We can replace lost frequency.
We can enhance your media plan.
We especially help reach busy, on-the-go 18- to 49-year-olds with jobs, families, and kids. When these busy consumers are in car, AM/FM sports play-by-play is "the best available screen." With Westwood One Sports' multi-channel distribution strategy, we provide engagement via any device capable of producing sound.
America's number one mass reach medium is AM/FM radio (Nielsen).
America's number one mass reach sports audio destination is Westwood One.
It's time to have a serious conversation about the Westwood One sports platform.
Brandon Berman is senior vice president of Sports Sales and Marketing at Westwood One. Follow him on LinkedIn.
Pierre Bouvard is Chief Insights Officer of Cumulus | Westwood One. Follow him on LinkedIn and Twitter.
Contact us today at corpmarketing@westwoodone.com to talk about your sports media investment.