How To Build An Auto Brand With Audio: Subaru's Stunning Success Via Carmichael Lynch's Storytelling
"No one can build a brand with audio" is a misconception in the media world, especially when it comes to building auto brands. In fact, tons of brands — including Subaru — are building their brands with audio.
"Tier one auto" advertising describes the ads auto manufacturers air on national media, usually TV, to raise awareness and purchase consideration for their car brands. TV is often the first thought for these ads because of the assumption people need to see the "sight, sound, and motion" of the car.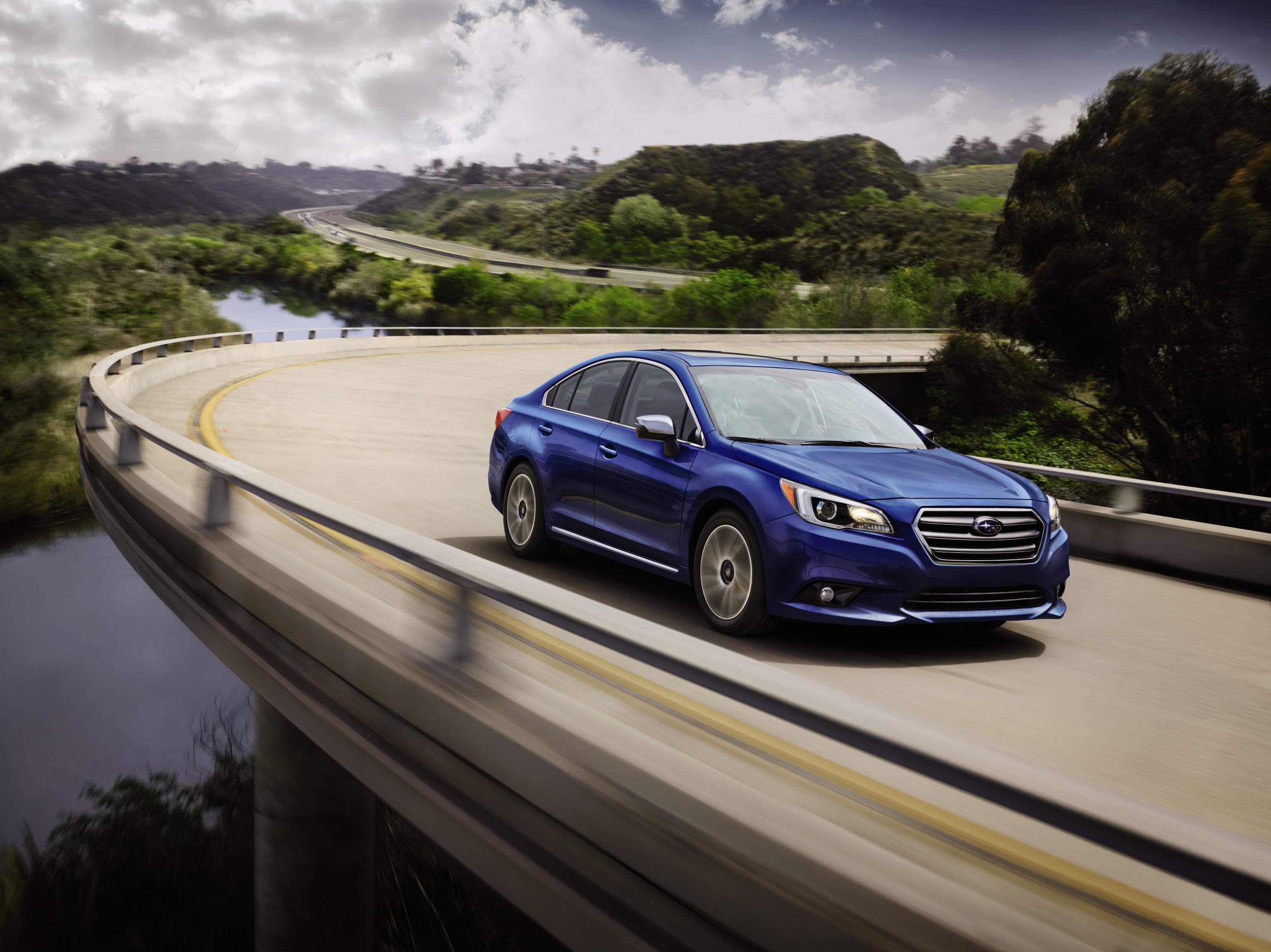 However, screen proliferation has sharply reduced TV ads "eyes on screen."
So many distracting devices means Americans are not putting their "eyes on the TV screen" to see all the beautiful sight, sound, and motion of car ads. The highly regarded Council for Research Excellence finds: "Consumers have moved from a single-source, single-device 'mental model' to a multi-source, multi-device mental model."
The CRE concludes: "Companion screens can distract attention away from content if they are used to do things unrelated to the content being viewed." Most of the time, companion screens are checking out all sorts of things unrelated to what's on TV.
One respondent in the CRE study says, "I like YouTube because it passes the time during commercials." Ouch.
So much for the "sight, sound, and motion" of linear TV. Sight and motion? Not so much these days. When TV ads are on, the experience is just like listening to the radio.
The lack of "eyes on the screen" for TV ads has prompted researchers to seek "snap back" moments at the beginning of TV ads. A "snap back" moment usually involves a startling audio cue that causes consumers to look back up at the TV. Audio? Interesting.
Audio storytelling builds brands: how Subaru does this brilliantly
Subaru has figured out how to incorporate audio effectively. Sure an auto brand involves the look of the car. But a brand is more than a logo and a sexy car shot on a curvy wet road. Successful car brands make you feel something. Strong car brands have an emotional connection with their owners.
"If you ask a Subaru owner what they think of their car, more times than not they'll tell you they love it," said Alan Bethke, director of marketing communications for Subaru of America tells Adweek. "It was always in front of us, but never utilized in the marketing."
According to Adweek:
"That changed seven years ago, when [Subaru agency] Carmichael Lynch launched work with that simple theme: 'Love.' In the years since, the ads have told poignant stories across the four thematic pillars — longevity, safety, versatility and adventure — that resonate with the target, defined as doers deeply engaged with life, others and the world."
Doug Bratman, group copy vice president at RevHealth, explains how storytelling makes great content and "people don't forget stories easily." He writes:
"Subaru knows this—and even more impressive, they use stories not only in their website content, but on radio ads.
Their current radio spot tells the story of a couple who, in their pajamas in a rented cabin before they were even married, watched cars sliding on the road. Along came a Subaru sedan driving as though the road was clear blacktop.
Then they talked about the symmetrical all-wheel drive and some other features. The unique details of the story — the couple, the cabin, the pajamas — made it stand out from all the other car commercials I've heard, which I can't even remember.
And therein lies the entire point of brand storytelling. To draw the listener or viewer in; to make them want to hear what happened. By the time you hear that radio commercial a few times, you feel like it's a friend telling the story. It's purposely written and recorded that way, of course, with an informal, familial tone."
(Listen to an example spot in Subaru's love campaign here.)
The results are in: radio elevated the Subaru brand, according to the Keller Fay Group, the word of mouth gurus.
Keller Fay are the brand tracking authorities who literally wrote the book on quantifying word of mouth.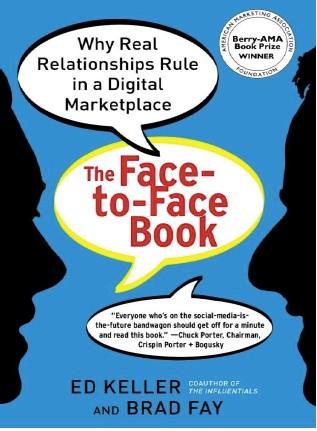 Keller Fay tracks consumer brand conversation and found heavy radio listeners generate more word of mouth about leading auto brands compared to heavy digital users and heavy TV users.
Going back to 2012, Subaru has the biggest increase of any car brand in average weekly word of mouth conversations, according to Keller Fay.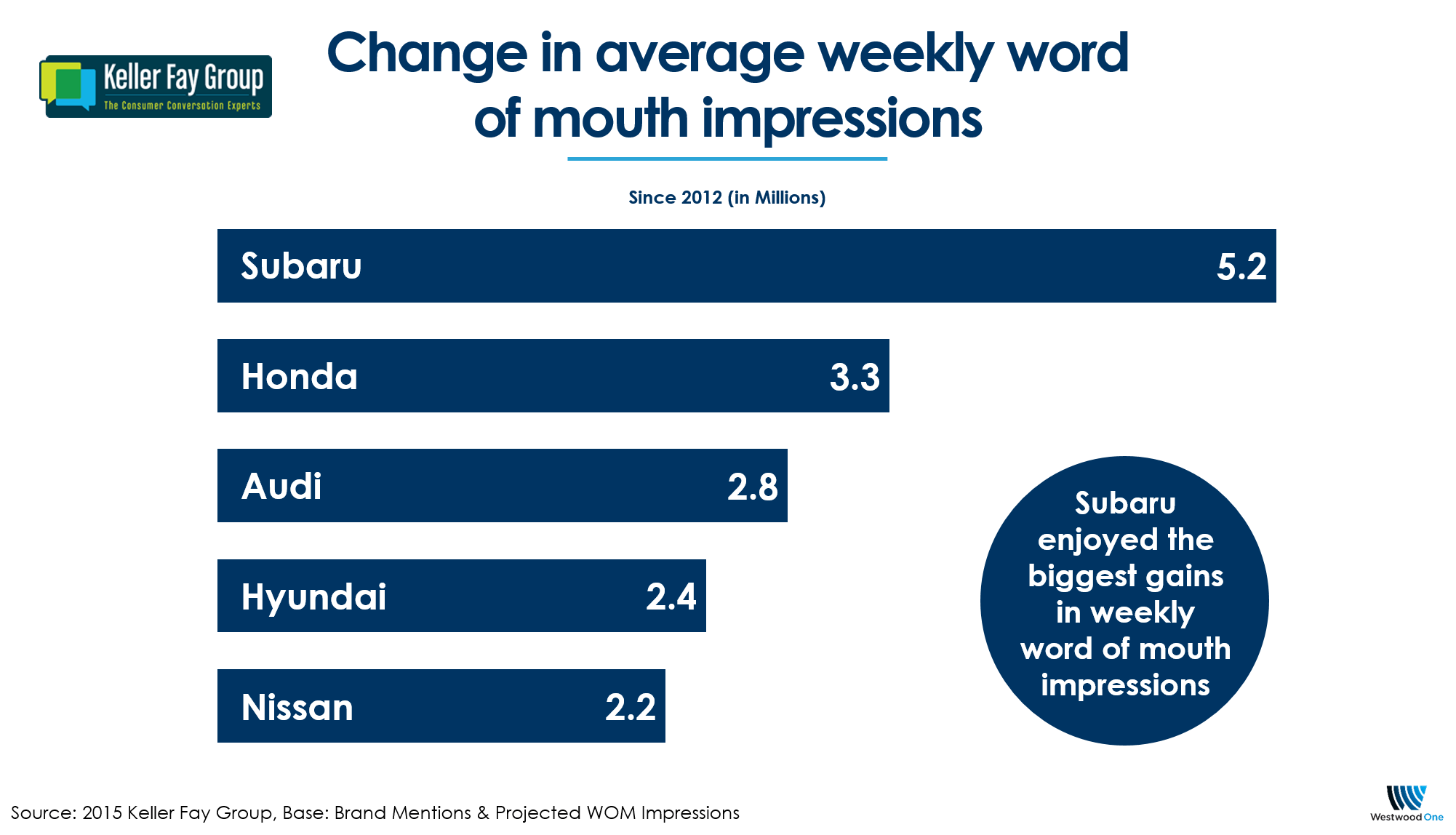 Keller Fay finds that Subaru's word of mouth conversations are 22% more likely to be driven by radio ads versus all auto brand conversations. In addition, Subaru's word of mouth conversations are much more likely to come from radio ads than television ads (radio's 122 index versus 81 for TV).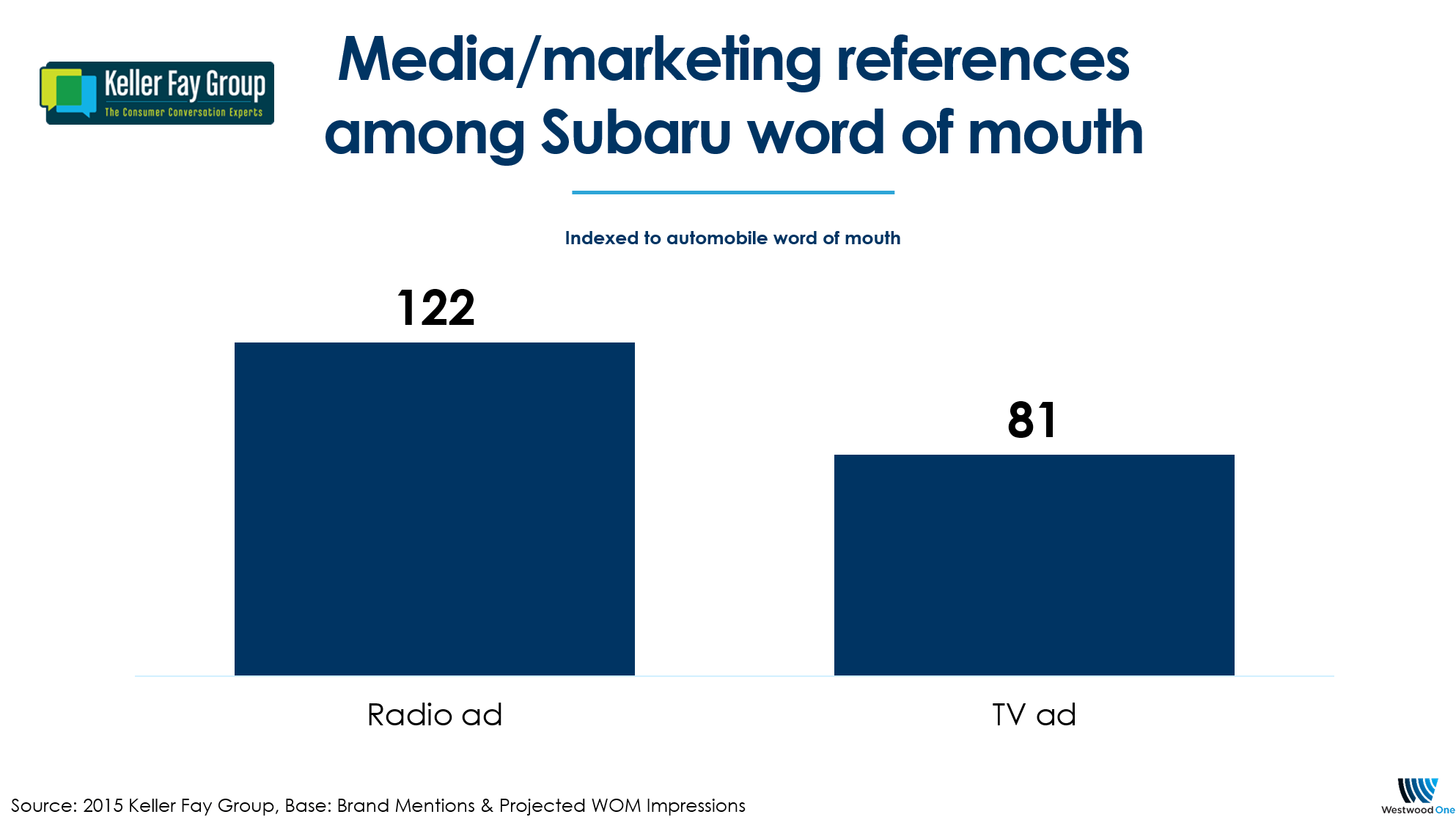 Subaru's stunning success
Through the first six months of 2016, Subaru has sold more vehicles (279,458) than they did in all of 2006 (200,703).
And 2015 was spectacular year for Subaru, including:
all-time sales record: 582,675 vehicles sold (nearly triple what they sold in 2006).
7 straight years of record sales
9th largest volume brand in America
2016 "Best Overall Mainstream Brand" Residual Value Award – ALG
2016 Most Trusted Brand – Kelley Blue "Still the Hottest Car Company in the U.S." according to Bloomberg Business.
Audio builds brands and Subaru loves audio
Bravo Subaru! Bravo Carmichael Lynch! Thanks for showing us how the power of audio storytelling can help build an auto brand.
Pierre Bouvard is Chief Insights Officer of Cumulus | Westwood One. Follow him on LinkedIn and Twitter.