NFL Radio Case Study: How Audio Increases Brand Awareness And Elevates The Media Plan
by Pierre Bouvard | June 7, 2016
Some say brands can't be built with audio. Tell that to the Home Depot and Geico, brands strongly supported by audio, or Subaru, who brilliantly uses storytelling ads on the radio.
CMOs today deserve evidence that an ad campaign can positively impact brand perceptions, favorability, recommendation, and purchase.
CDW and the NFL on Westwood One
The NFL on Westwood One is broadcast on 700+ radio stations and simulcast on SiriusXM, TuneIn, and NFL.com. The streaming and satellite simulcasts generate 40% of the total Westwood NFL audience.
CDW, a large and successful information technology (IT) solutions and services firm, is a longtime sponsor of the NFL audio coverage on Westwood One. Westwood and CDW commissioned Nielsen to conduct a study to quantify the brand impact of CDW's NFL radio campaign.

Perceptions from listeners exposed to NFL primetime games on Westwood One were compared to consumers who did not listen but watched on television. This "exposed/unexposed" methodology allowed measurement of the impact of CDW's Westwood One campaign.
Of special interest to CDW are IT influencers and decision makers, those responsible for making or influencing IT purchases.
Here are four key findings:
1. The Westwood One NFL audio audience has nearly two times the concentration of IT influencers and decision makers compared with the NFL Television audience.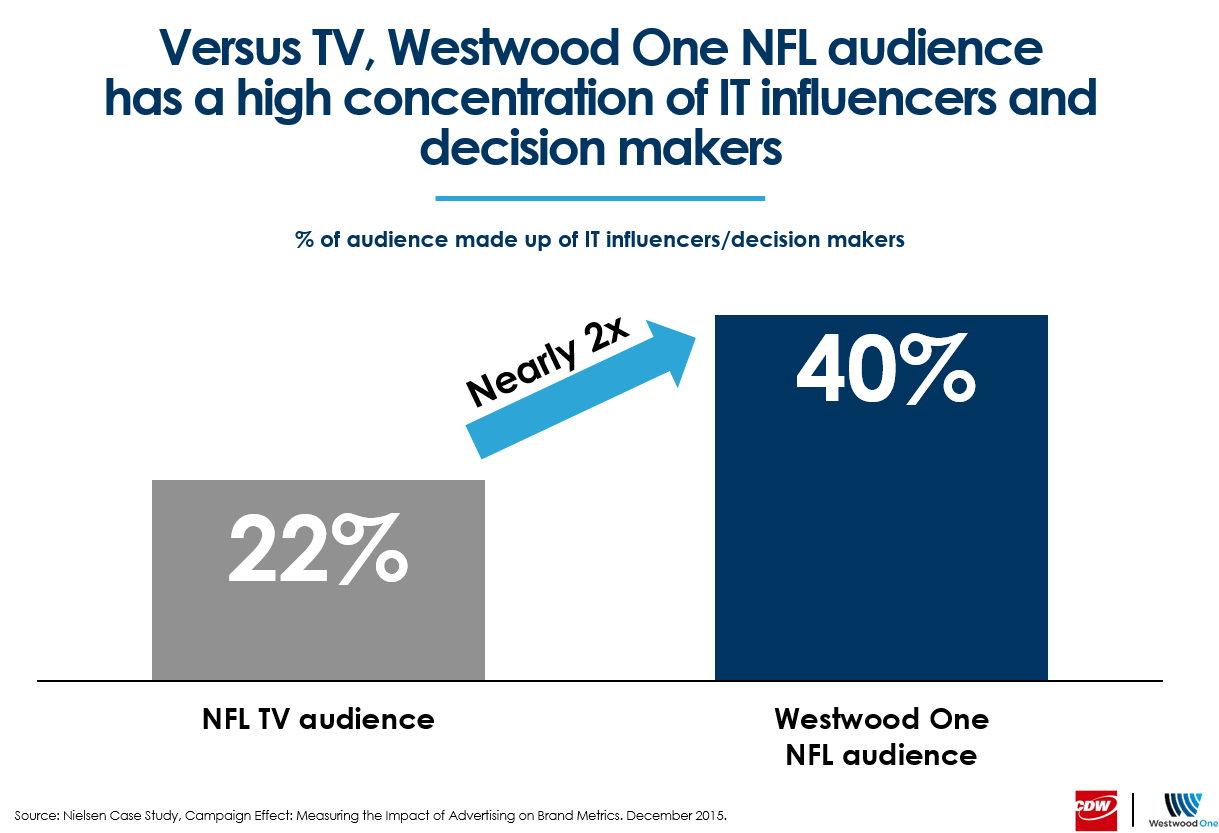 Nielsen reports 40% of the Westwood One NFL audience is IT influencers/decision makers, compared with only 22% of the NFL television audience. This is not surprising, as 69% of heavy radio listeners are full-time employed, compared with only 35% of heavy TV viewers.
2. CDW's Westwood One NFL campaign had a positive impact on key branding measures with IT influencer and decision makers.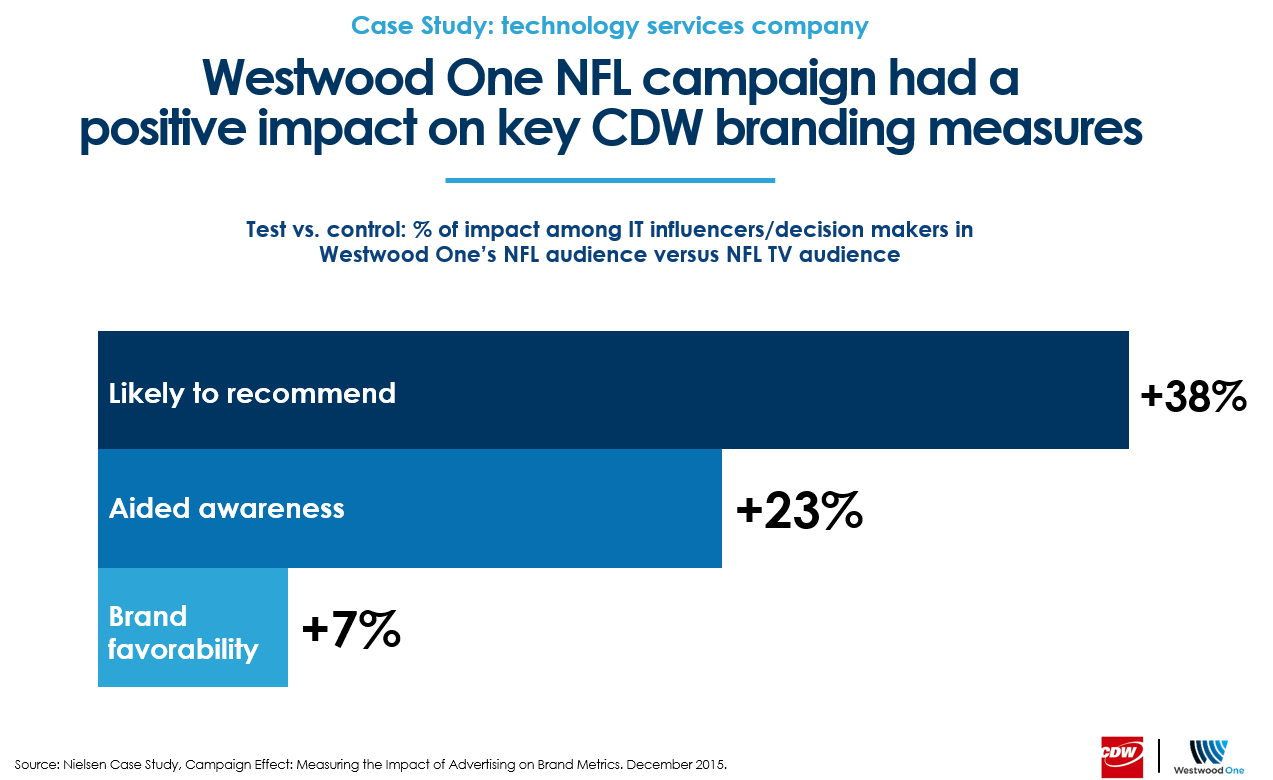 Among those exposed to the campaign, branding scores were higher across the board. CDW's NFL campaign improved aided awareness, brand favorability, and likelihood to recommend the brand among IT influencers.
3. Those exposed to the NFL radio campaign had stronger perceptions of CDW's consultative services, trustworthiness, and reputation as a leading provider of IT solutions.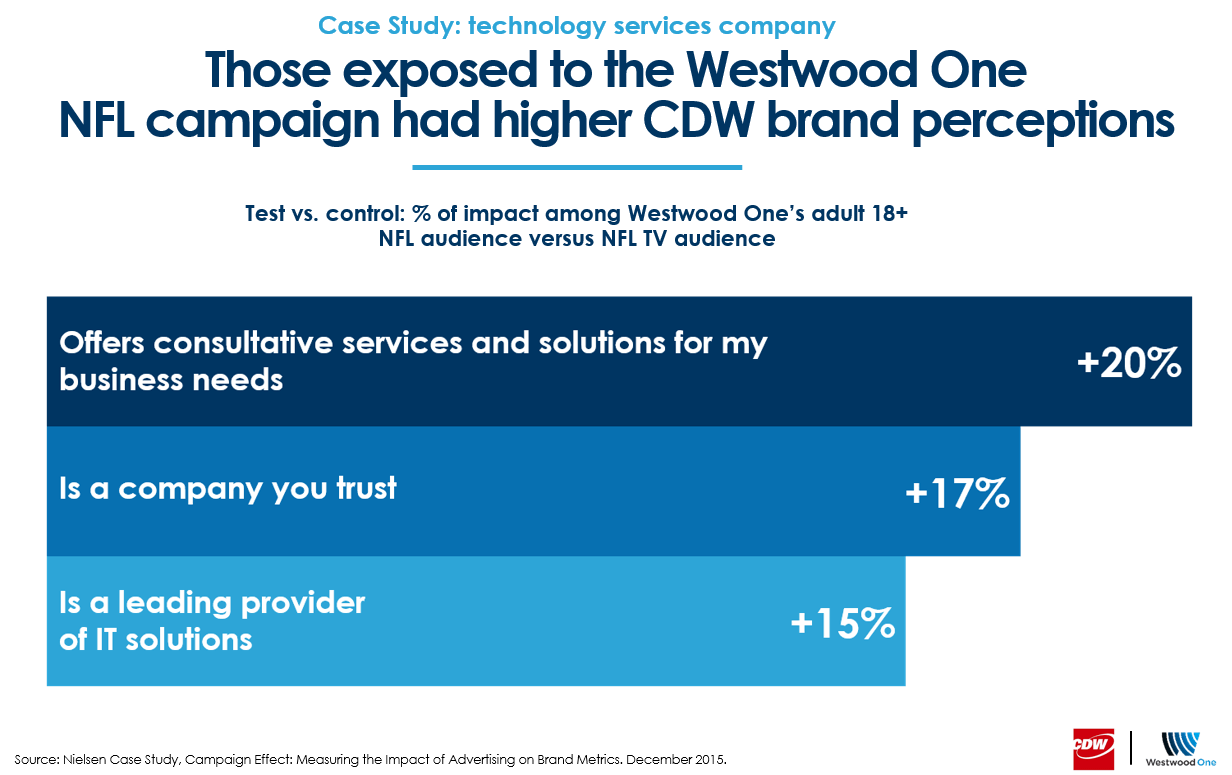 Did the ad campaign lift key brand perceptions? That is the ultimate measure of success for a branding campaign.
For CDW, the NFL audio campaign delivered. Among those exposed to the campaign, the strength of CDW's key brand perceptions were 15% to 20% higher.
4. Audio makes all other media work better: those exposed to the NFL Westwood One campaign showed higher awareness for CDW's advertising on all other media.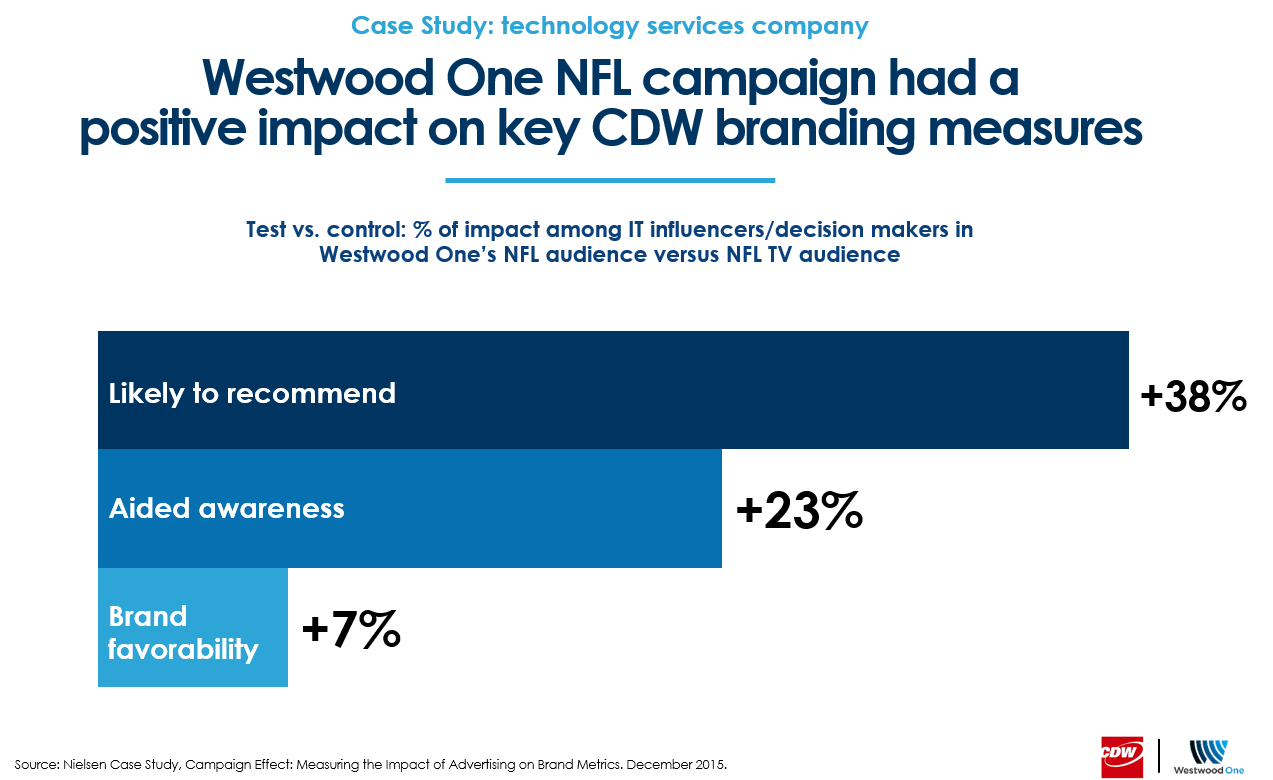 Audio made the media plan better, increasing brand awareness and providing a boost for all other arms of CDW's branding campaign.

The NFL on Westwood One provided an audience concentrated with IT influencers and positively impacted CDW's brand perceptions, favorability, and recommendation. CDW saw increases in perceptions of trustworthiness and growth for its reputation as an IT solutions provider.
For best results, just add radio. Invest in radio and watch all other media work better.
Pierre Bouvard is Chief Insights Officer of Westwood One | Cumulus. Follow him on Twitter and LinkedIn.