5 Slides Pandora Doesn't Want You To See: Pandora's HUGE 18-24 Problem
Will Pandora be to streaming what MySpace was to social media?
MySpace was the first major social media site. It was da bomb. Then, Facebook came along and the rest is history. Does the same fate await Pandora? Time will tell.
Trouble is brewing for Pandora among 18- to 24-year-olds. Five slides from Edison Research's "Share of Ear" study explain why.
Online radio vs. on-demand audio
In the world of online audio, there are two kinds of companies:
Online radio services like Pandora mimic traditional radio by playing curated songs in specific genres.
On-demand services, like Spotify or YouTube, allow you to actually play a specific album or song. The on-demand experience is more like listening to your CDs or personal music collection. More choice and control.
1. Among 18-24s, time spent with on-demand services is surging at the expense of owned music. From fall 2014 to fall 2015, the share of total audio time spent with Americans' owned music has dropped from 24% to 20.5%.
Meanwhile, the share of time spent with on-demand services Spotify and YouTube has jumped from 16.3% to 23.7%. For the first time, 18-24s are spending more time with music they rent versus music they own.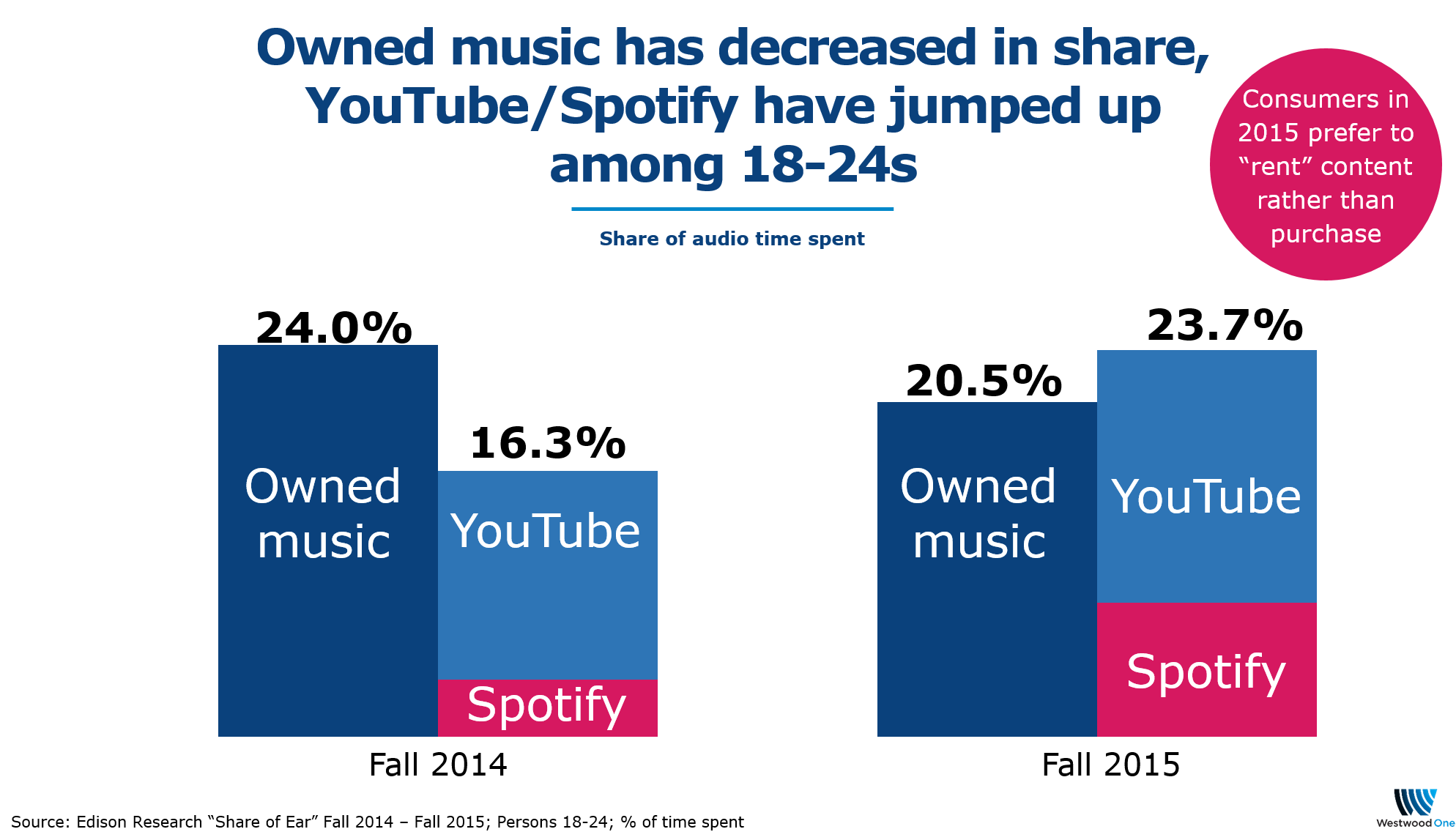 We are also seeing the shift from owning to renting content in the world of video, as DVD sales have plunged and Netflix has soared.
2. Pandora has a huge 18-24 problem and it's called YouTube and Spotify. Over the last year, share of 18-24 time spent listening to YouTube and Spotify has surged 45%. Meanwhile Pandora's 18-24 shares are up only a bit. YouTube and Spotify are now nearly 2.5 times as big as Pandora.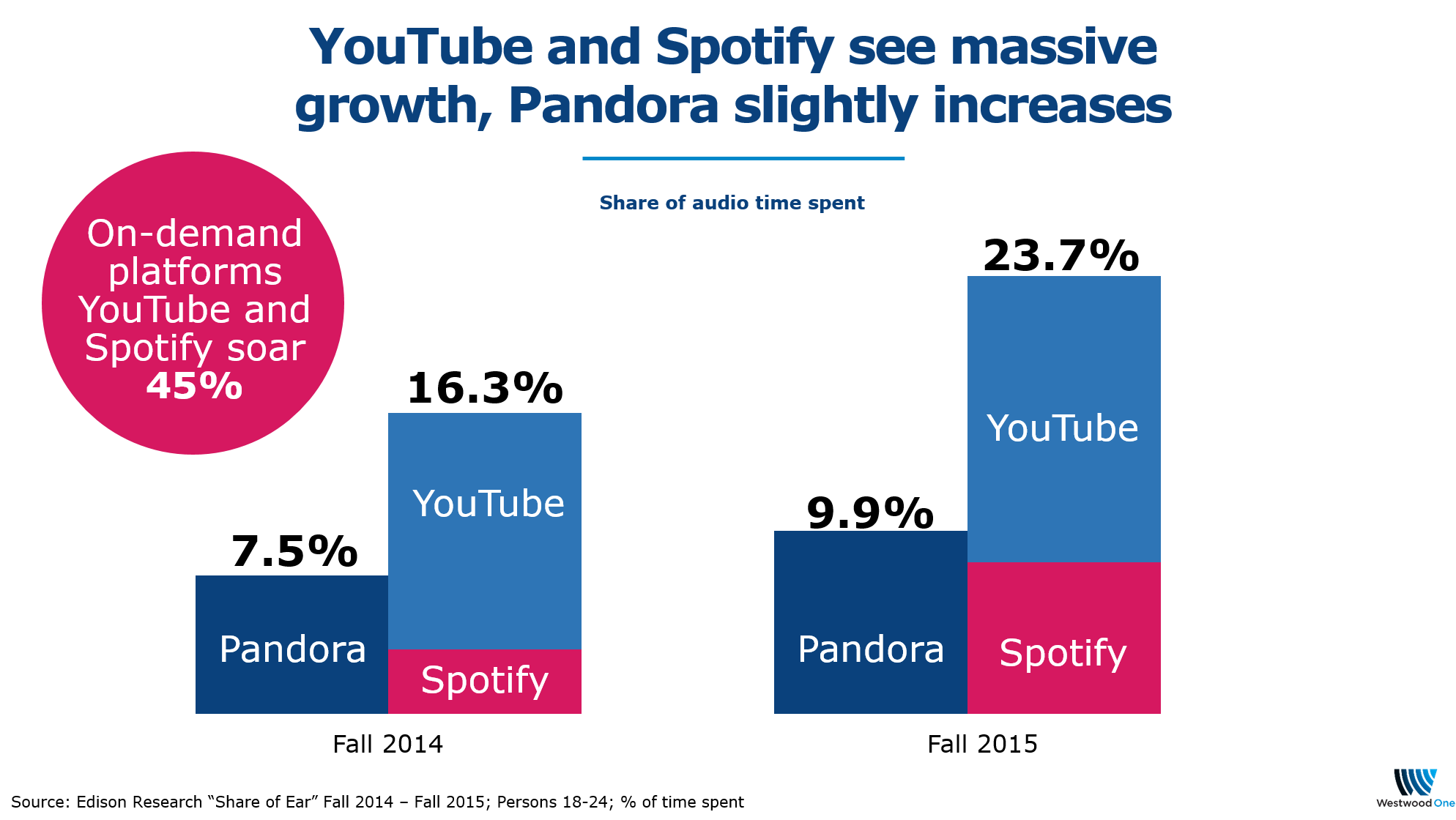 3. Spotify's 18-24 time spent listening is going through the roof and will soon overtake Pandora. In one year, Spotify's 18-24 share of listening has grown 134%, from a 3.5% share to an 8.2% share. For all of 2015, Pandora hovered around a 9% share.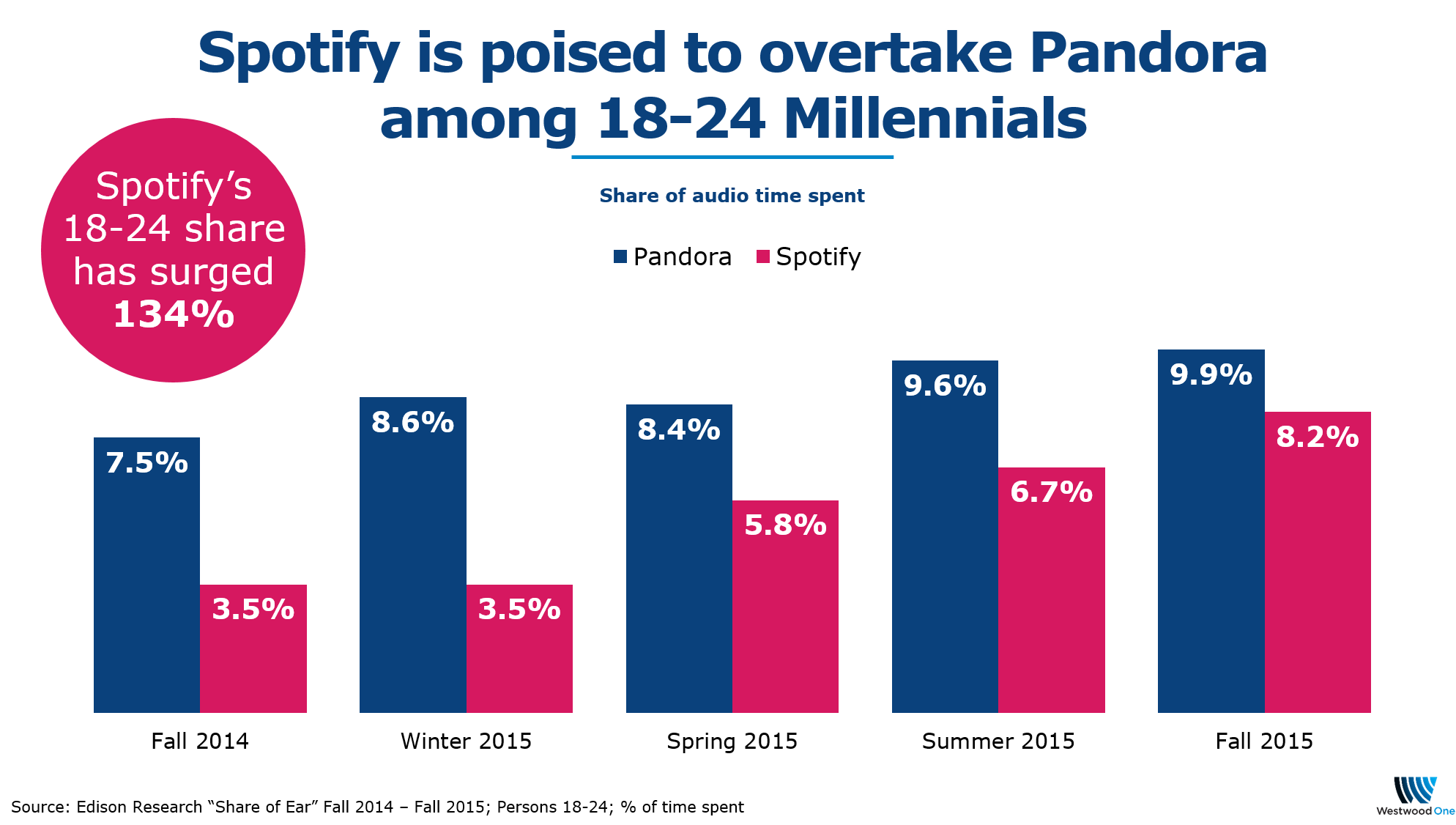 4. Spotify's reach is growing; Pandora's reach growth has stalled.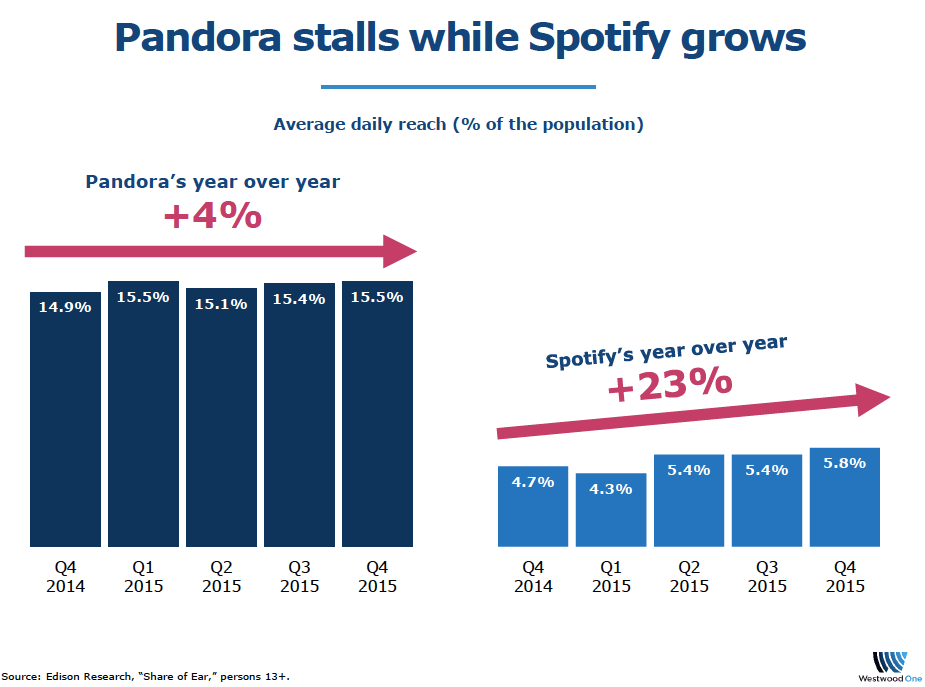 Among all people 13 and over, the number of total uniques, or different people Pandora reaches, has flatlined. Spotify's total reach is up 23% since fall 2014.
5. Spotify's audience has more passion compared to Pandora. Spotify does a much better job converting reach into audience share of time spent listening. Among 18-24s, for every 1% of reach, Spotify generates a .45 share. Pandora is only able to convert 1% of reach into a .37 share.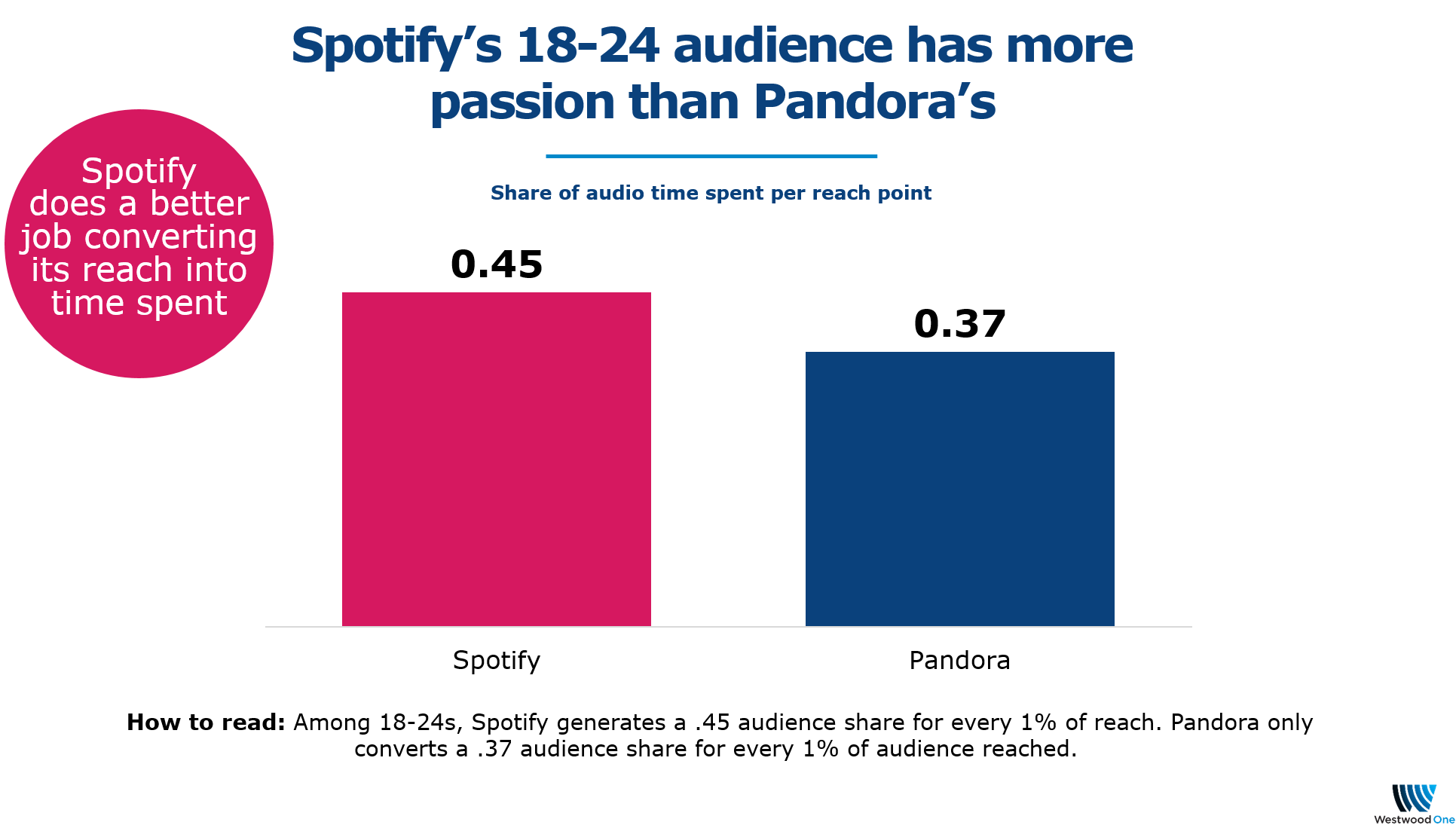 Time spent listening to Pandora is declining, according to new research from Bridge Ratings, which has been tracking the growth of Pandora over time. Since 2014, the number of daily listening occasions to Pandora is decreasing, and people are also spending less time per listening occasion with the service.
AM/FM is the centerpiece of audio
Despite all this, AM/FM remains the centerpiece of American audio. With a towering total 52% share of time spent listening, AM/FM is eight times bigger than Pandora and 21 times bigger than Spotify.
According to Edison, in a typical day 74% of Americans are reached by AM/FM; only 15% are reached by Pandora and 5% are reached by Spotify. Thus in a typical day, 85% are not reached by Pandora and 95% are not reached by Spotify.
Meanwhile, Pandora has a big problem with 18-24s, and it's called YouTube and Spotify. Something on the agenda for its new CEO.
Pierre Bouvard is CMO of Cumulus Media | Westwood One. Follow him on Twitter and LinkedIn.
Contact activate@westwoodone.com today to find out how radio can elevate your marketing campaign.