NCAA March Madness On Westwood One: Upscale Mass Reach And TV Accelerator
A series of custom Nielsen studies have unearthed four key attributes of the NCAA Basketball radio audience:
1. Mass reach
Sixteen million unique radio listeners follow Westwood One's NCAA Basketball coverage from November right through the Championship game in April. Westwood's coverage simulcast on AM/FM, online, and satellite reaches a stunning one in three of the total March Madness audience. Among those that are exposed to March Madness in some form, one out of two men 18-49 and 25-54 will listen to the games on Westwood One.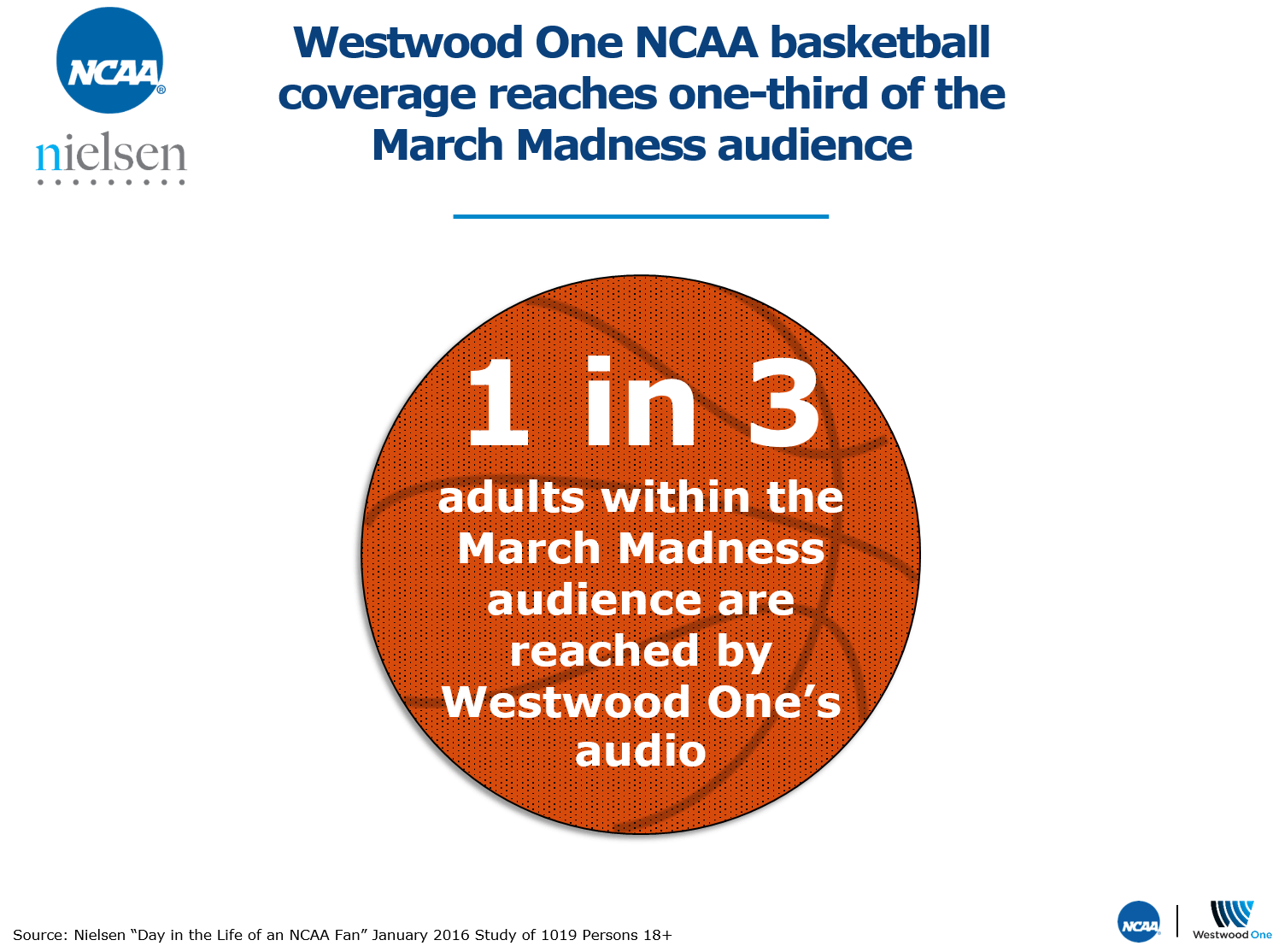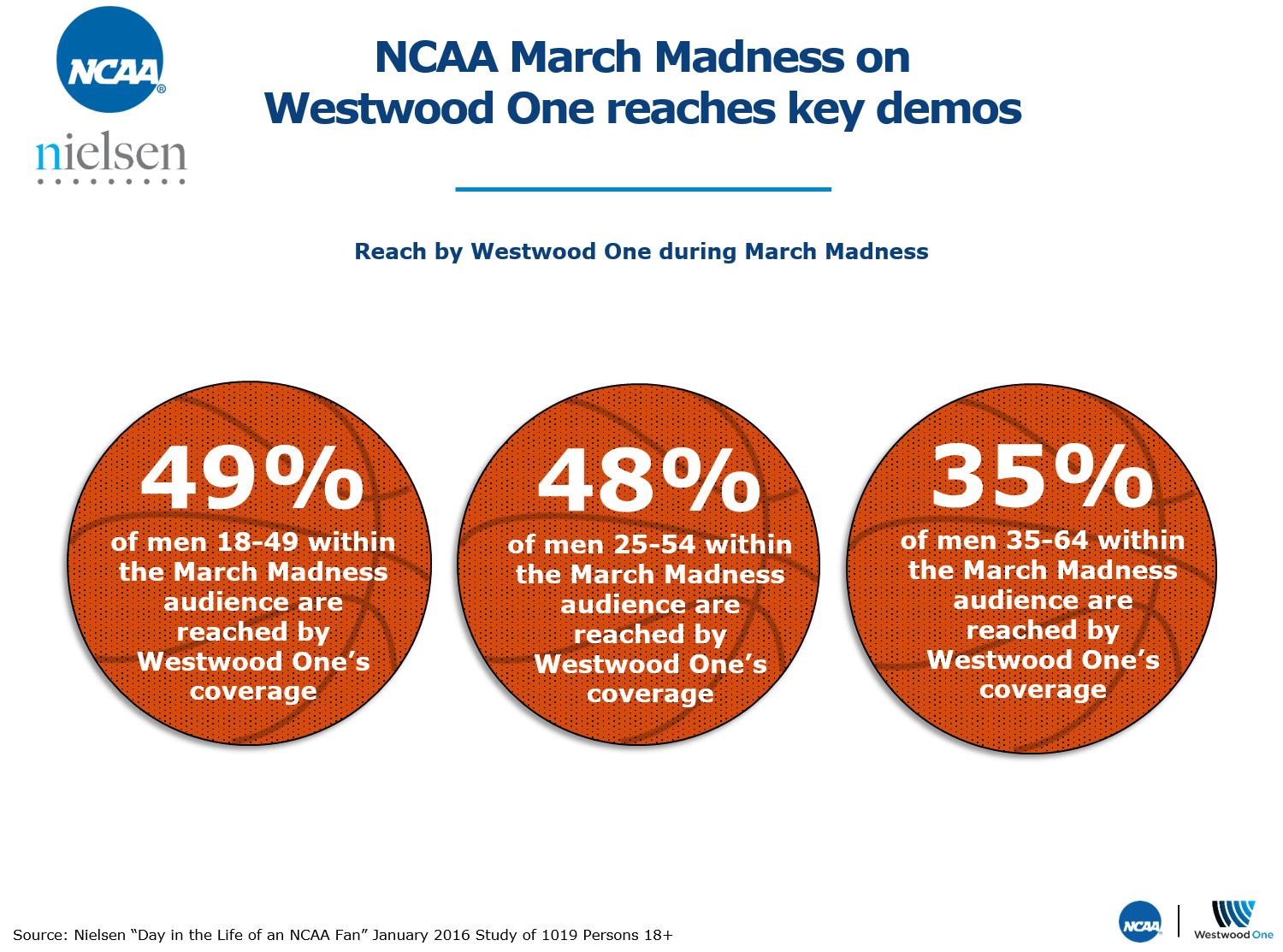 2. Upscale
Regardless of the sport, radio play-by-play attracts the most upscale and full-time employed consumers. Since radio is the soundtrack of the American worker, the NCAA March Madness radio listener is much more upscale and employed versus the NCAA TV viewer.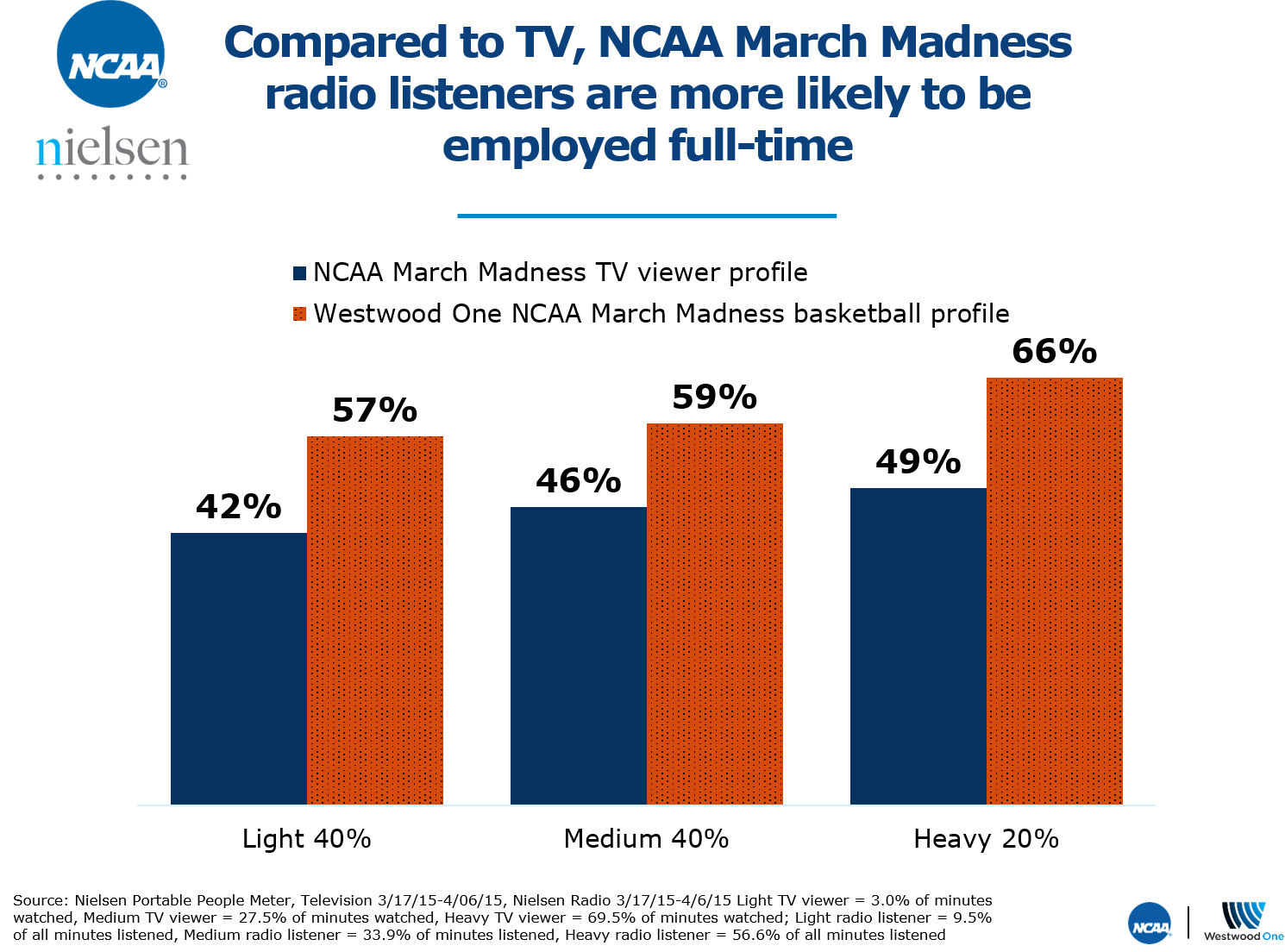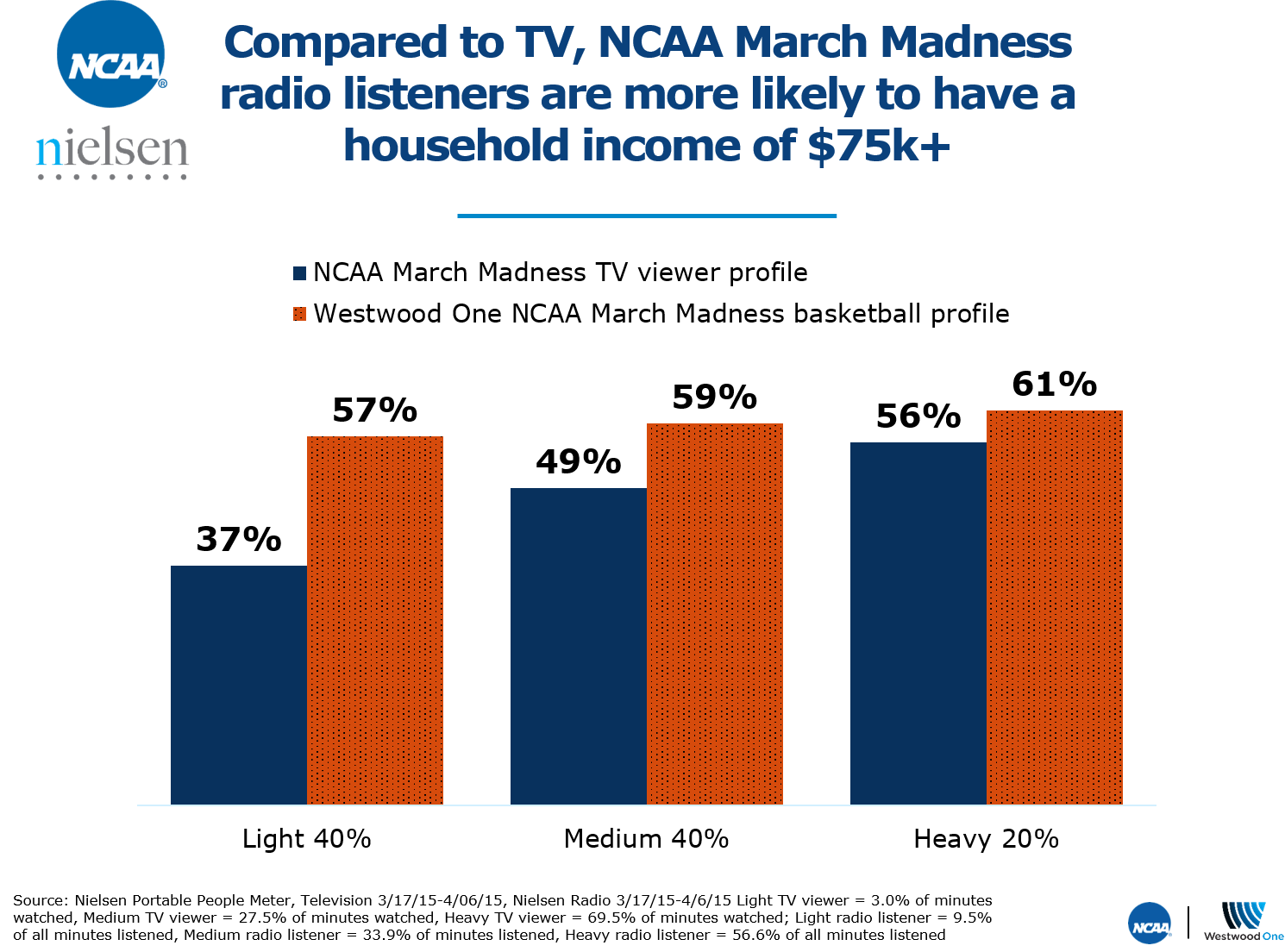 3. Incremental reach
Radio play-by-play fans are more engaged and passionate sports fans. NCAA radio listeners consume 19% more games than NCAA TV viewers. NCAA listeners are more likely to seek out coverage away from home.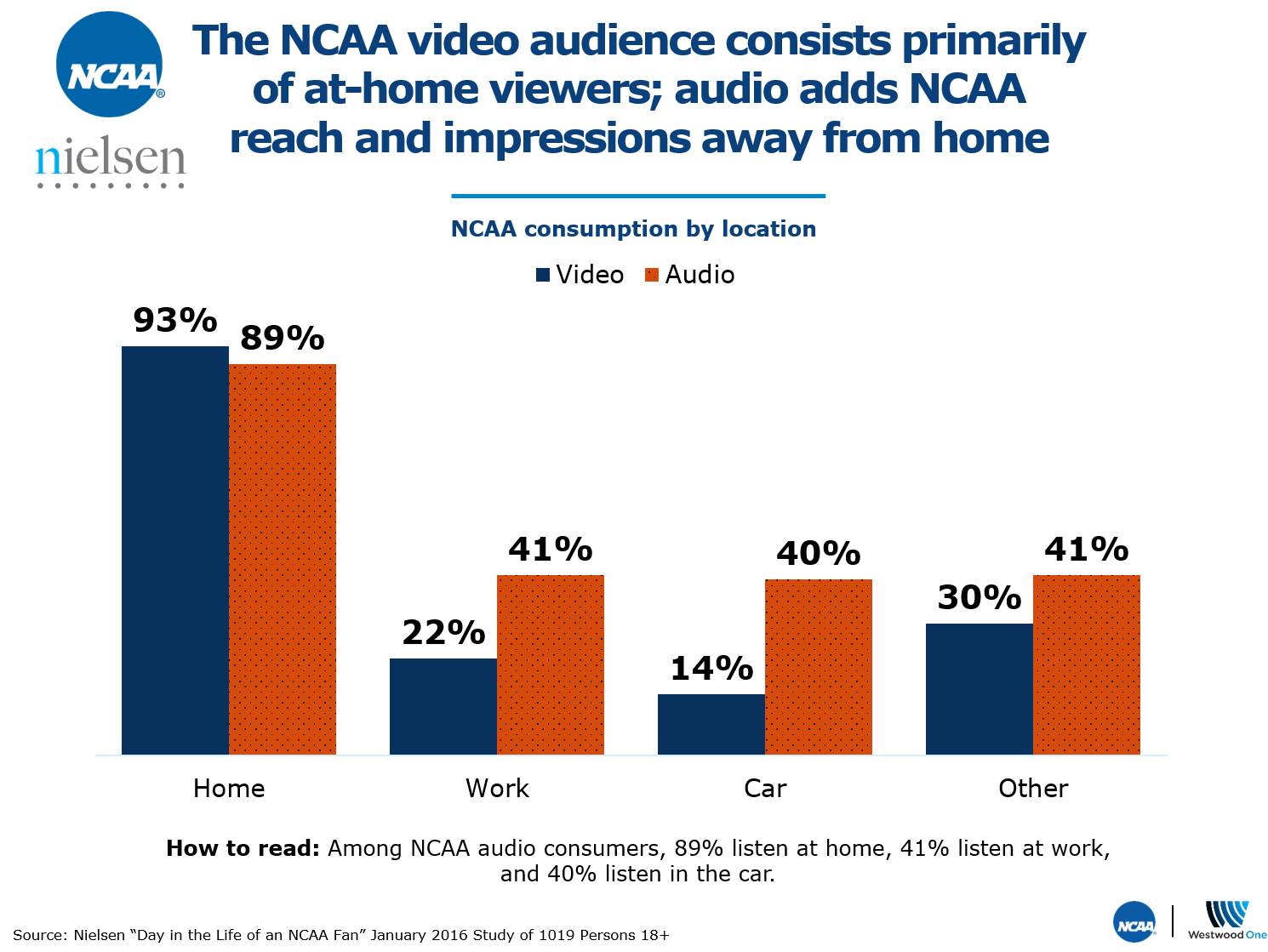 Since NCAA radio listeners are more likely to seek out the games in the car and at work, Westwood One's coverage adds incremental reach to those who follow March Madness online, on social, and via video.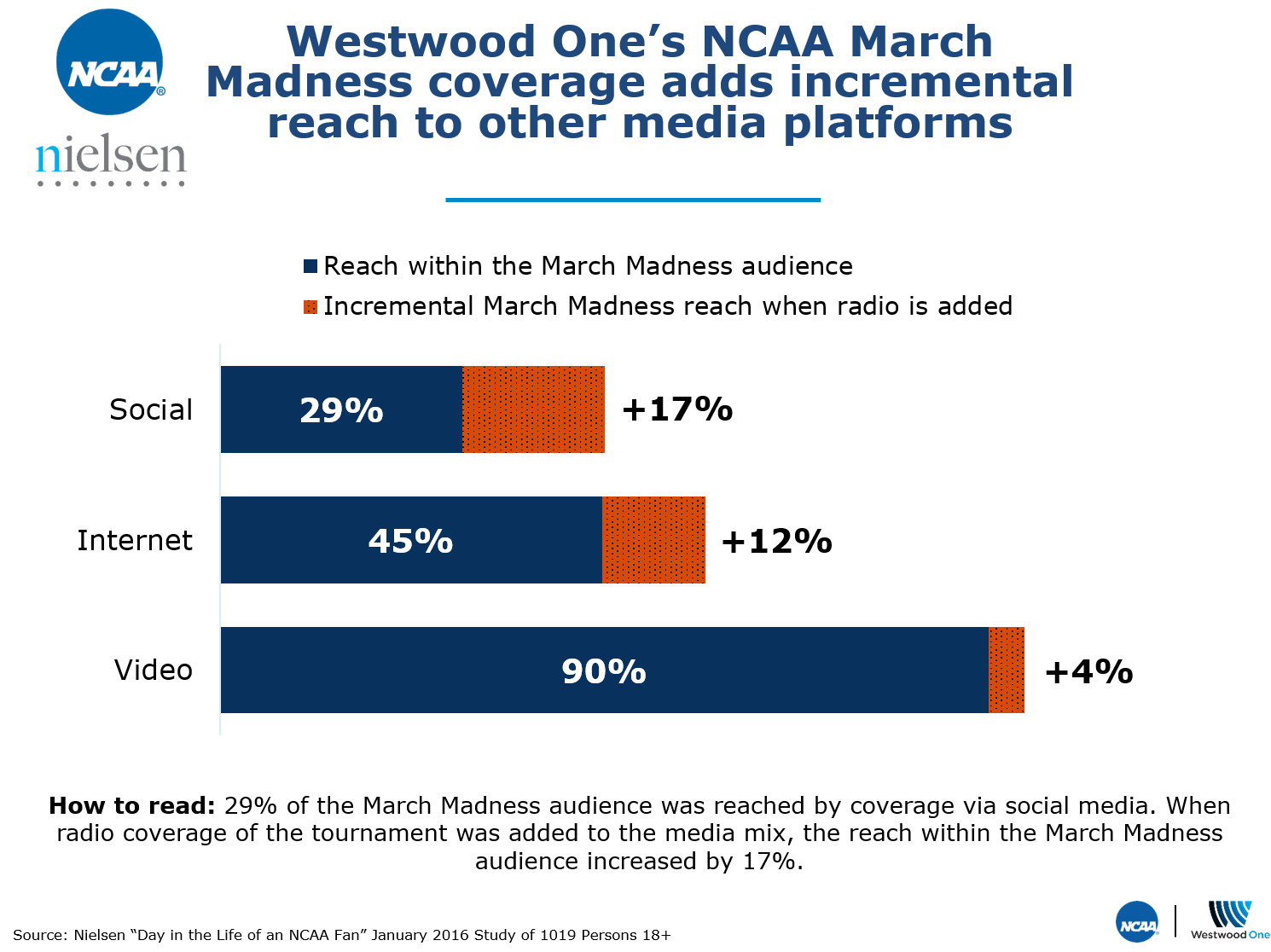 4. Frequency amplification: make your TV better
Nielsen cross media studies reveal half of TV sports advertising impressions comes from only 20% of the viewing audience. A stunning 40% of the TV play-by-play audience barely sees the TV campaign. Enter radio play-by-play. Radio play-by-play campaigns double frequency among light TV viewers and increases frequency 53% among medium TV viewers.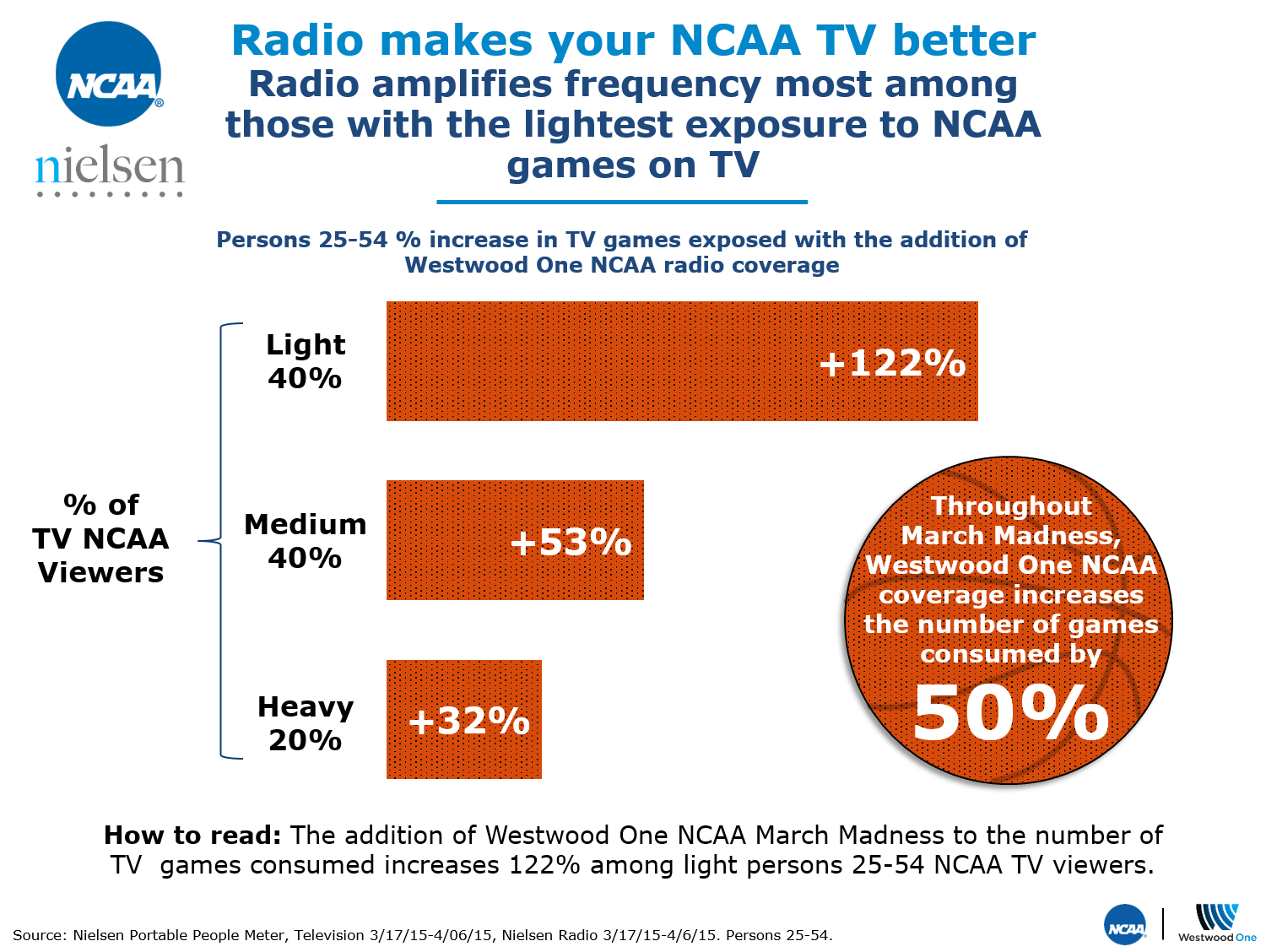 Overall, radio play-by-play coverage adds 50% more frequency to NCAA TV media plans.
March Madness: So much passion. So little time.
Nielsen reports that NCAA Basketball is America's fifth most favorite sport. This culminates into three weeks of excitement during March Madness, one of the biggest sporting events of the year.
Tap into stunning fan engagement with NCAA March Madness on Westwood One. Leverage upscale mass reach and accelerate your NCAA TV with incremental reach and frequency amplification!
Pierre Bouvard is CMO of Cumulus Media | Westwood One. Follow him on Twitter and LinkedIn.
Westwood One is the exclusive audio provider of the 2016 NCAA Men's Basketball Tournament, from the First Four to the Final Four. Check out http://www.westwoodonesports.com for more information. For brand partnership opportunities, contact activate@westwoodone.com