Motel 6 And Service King Crowned Super Bowl Sound Champions
For the third year in a row, we've had consumers vote for their favorite Super Bowl radio ad running in Westwood One's Super Bowl broadcast. This year we introduced a new element – we commissioned Nielsen to measure 45 Super Bowl commercials that aired in the broadcast.
Here's how it worked: Westwood One asked listeners to vote for their favorite audio commercials airing in the Westwood One Super Bowl 50 broadcast. Consumers could listen and vote for the ads at www.thesoundawards.com. In addition, we commissioned a Nielsen study of 3,030 consumers who rated all 45 commercials on a series of key attributes.
And the winners are…
Service King won the listener vote as the favorite Super Bowl commercial. Service King's ad described its Mission 2 Hire Program, a campaign dedicated to hiring 500 veterans at locations around the country. Listen to the ad here.
Motel 6 was rated as most likeable ad in the Westwood One-commissioned Nielsen study. Listen to the ad here.
The Motel 6 ad poking fun at the silly names of trendy dog breeds also received top Nielsen consumer ratings for relevance, engagement, and memorability.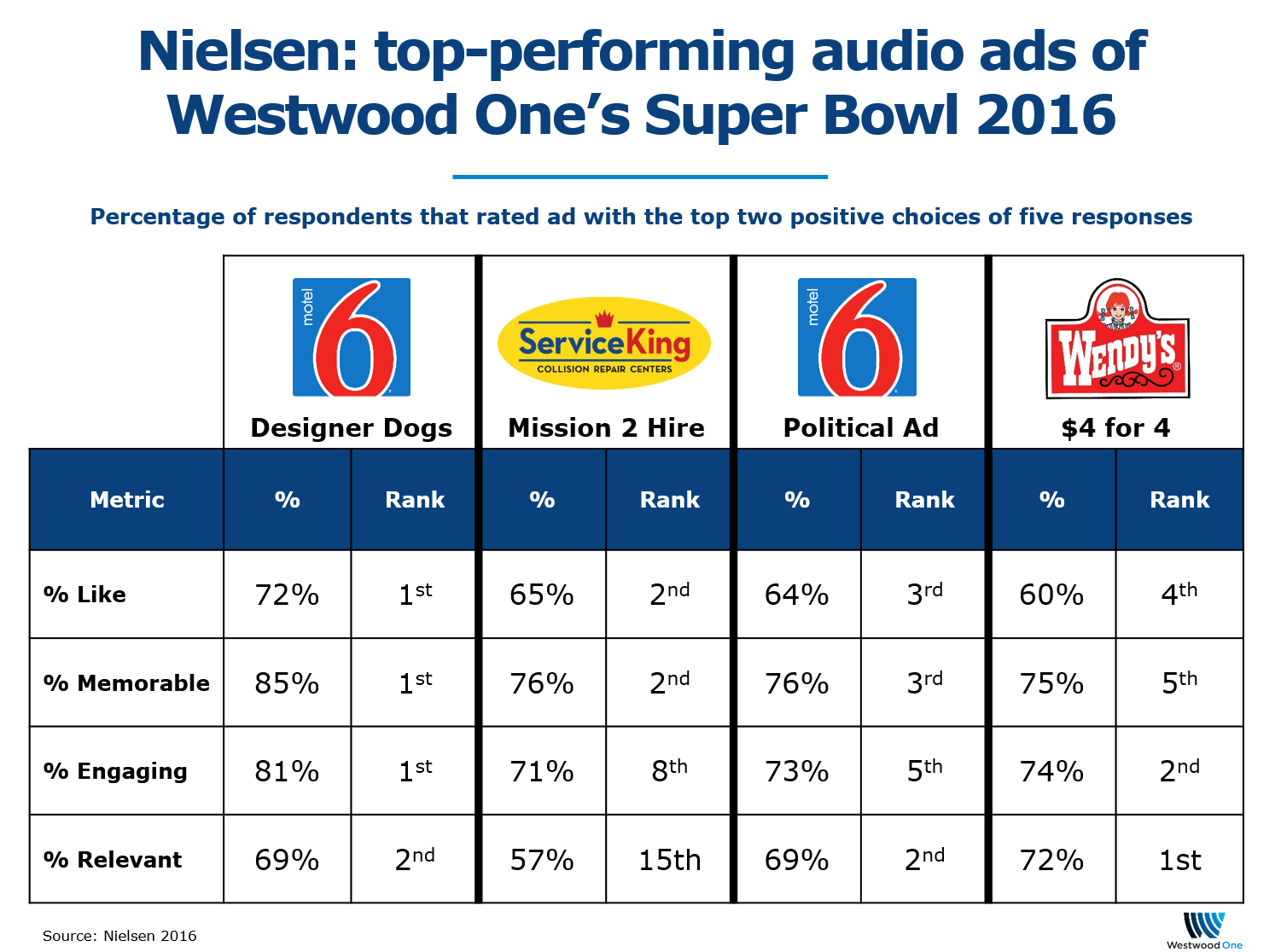 Service King also scored top marks in the Nielsen creative test, along with Motel 6's "Political Ad" and Wendy's "$4 for 4."
Motel 6 creative soared past Nielsen's creative benchmarks
The Motel 6 creative tested much stronger than Nielsen norms for radio advertising creative. Their winning ad scored an amazing 72% on likability versus the radio ad norm of 46%. On memorability, Motel 6 scored an impressive 78% versus the 59% radio advertising norm.
Audio builds brands and drives sales
Brandon Berman, SVP Sports Sales & Marketing for Westwood One, says, "More than 28 million fans engage with Westwood One's Super Bowl coverage via on-air, digital, and social platforms. We created the Super Bowl Sound Awards to encourage brands and their agencies to fashion memorable, breakthrough creative that resonates with listeners. We congratulate Motel 6, Service King and Wendy's for their audio excellence."
Read the full press release.
Pierre Bouvard is CMO of Cumulus Media | Westwood One. Follow him on Twitter and LinkedIn.