Insert Your Brand Here: 10 Activations And Cool Moments That Rocked Malibu Mansion Live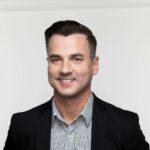 It was the perfect blend of star power, brand activations, and personal connections … and it all happened under the stars of Malibu Canyon. On November 20 and 21, the weekend of the American Music Awards in Los Angeles, Cumulus | Westwood One hosted a VIP event showcasing the breadth of our unique partnership opportunities.
Malibu Mansion LiveTM, a two-day, exclusive celebration, took place inside a private home, and featured live musical performances by Nick Jonas, Cam, Tori Kelly, Fall Out Boy, and newcomer Nick Hissom. The weekend included a guest list featuring a mix of marketers, music industry insiders, and lucky contest winners across the country.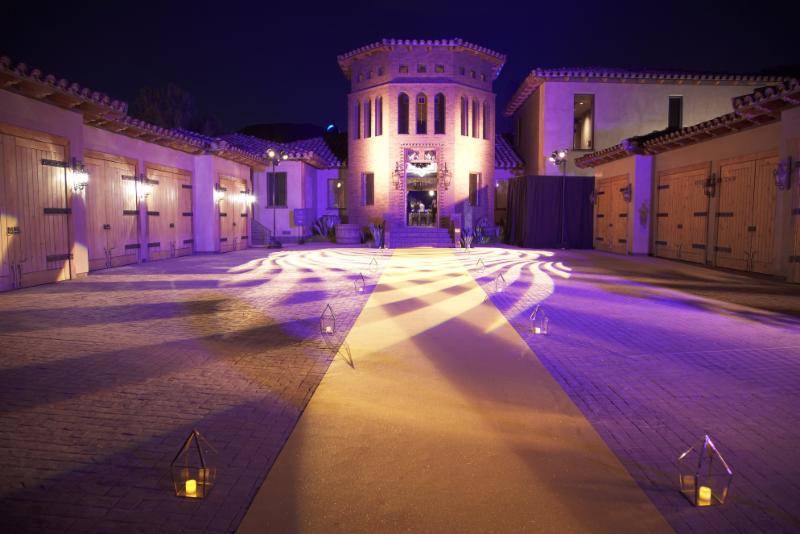 How Advertisers Benefit
Our goal was to help advertisers connect to our audiences through our exclusive partnerships with top recording artists and one of the biggest award shows of the year. This event brought together three legs of the triangle:
Partnerships/content — access to top artists and an iconic event, the American Music Awards
Media/audience — access to millions of loyal listeners across the country
Brands/monetization — ability to activate brands both nationally and locally.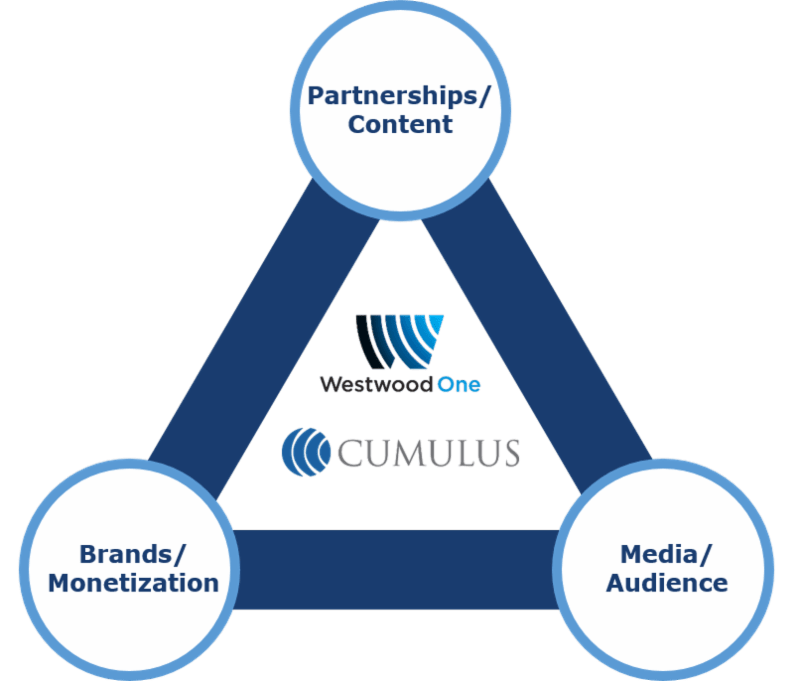 Here's how brands, exclusive content, and shareable moments were woven into the weekend.
1. Aspire is the star at the bar … and celebrity chef Curtis Stone mixes cocktails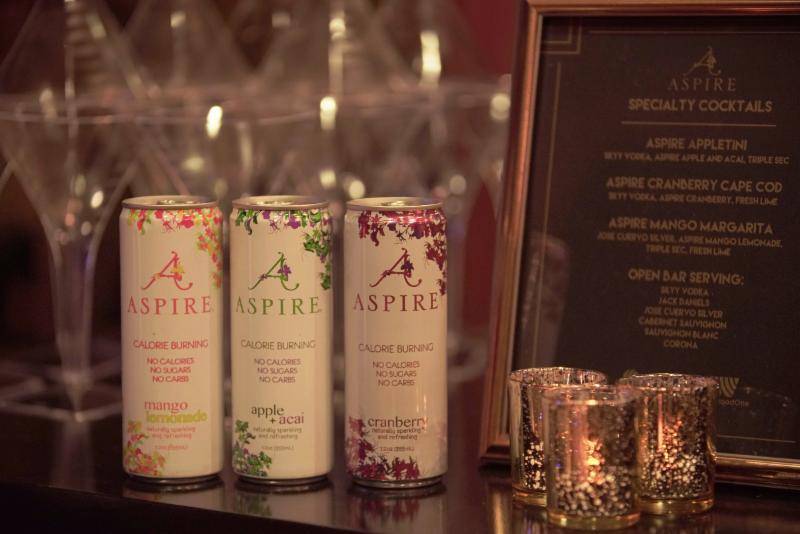 Aspire healthy energy drinks was one advertiser that connected to the pop culture conversation. The brand provided beverage refreshment throughout the weekend, featuring a menu of specialty cocktails mixed with carbonated soft drink flavors.
According to a recent Event Marketing Institute study, "events and experiences positively improve brand perception. After the event, 74% of the participants have a more positive opinion about the company, brand, product, or service being promoted" and "87% of the consumers said they purchased the product or service after the event at a later date."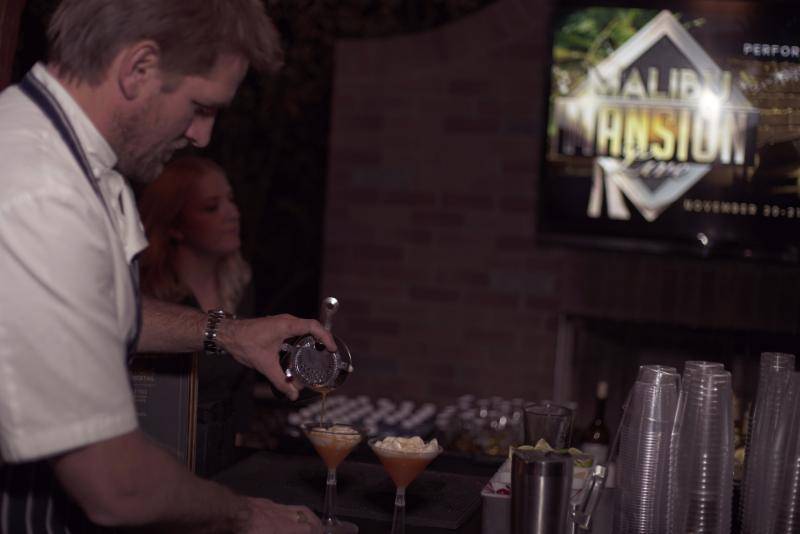 Celebrity chef Curtis Stone hard at work mixing an Aspire concoction.
How often do you get a celebrity chef mixing your drinks? Renowned chef and TV personality Curtis Stone, co-host of Bravo's "Top Chef Masters" and "Around the World in 80 Plates," came to our dinner party and created an exclusive cocktail for Malibu Mansion LiveTM's welcome reception.
2. Nick Jonas performs on the pool stage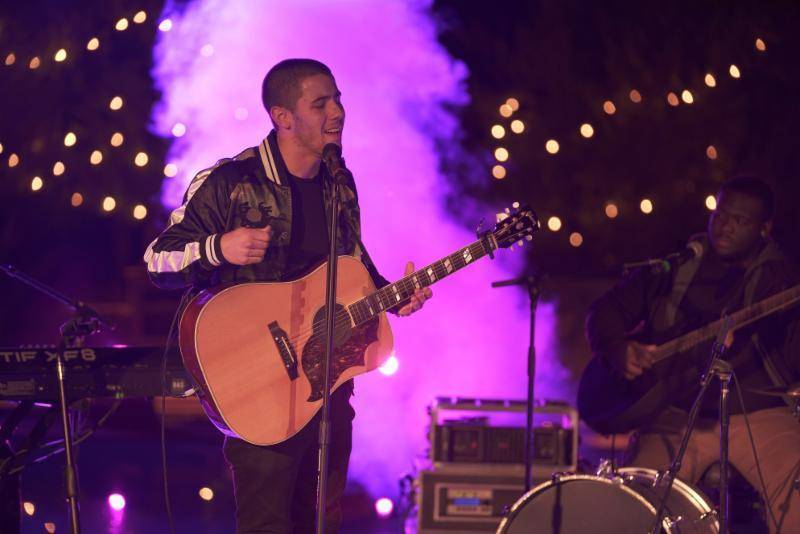 Pop star Nick Jonas performed an amazing set on a unique stage built over the Malibu Mansion pool.
A dramatic purple haze offered a backdrop to Nick Jonas' performance. The shareable moment contributed to the 25 million impressions on the #MMLive hashtag.
3. TWIX activation sweetens the night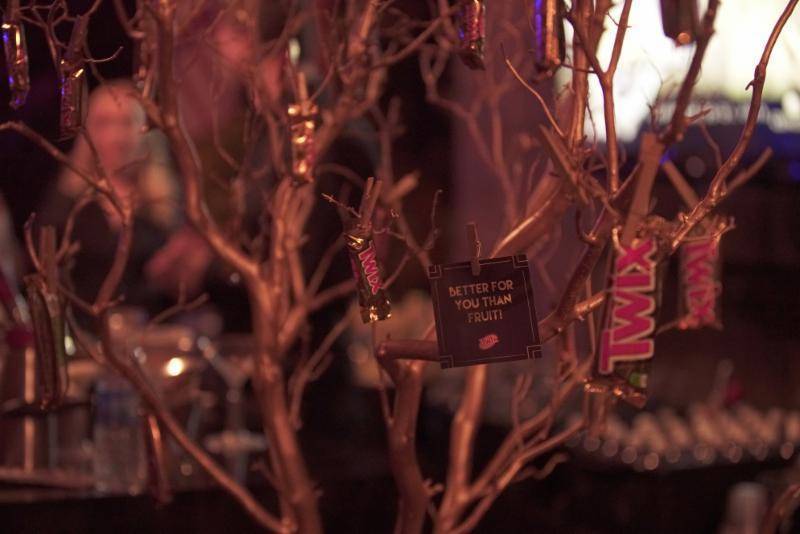 The TWIX "candy tree" satisfied the sweet tooth of Malibu Mansion LiveTM attendees.
People love free samples. According to the Event Marketing Institute study, 81% of consumers say the main motivator for event participation are free samples and giveaways. TWIX did just that by weaving candy bars into branches, offering fun and dazzling decor, as well as suggested "health benefits," and sweet tooth satisfaction.
4. Paul Mitchell connects with Millennial recruitment targets
Local advertisers also connected to the huge pop culture event. Paul Mitchell of Columbia-Jefferson City, Missouri, wanted to reach 18- to- 29-year-olds looking for a career in the hair and cosmetic industry, using a Malibu Mansion LiveTM local station contest promotion. The glamour and glitz of this event and accompanying contest promotion made perfect sense to reach and recruit student candidates.
5. Fall Out Boy headlines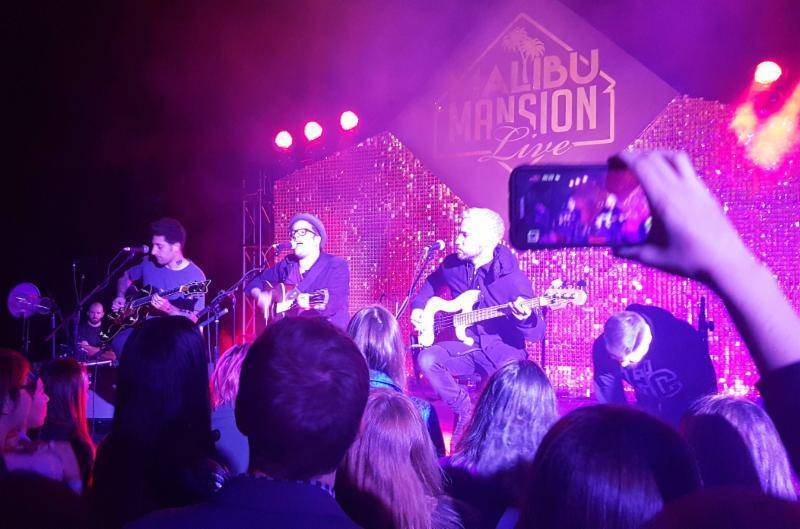 On Saturday, legendary rock band Fall Out Boy performed an acoustic set on the Malibu Stage that not only rocked the house, but offered our 550+ guests another intimate, shareable moment.
The following night, Fall Out Boy won an American Music Award for "Favorite Alternative Artist!"
6. Sound technology company DTS spins music and memories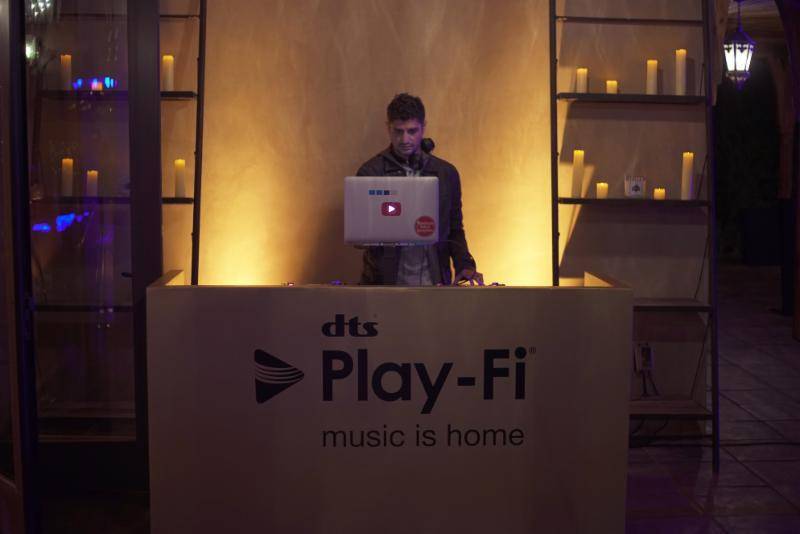 National sponsor DTS showed off their cutting-edge sound technology as the official sound providers of the event.
The connection between the DTS audio technology brand and Malibu Mansion LiveTM event was perfect. DTS led the party all night from a sponsored D.J. booth.
7. Dinner, dessert, and GRAMMY-nominated artist Cam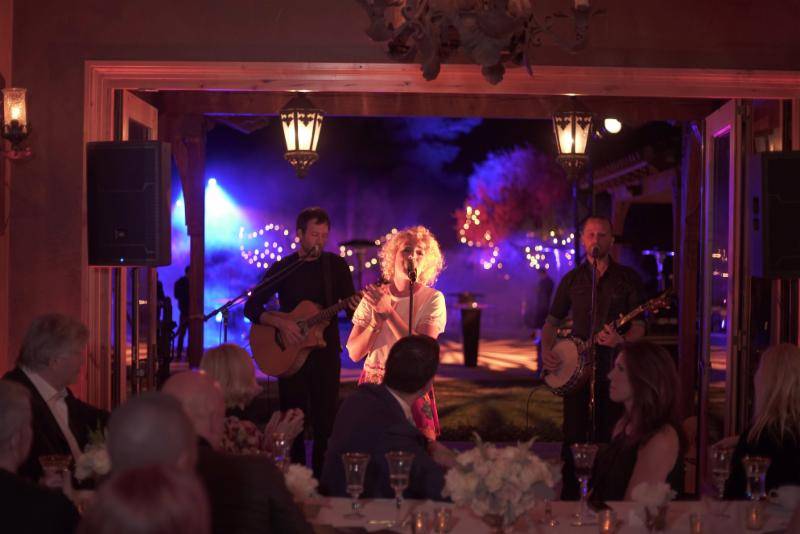 Talk about an up-close-and-personal moment! Country artist Cam performed her acoustic set in the dining room, right among the dinner guests and framed by the spacious outdoor party area. You can't get much closer than that to one of country music's hottest upcoming stars! Cam was just nominated for a GRAMMY Award in the category of "Best Country Solo Performance."
8. Riding the wave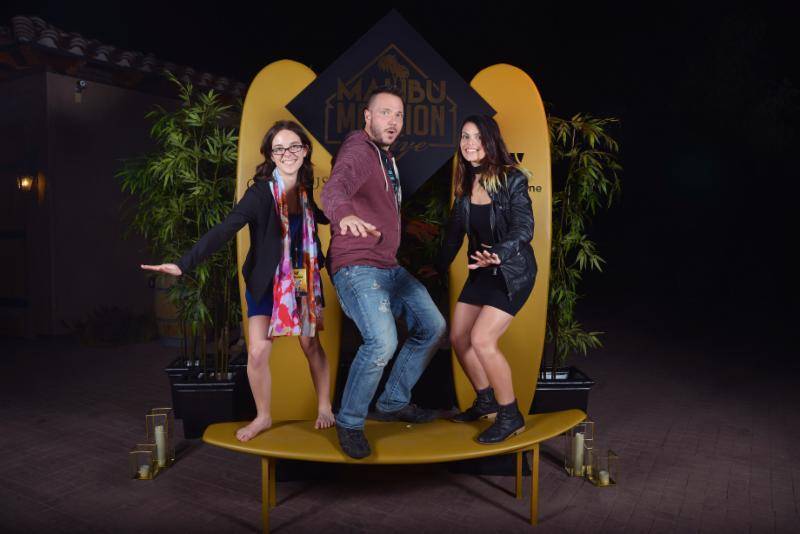 It wouldn't be LA without surfers, right? Our guests got to enjoy a little mock surfboard fun, providing a totally awesome photo memento from the weekend.
9. The ultimate win-Wynn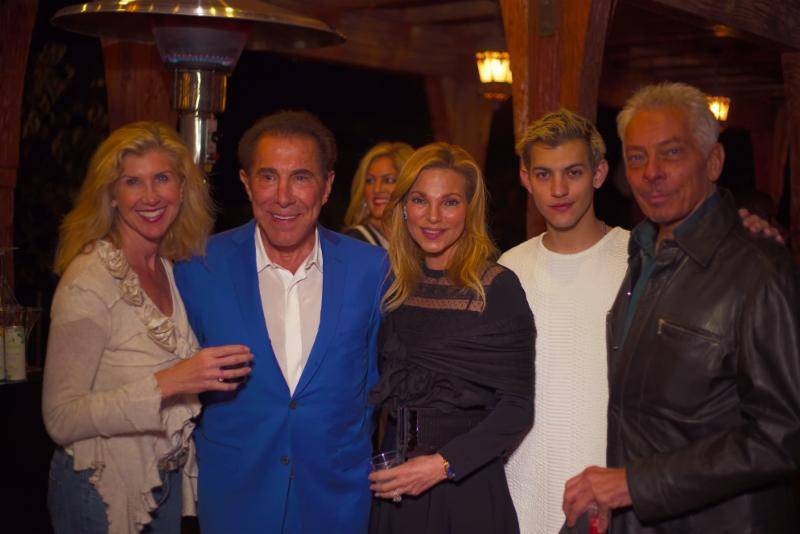 Here's a bucket-list moment: Ryan Murphy, a local Cumulus advertiser in New York and an executive for Empire City Casino, got to meet the king of Las Vegas, hotel magnate Steve Wynn of Wynn Las Vegas Casino, another one of our special guests.
In this photo, Wynn (blue jacket) and guests pose with singer Nick Hissom (white shirt), who also performed at Malibu Mansion LiveTM, and Mike McVay (R), SVP of Content and Programming, Cumulus | Westwood One.
10. Local auto dealers reach new consumers
Local auto dealers used Malibu Mansion as an opportunity to reach a younger audience. A few examples:
Georgia Chrysler Dodge Jeep in Savannah, Georgia, invested in Malibu Mansion LiveTM for the publicity opportunity to give a potential customer a trip of a lifetime.
Brown's Auto World in Fayetteville, North Carolina, leveraged Malibu Mansion as added brand exposure to their regular radio spots by offering a giveaway.
Baytown Ford in Beaumont, Texas, has been interested in tapping into a younger crowd — making this huge pop culture event perfect for the brand.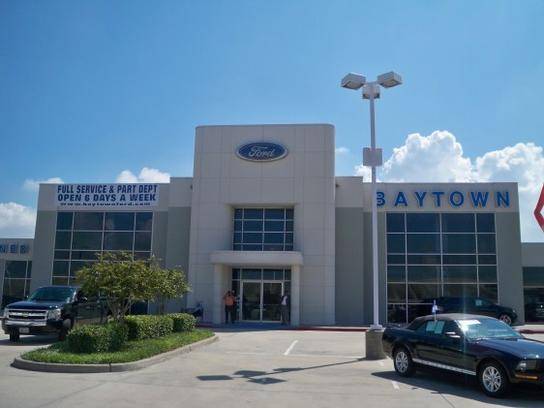 Baytown Ford in Beaumont, Texas
Eighty-one percent of marketers say their main experiential goal is to increase or create brand awareness, followed by increasing sales at 79% and enhancing product knowledge and understanding at 62%. Malibu Mansion LiveTM is one of Cumulus | Westwood One's tentpole events, which can deliver those goals by providing access to huge pop culture moments for listeners and brands.
Make your brand the star. Whether you're an advertiser with one location in one market or a major national marketer, there's a way to connect your brand or store to events like Malibu Mansion LiveTM.
Stay tuned for upcoming events presented by Cumulus | Westwood One. We are hosting a Tailgate Party during Super Bowl 50 weekend in San Francisco and Rooftop Live! — a music rooftop performance/event during GRAMMYs weekend in February.
If you are interested in more information on our exclusive events and brand partnership opportunities, contact your local Cumulus representative or activate@westwoodone.com
Tommy Page is the SVP of Brand Partnerships for Cumulus | Westwood One