The World According To Ford's Mark LaNeve: Why Radio Remains Key To Auto Advertisers And What Radio Needs to Focus On
Last week the radio and auto industry met in Detroit at the DASH 3.0 conference. One agenda item: how the auto industry is using radio in the marketing mix — and how it's evolving.
Local dealers and auto industry executives highlighted what's working with radio, and what they would like to see more of. One thing was clear: radio continues to be an important platform, but it's not just the radio commercial — it's integrated campaigns, events, influencer connection, and more.
Radio is a relevant, integral part of the automotive media mix.
Mark LaNeve, who gave a keynote address, was recently named vice president, U.S. marketing, sales, and service for Ford. MediaPost calls LaNeve "a consummate marketer" and "the dealer guy par excellence…The marketer recharged Cadillac, helped change the conversation about insurance at Allstate with a humorous spin on mayhem, and most recently ran Global Team Detroit for Ford."
LaNeve is a big fan of radio to help market auto at every tier (from branding to local dealerships). Here's why LaNeve likes radio:
"Radio is a great storytelling medium." LaNeve was responsible for increasing radio spend at Allstate and noted radio plays an important role in driving traffic. LaNeve said radio's storytelling capability can highlight key areas of product difference, such as safety and technology, and promote urgency to launch sales events.
"You get scale immediately. It's one of the few places you can get scale." Radio provides "scale and high ROI at a reasonable cost." LaNeve said radio is an outstanding way to get the word out about a one month sale.
Radio gets results. LaNeve said Ford had some of their best sales months in August and September because of "one big difference, we kicked it out with 10 million bucks of television and radio."
"You reach buyers when they are in their car." Radio allows customization for geography, demographics, and lifestyle preferences.
At the DASH conference, the Westwood One team presented the "The State of American In-Car Audio." One key finding is Americans spend an astonishing 53 minutes each day listening to AM/FM radio in the car, according to Edison Research's Q3 2015 "Share of Ear" study. Seventy-two percent of American time spent listening to audio in the car goes to AM/FM. Radio is the king of the road, and to Mark LaNeve's point, it's a huge opportunity for auto marketers.
It's hard to get reach and scale in media today.
LaNeve, while citing radio's scale and reach, said it's difficult to find mass reach in media. "It's hard to find programming that gets you scale on TV besides sports." LaNeve said even digital companies tell him they use television and radio to drive traffic to their websites rather than digital display ads.
Per LaNeve, radio occupies the middle of the purchase funnel.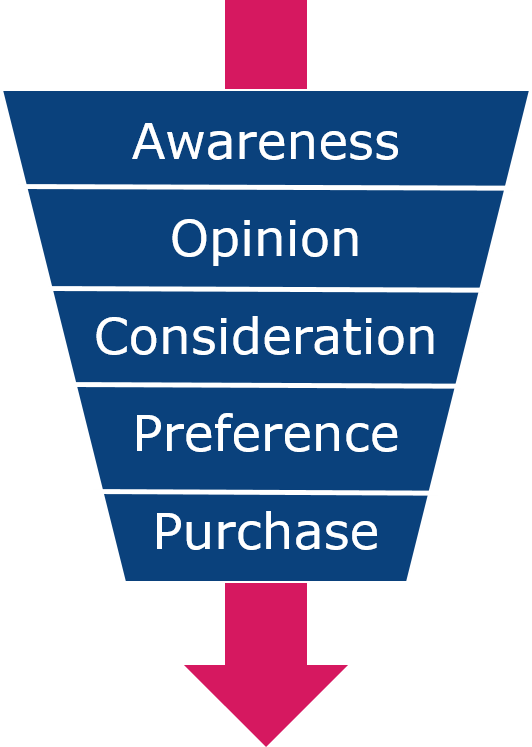 LaNeve said, "Television suits us for building a brand [awareness/opinion] and digital is very much lower funnel. [With digital], people elect to participate; it's very transactional, shopping, buying activity. Radio plays somewhat in the middle." LaNeve said there's increasing emphasis on how the media mix works together. Radio is one element in a multimedia, 360 message.
Radio remains stable, unlike other traditional media.
LaNeve compared how the media mix has changed over time. The result: radio's share of Ford's advertising pie remains stable, while print and TV have gone down. The vast majority of Ford's increase in digital has come at the expense of print.
What about Ford's tier 2 digital "dictate?"
A questioner asked LaNeve about the dictate Ford Dealer Association (so-called "tier 2") put in place, requiring media plans to contain 25% of digital media spend. LaNeve indicated that initially local dealer associations were slow to allocate spending to digital media. Ford's requirement that tier two media plans consist of 25% digital media was "made to jump start the system."
It does not appear like this 25% digital dictate will continue with LaNeve. "I have told the team, I'm not into digital mandates, I want to do what works, I want digital excellence. We will relieve them of that mandate. The spending will sort itself out."
It's about "digital excellence, not digital first," he said. Digital and radio is not an either/or situation — radio is critical to reinforce and drive traffic to digital, where consumers are searching for new cars.
Action item for radio: auto ROI studies.
LaNeve noted that digital media has introduced a new discipline with ROI studies and sales lift data. "Radio should work on return on investment; I want to do what works."
Brian Robinson, marketing director at a local Dodge dealership in Detroit, said he looks to radio to present new ideas that can tie back to digital ROI. "If it doesn't work and we know if it doesn't work, we won't do it again."
Radio offers the power of influencers.
We know the relationship radio personalities have with listeners continues to be a prime selling point for many categories. Live personality endorsements can increase results.
Ray Scarpelli, dealer principal at Ray Chevrolet in Fox Lake, Illinois, said the power of radio personalities is the key reason he invests in radio. "We don't really buy radio — we buy the top influencers in the marketplace."
The road ahead: auto sales are on a six-year growth tear.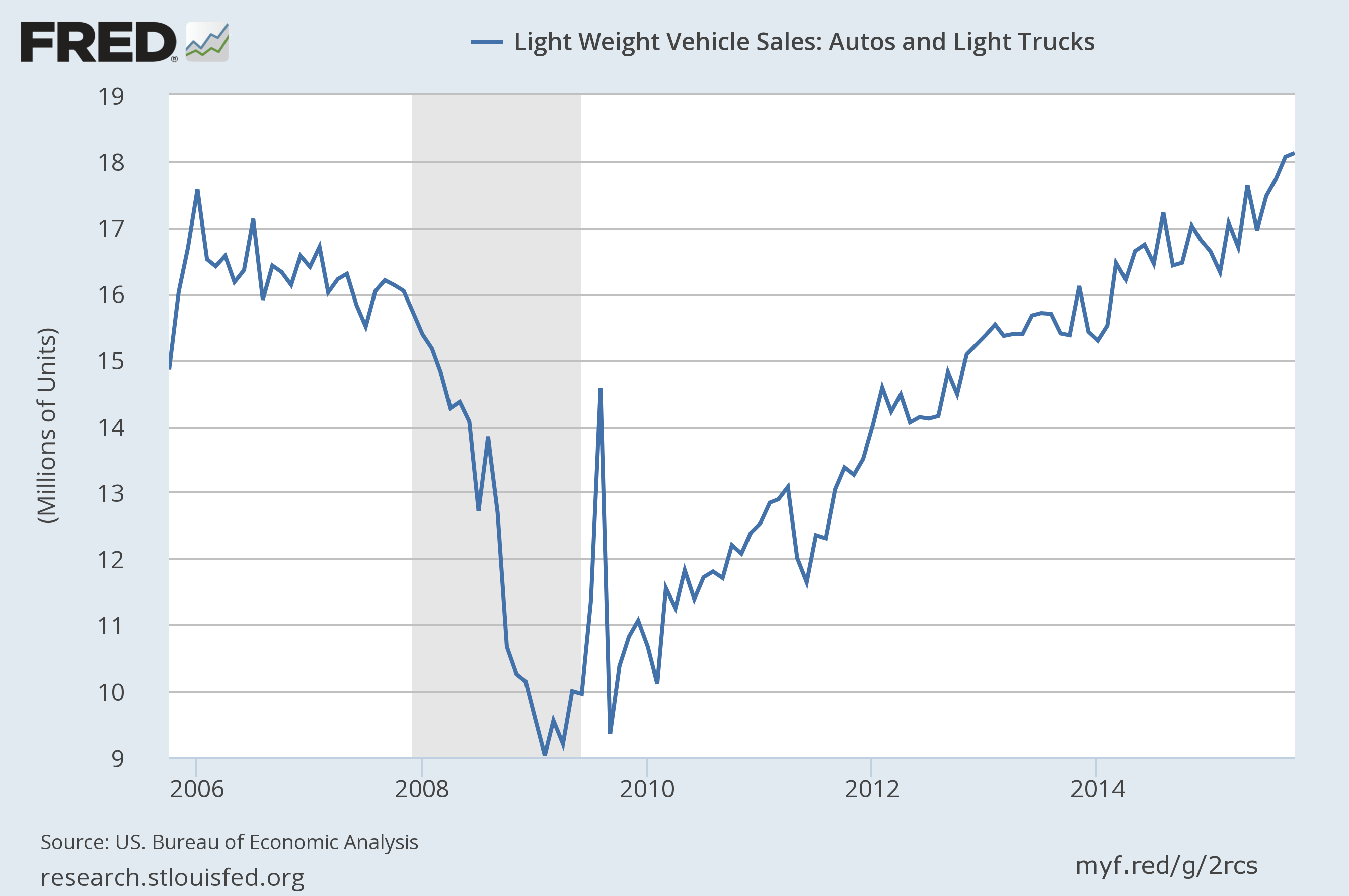 Source: U.S. Federal Reserve. Federal Reserve Economic Data. Seasonally Adjusted Automotive Annual Selling Rate, October 2005 – October 2015.
The above 10-year sales trend shows the U.S. auto industry has surpassed pre-crash levels and is setting sales records, posting a record 18.1 million seasonally adjusted annual selling rate in October 2015. Year to date auto sales January-October 2015 are 5.8% higher than the same time period in 2014, according to Automotive News. Inspired by LaNeve's speech, here's an automotive action plan for radio:
1. Sell radio's mass reach and scale. Per Nielsen, AM/FM is America's number one mass reach mobile medium. LaNeve says it's hard to find media scale these days, and radio has it by the carload.
2. Reach buyers in the car. According Edison's "Share of Ear" study, radio is the king of the road. A stunning 72% of all audio time spent in the car goes to AM/FM. Americans spend 53 minutes a day listening to AM/FM in the car. LaNeve is correct. There is no better place to reach the American new car buyer than in their current car listening to AM/FM!
3. Combine radio and digital solutions. Radio's firm hold on the middle of the purchase funnel combined with digitals lower funnel strength are a powerful combination.
4. Prove sales lift and ROI. Nielsen has issued 22 ROI studies in the last two years showing radio returns $8 of sales for every $1 of radio advertising investment. Radio needs to partner with data and analytics firms to generate new studies on radio's ability to generate auto brand lift, shopping consideration and sales.
Pierre Bouvard is CMO of Cumulus Media | Westwood One