The State Of American In-Car Audio: AM/FM Still King Of The Road!
This week in Detroit, radio and auto industry insiders will convene for one of the most innovative conferences: "DASH 3.0 Radio & The Connected Car: A Survival Guide For Radio Broadcasters." This event is the brainchild of Paul and Fred Jacobs, founders of Jacobs Media, and is presented by Radio Ink. The agenda is stellar:
Mark LaNeve, Ford's VP of marketing and sales, has a session entitled "Digital Marketing: Its Rapid Growth and How It's Transforming the Way We Go to Market."
Coming innovations in the connected car will be revealed by General Motors' Kevin Squibb, who leads General Motors' global connected consumer field sales and operations.
"Fasten Your Seat Belts: Here Come Apple and Android" presented by consultant and former Ford executive John Ellis, will detail Apple's and Google's plans for the car.
Podcasting and on-demand audio will be represented with many content players and distribution platforms.
J.D. Power presents a study entitled, "I wanted it, but now I'm not so sure," which reveals not all consumers actually use their feature-rich connected car entertainment systems.
Car dealers will describe how their advertising needs are changing and what consumers want in their in-car entertainment systems.
The team here at Westwood One has been asked to present the current state of American in-car audio usage. We turned to Edison Research's "Share of Ear," the gold standard quarterly study of how American's use audio, to determine in-car listening trends. These findings are from Edison's just released Q3 2015 "Share of Ear" study.
Here are our five key findings.
1. In-car audio is huge. Americans spend one hour and 14 minutes a day listening to audio in the car. Nearly one-third of all audio time spent occurs in the car.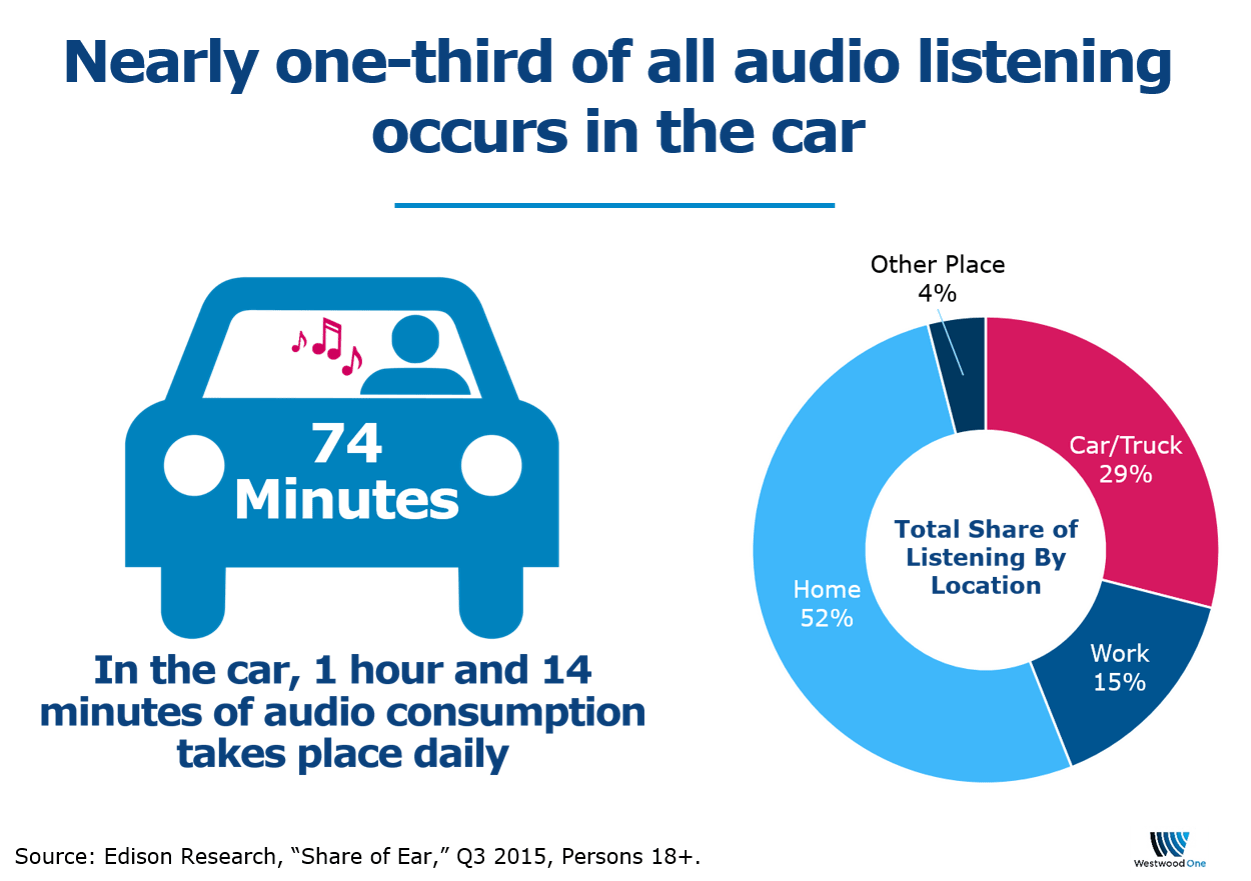 2. The "big three" audio platforms persist. Almost all (97%) of in-car audio time spent still goes to AM/FM, SiriusXM, and consumer's personal music collection. Only 3% of in-car audio time spent goes to emerging audio content (e.g. podcasting, streaming, etc).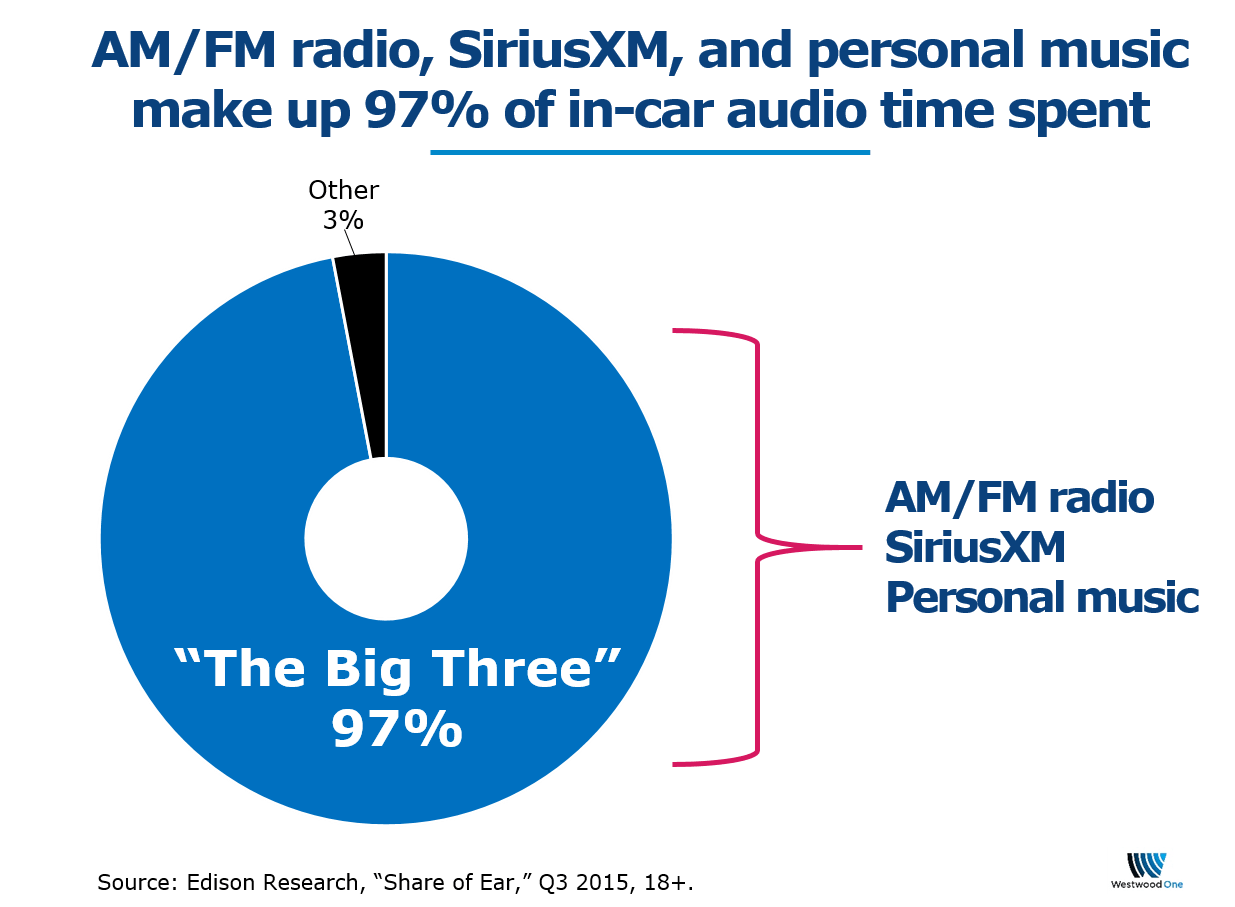 3. AM/FM is "king of the road." Seventy-two percent of all in-car audio time spent goes to AM/FM. SiriusXM has a 14% share followed by consumer's personal music (11%). Despite all the cool streaming apps now available in the car, only 2% of time spent listening in the car goes to steaming. One reason could be consumers are wary of using their phone data for in-car streaming.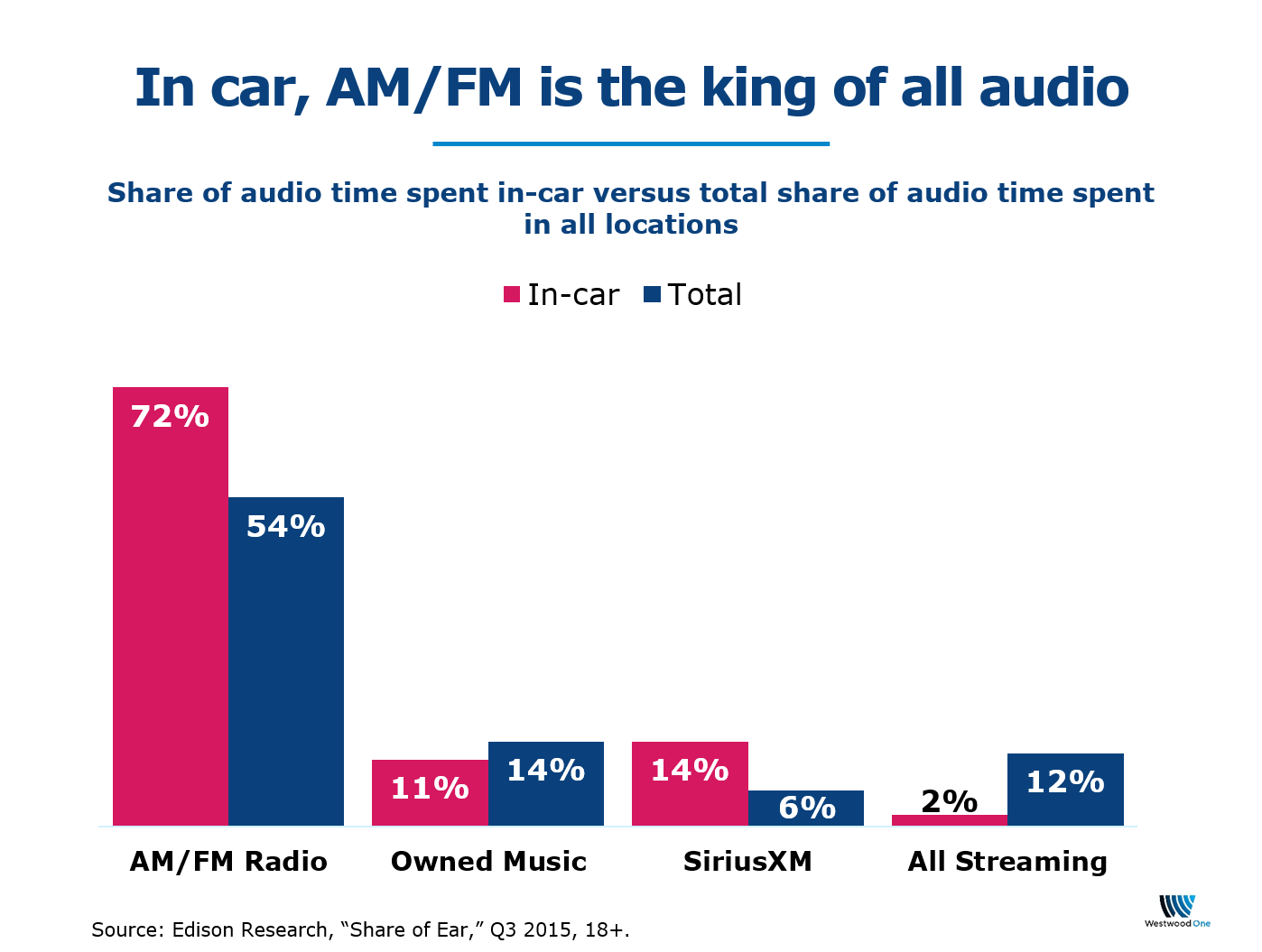 4. Most AM/FM tuning occurs away from home; most listening to streaming occurs at home. According to Nielsen, two-thirds of all AM/FM time spent occurs away from home. Per Edison, 68% of all streaming time spent occurs at home.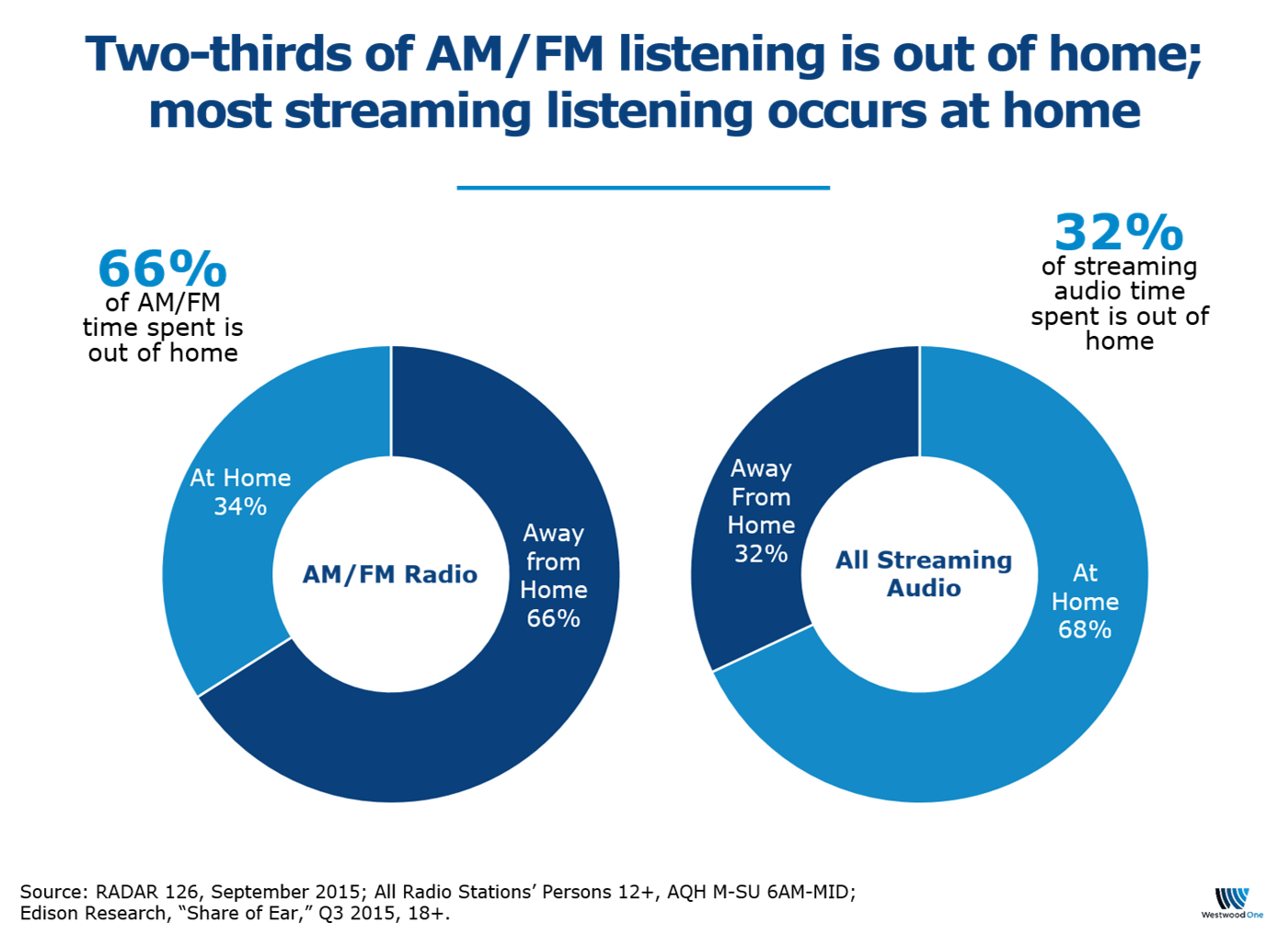 Perhaps the use case for streaming is a "lean back" experience of at-home background mood music. AM/FM's personalities, news, information, and entertainment is more of a "lean forward," engaged use case, more suited for away from home.
5. AM/FM in-car reach trends are stable. According to Nielsen, over the last five years, three-quarters of all Americans are consistently reached by AM/FM in the car.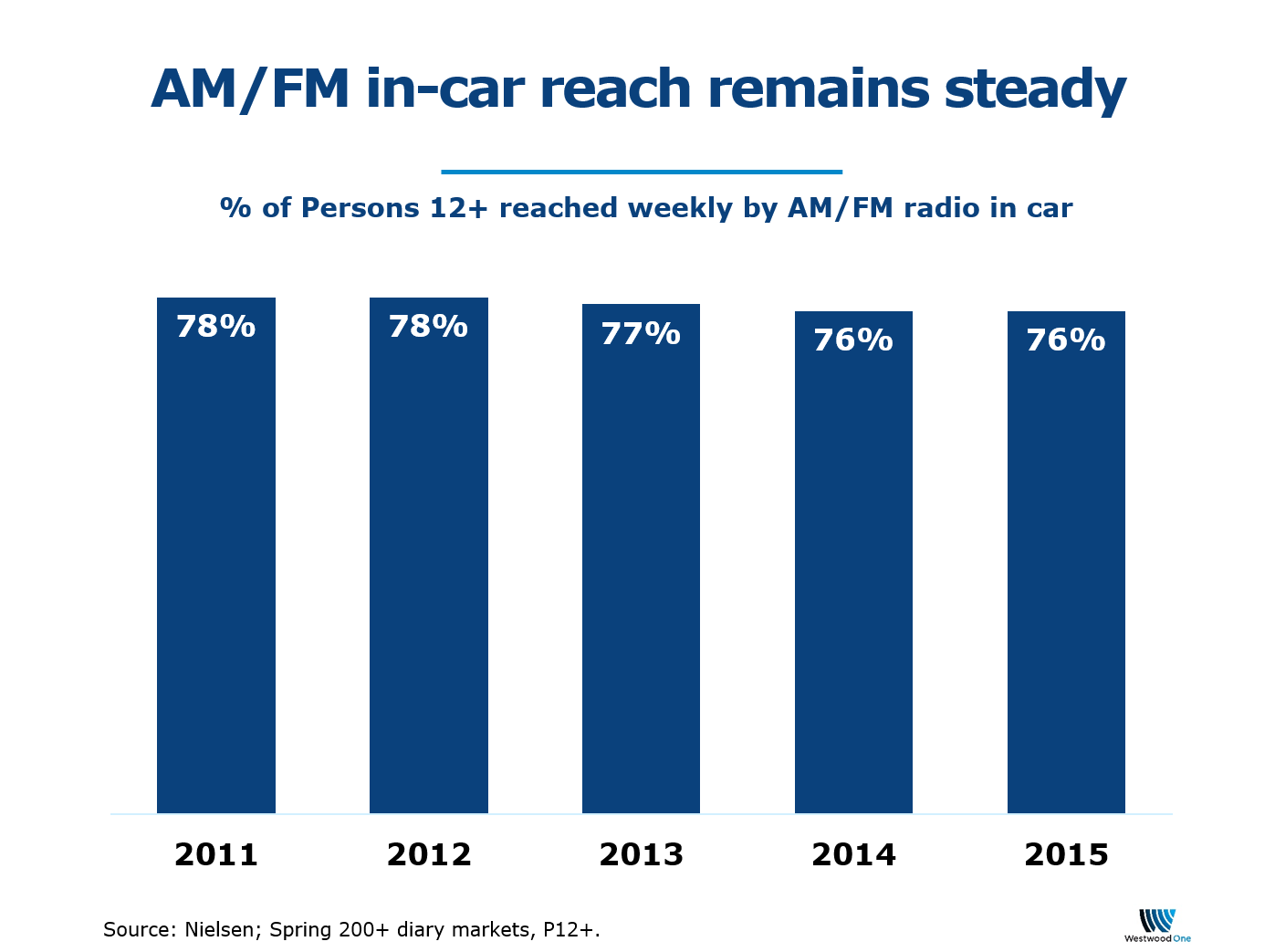 While the promise of the connected car and its consumer applications burns bright, the state of the American in-car experience is firmly based on AM/FM with mass reach (76% of all Americans) and huge in-car shares of time spent (72%). AM/FM is the king of the road.
Pierre Bouvard is CMO of Cumulus Media | Westwood One