Radio Nails ROI – $9:$1! A Nielsen Home Improvement Spotlight
Advertisers in all industries are looking for in-depth data to measure the success of their campaigns. Nielsen's latest release of sales lift studies shows how radio can deliver sales across multiple categories.
Over the course of two years, Nielsen has sought to demonstrate the true value of radio's massive reach and prove how radio advertising directly impacts consumer spending. By focusing on 22 brands in key retail categories, Nielsen has found that radio exposure leads to more consumer spending.
In the home improvement category, there is no question – radio nails it with ROI! Radio generated $9 of incremental home improvement sales for every dollar of advertising.
Nielsen looked at two home improvement brands that advertised in radio. In this study, Nielsen matched Portable People Meter data with consumer purchase behavior and compared those who heard the radio ads to those who didn't.
The sales impact is seen in the difference between these two groups. While the home improvement brands had additional components in their media mix at the time, all other media was equally distributed. The premise to Nielsen's findings was exposure to the radio ad.
Radio results: incremental sales of $369 million
The two home improvement radio ad campaigns were enormously successful. More people were shopping with an 8% increase in total number of buyers and a 2% increase in the number of transactions. These two areas of growth attributed to a 4% increase in sales overall.
Overall, radio boosted sales by $369 million. It's easy to calculate radio's return on investment. Take the incremental sales lift, in this case the $369 million, and divide it by the amount of money spent on the radio campaign. The two home improvement brands invested an estimated $39 million for the fourth quarter in 2014.
The math speaks for itself. Every $1 spent on radio generated a $9 return on investment.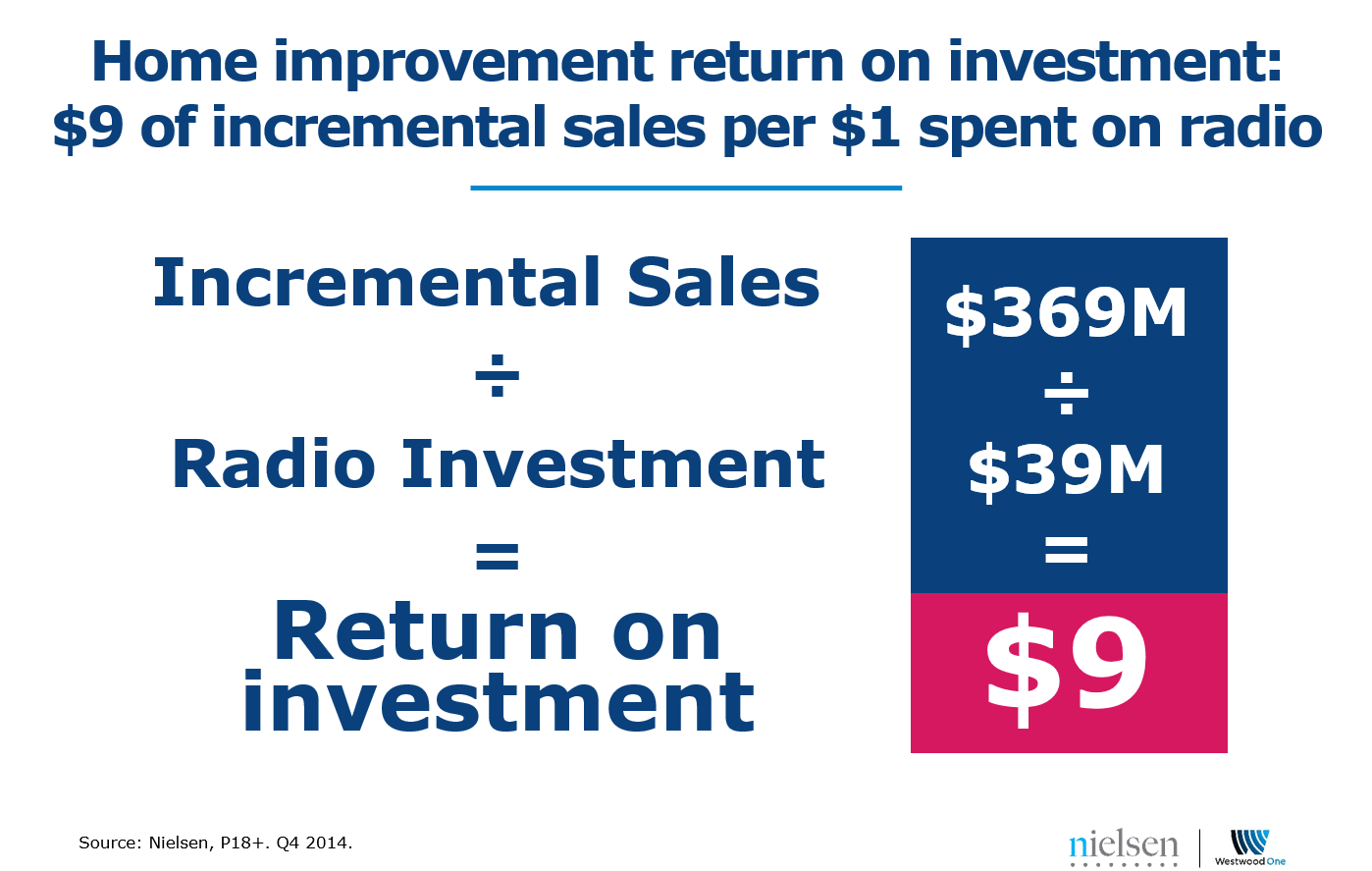 Westwood One listeners contribute to home improvement sales
Westwood One, the radio network and national-facing arm of Cumulus, recently partnered with Nielsen to see how much our listeners purchase in certain categories. This study took actual radio listening data to Westwood One stations, via Portable People Meter, and paired it with credit card and debit card transactions made by those same people in the Nielsen database.
We took a closer look at one major home improvement center and the spending habits of our listeners at their retail locations. The insights prove the effectiveness of radio and Westwood One.
Here's what we found:
Westwood One reaches consumers who represent 54% of this company's sales and visit the store 5.6 times per year.
Westwood One listeners spend 8% more money per trip at this company's retail locations compared to the national average.
Overall, Westwood One listeners spend $503.56 per year at this company's retail locations versus the national average of $468.01.
The Westwood One radio audience represents over half of this home improvement brand's sales and spend more than other shoppers.
Radio works for all sorts of advertisers – not just home improvement!
From consumer packaged goods to food items, mass merchandisers to department stores – radio drives ROI.
Over the course of the last two years, Nielsen has been tireless in their efforts to prove radio as a driver of sales. Through 15 different ROI studies across 22 advertisers, they have shown measurable results for sales impact.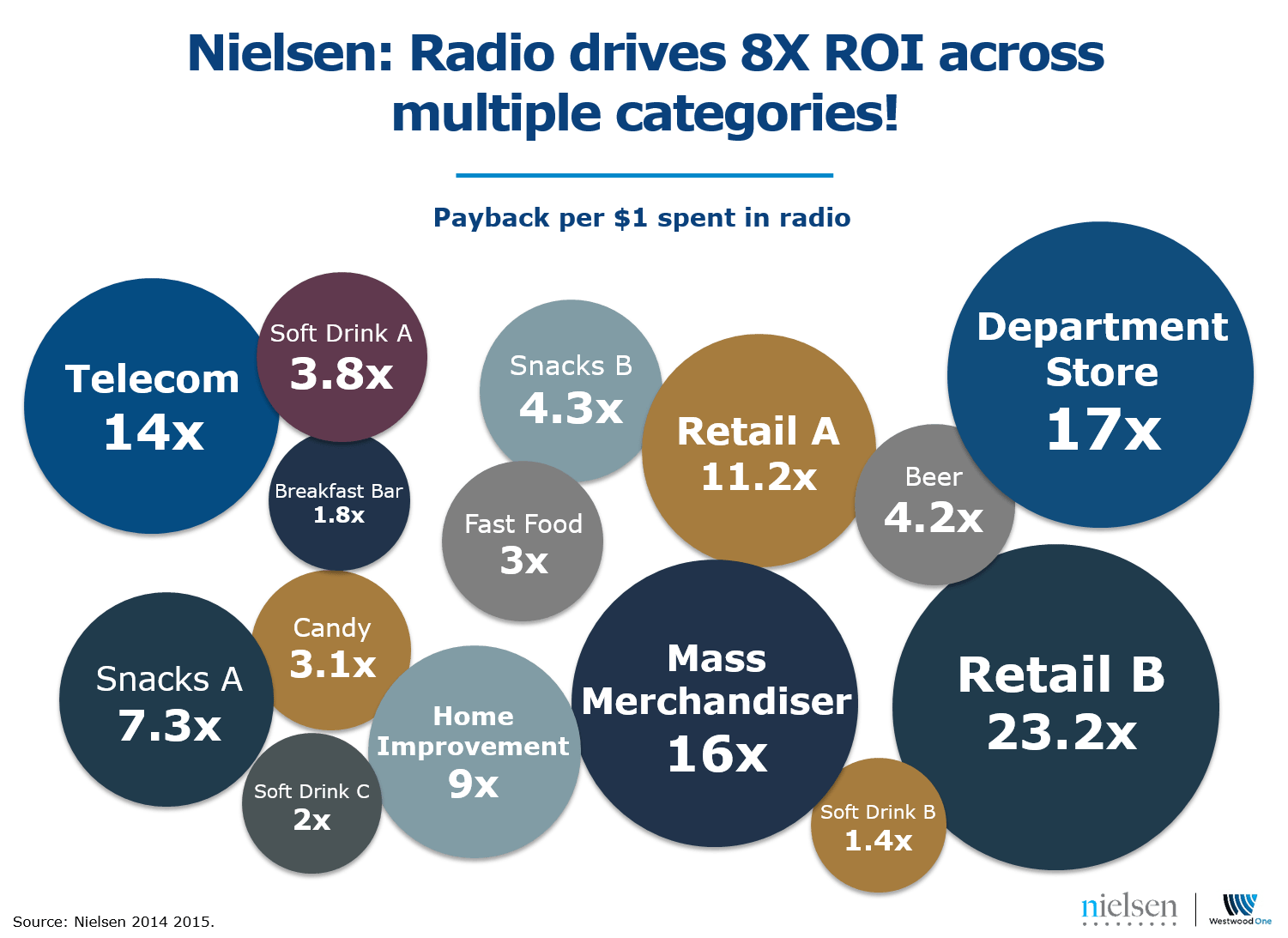 Averaged together, radio delivers $8 in incremental sales for every $1 in ad spend. Nielsen's breakthrough studies continue to prove the power of radio as a sales driver.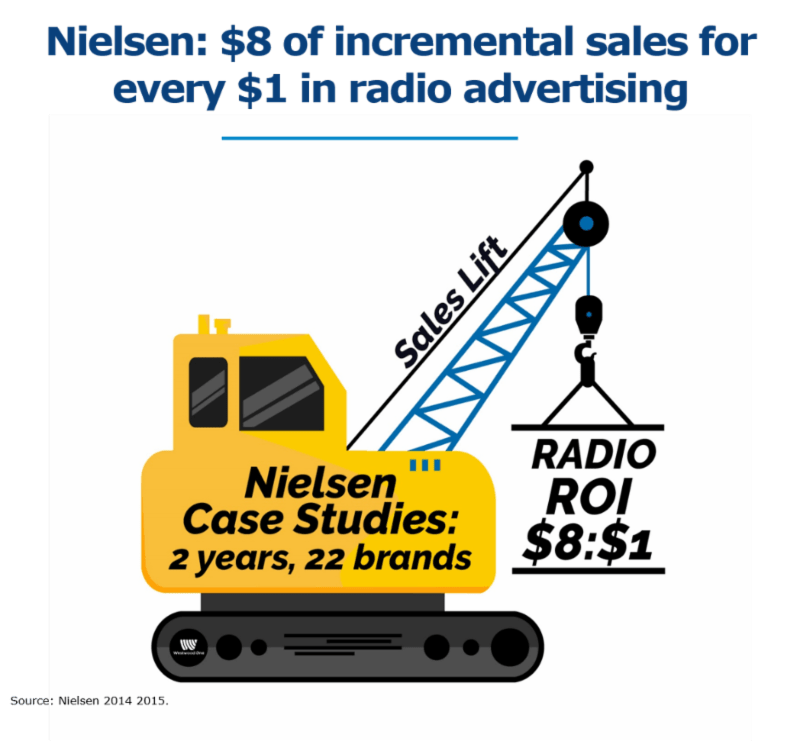 Pierre Bouvard is CMO of Cumulus Media | Westwood One
Follow him on Twitter and LinkedIn