Nielsen: Radio Rules The Day
This past June, Nielsen stunned the media world with the revelation that radio is America's number one mobile mass reach media. Their Q1 2015 Total Audience Report revealed radio is number one in reach among adults 18+, 18-34, and 35-49.
This week, Nielsen released the Q2 2015 Total Audience Report and focused on the hourly share of media time spent among radio, TV and TV connected devices, PCs, smartphones, and tablets. The big headline…?
From 6 a.m. to 7 p.m., Monday through Friday, consumers spend the most time with radio! Nielsen's new report contains four key insights for marketers and their agencies.
1. When stores are open, radio is on: radio dominates daytime shopping hours.
Among persons 18-49 and 25-54, radio is number one in share and beats all other media in time spent. During Monday-Friday 6 a.m. to 7 p.m., radio's 36% average share is number one!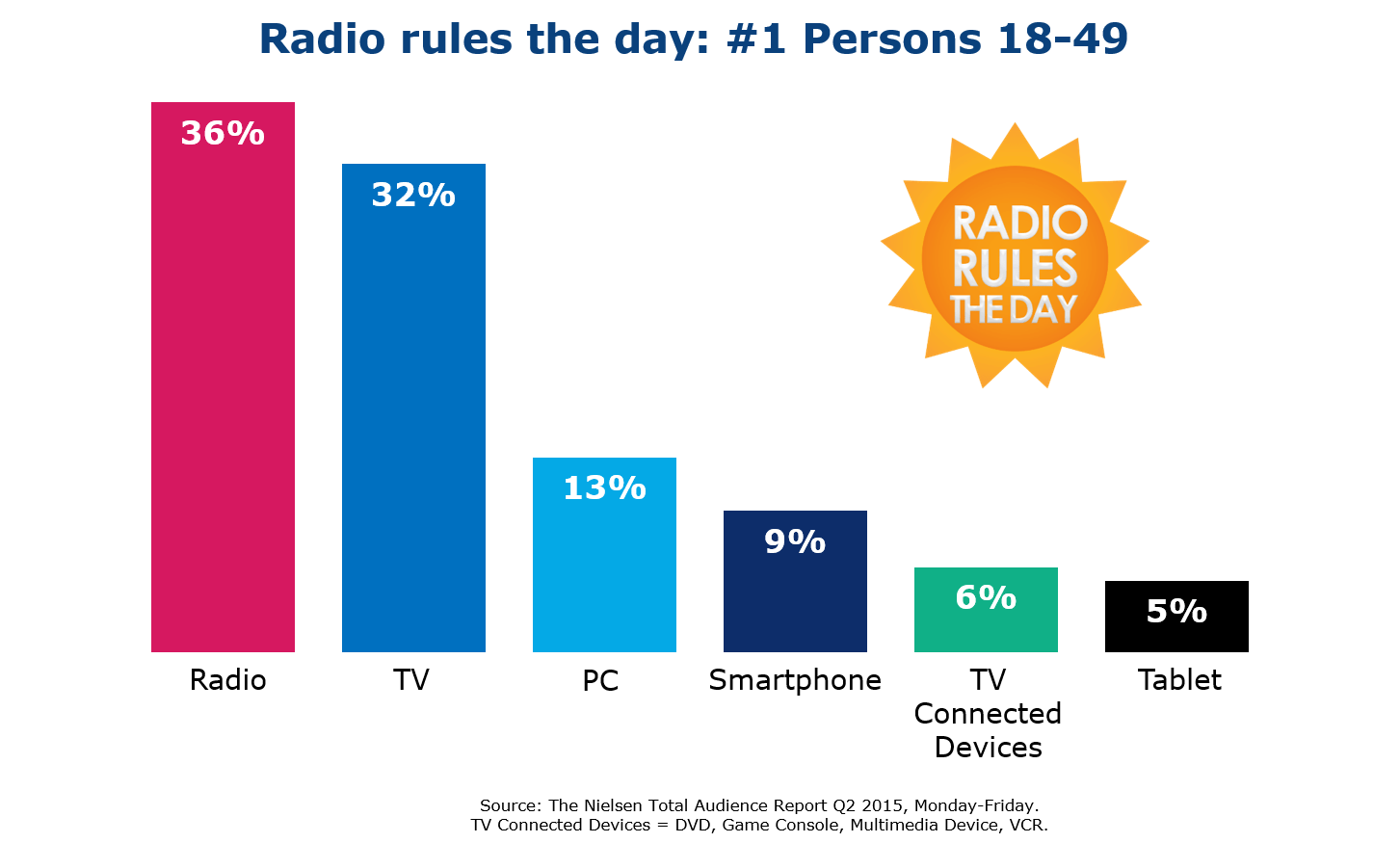 From sunrise to sunset, radio's hourly average share is 36% among 18- to 49-year-olds and 25- to 54-year-olds.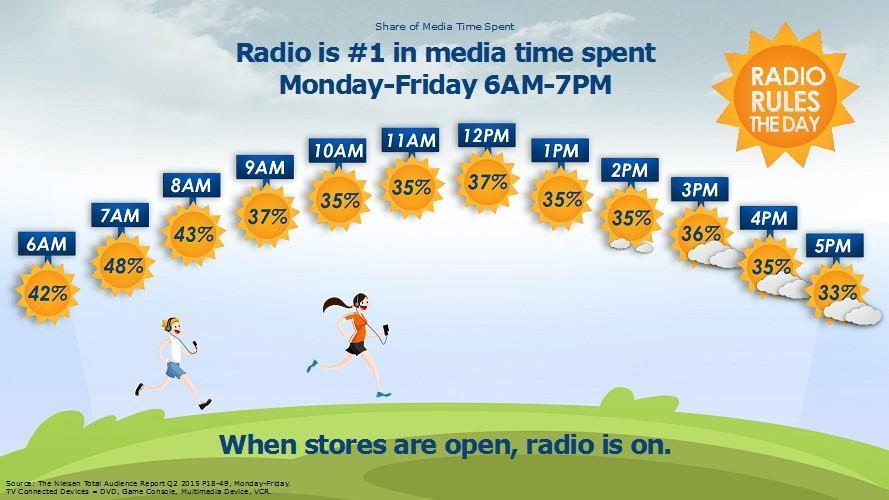 2. Radio dominates daytime reach.
During the day, radio reaches nearly 90% of 18-49 and 25- to 54-year-olds 6 a.m. to 7 p.m.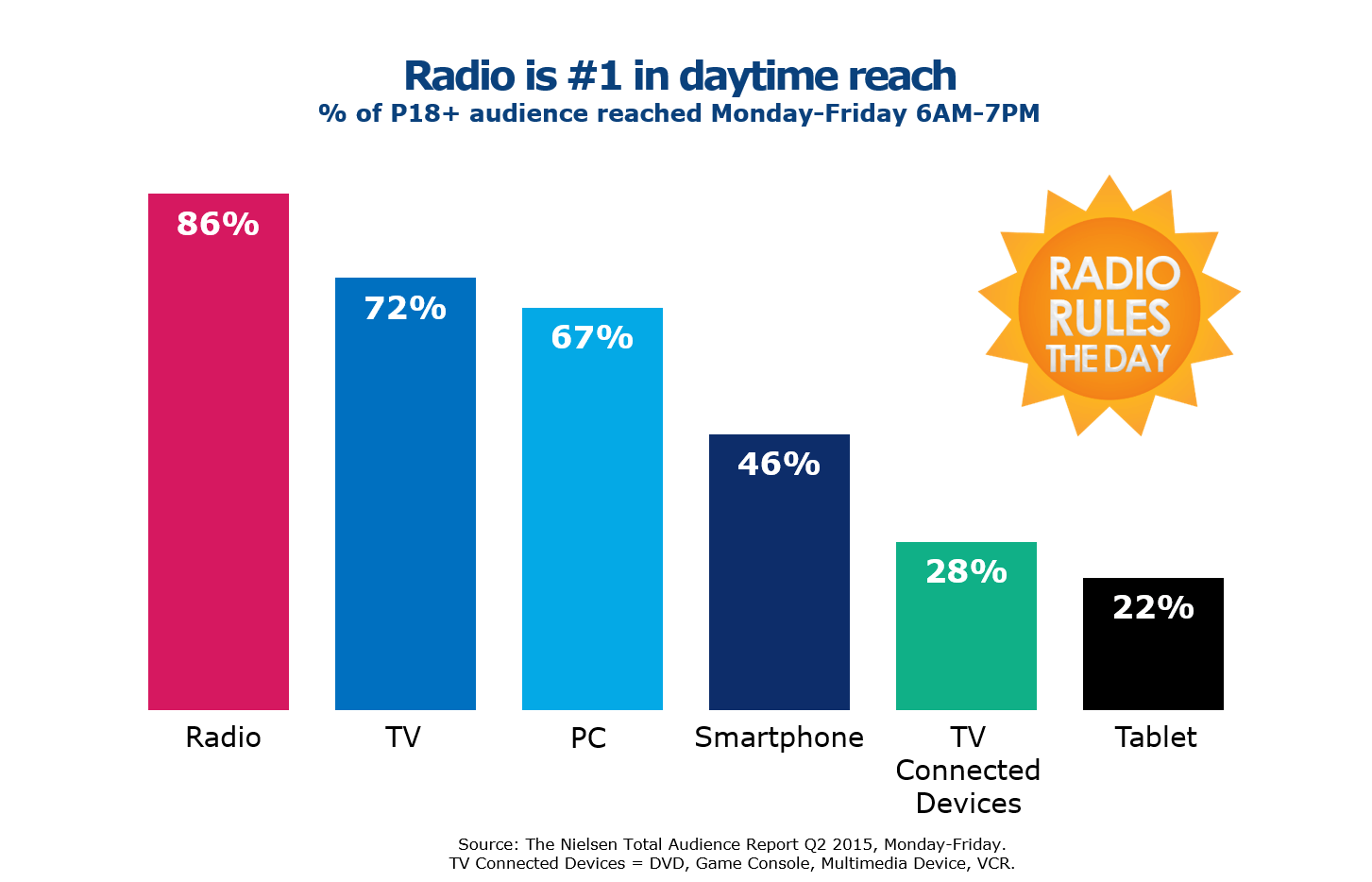 3. More of radio's daytime audience is found in the key buying and selling demographics.
Radio's audience is nestled right in key buying demos and skews younger than television. While 62% of television's daytime share comes from those 50 and older, over 50% of radio's share is found among adults 18-49 and 25-54.
Media Dynamics, a media analysis firm, indicates the median age of daytime TV programming is quite old: Talk Shows (60), Syndicated Talk shows (58), Games Shows (65), Court Shows (60).
Daytime Radio Listeners Skew Younger than TV Viewer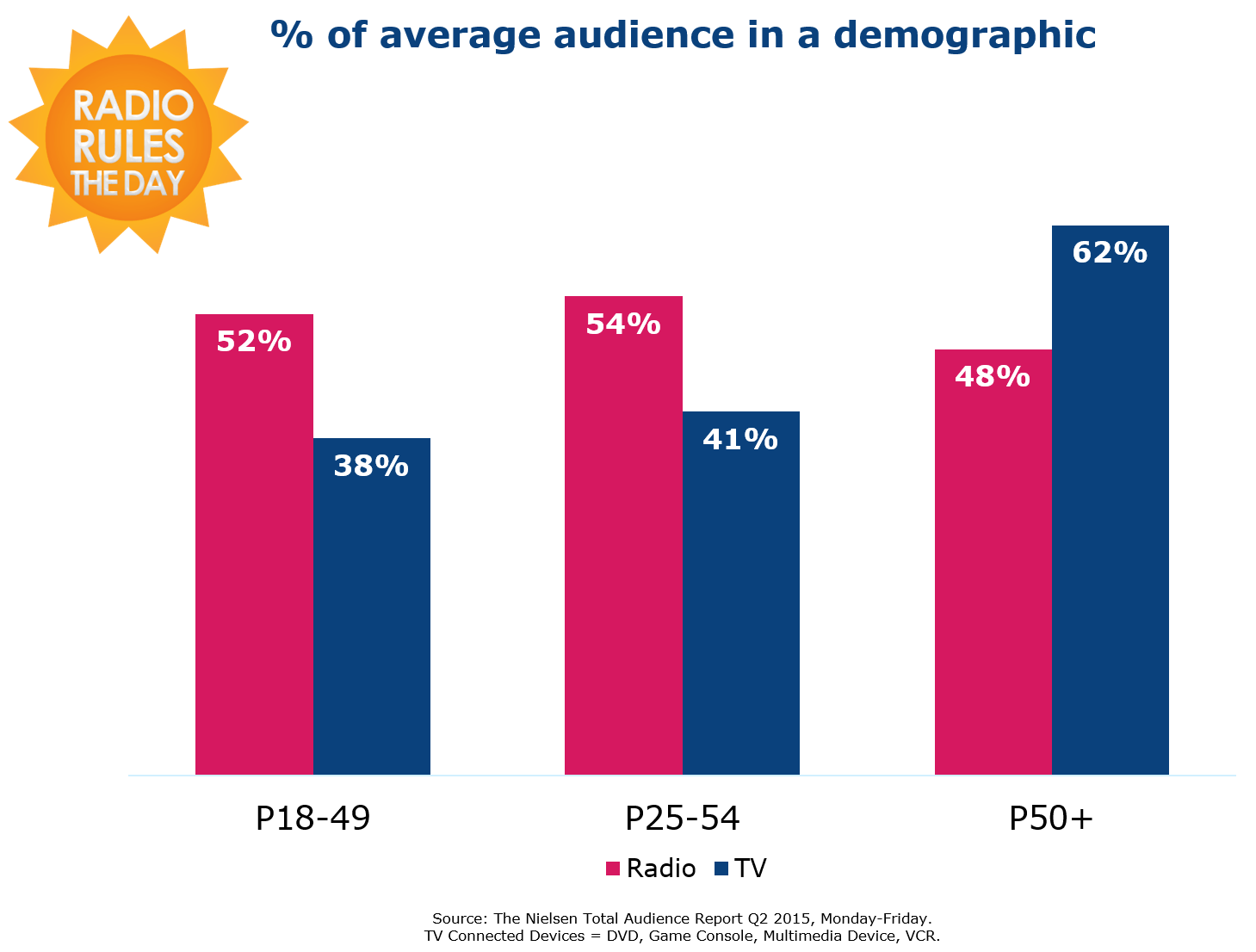 4. Smartphones, tablets, and PCs have good daytime reach, but weak share of media time spent.
Conversely, radio reaches the masses then holds their attention.
With Nielsen's new hourly data, we can examine conversion of reach into media time spent. The below graph shows how many people are reached by each media and the share of media time spent.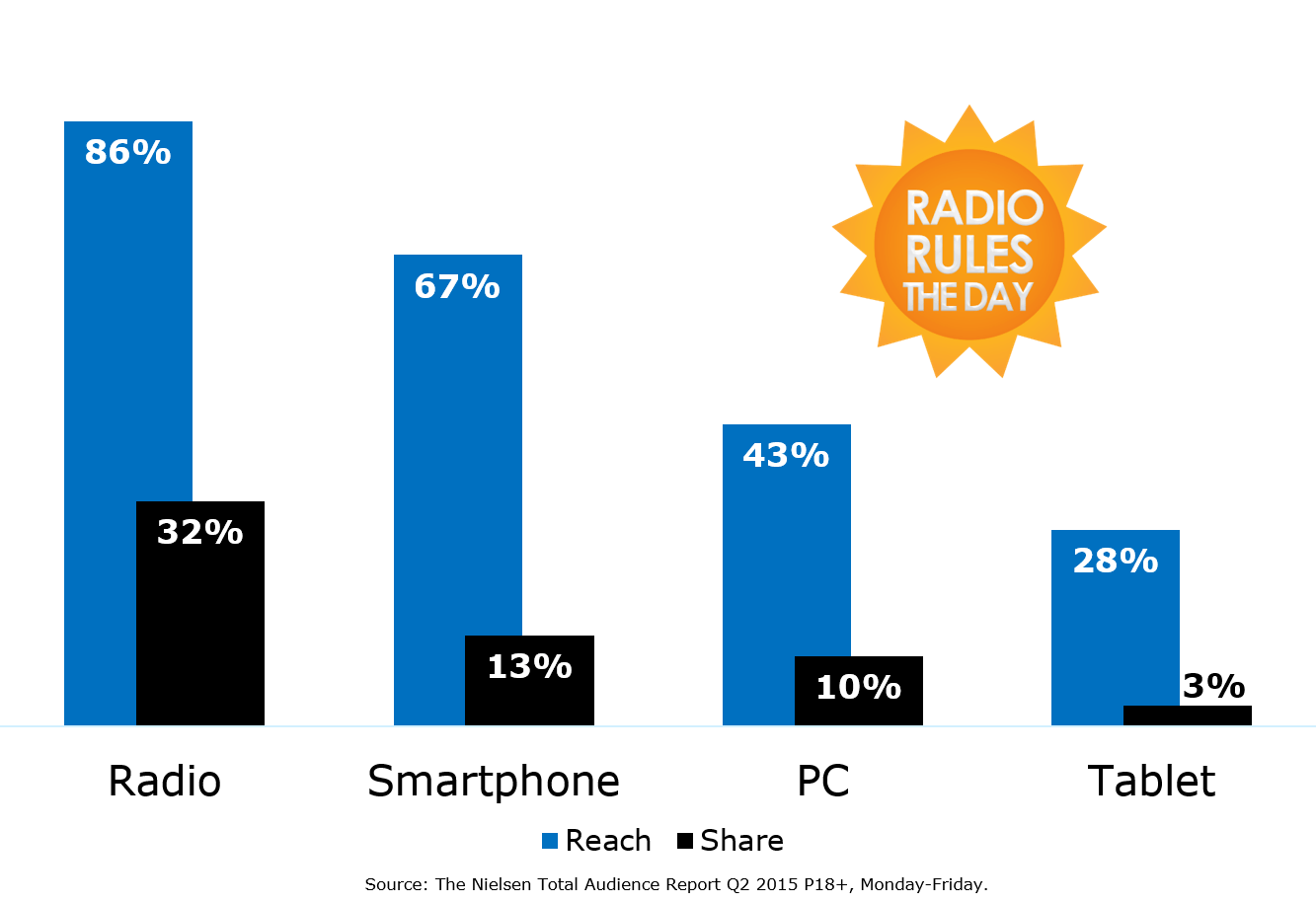 Radio delivers reach and share
While two-thirds of 18+ Americans use smartphones during the day, their share of media time spent is only 13%. Radio outreaches the smartphone 86% to 67% during the day. Radio's daytime share far exceeds smartphones(32% to 13%). Smartphones have decent daytime reach but low time spent resulting in low share.
In fact, all the digital devices experience reasonable levels of reach, but convert to low shares due to low time spent. The chances of an advertiser reaching a consumer during the day on a digital device is challenging due to the low share of media time spent.
Radio is number one in reach and share during the day, making it the best way to reach consumers during key shopping hours.
Massive audience shares from sun up to sun down. A younger, employed audience. Conversion of reach to share that towers above other digital devices. Radio rules the day.
Pierre Bouvard is CMO of Cumulus Media | Westwood One. Follow him on Twitter.