Are Radio Listeners The Engine Of E-commerce? A Look At Amazon Prime Day And E-commerce Upstart Jet.com
Last month was a busy one for e-commerce. First, Amazon broke records with their first-ever Amazon Prime Day sale on July 15, 2015. Amazon's ad campaign created big awareness and sales. Six days later, Jet.com, a new e-commerce entrant, launched with a blast of PR.
The New York Times said Jet.com represents "a frontal assault on Amazon … Jet's promise is simple and … potentially momentous: to offer the absolute lowest price on just about everything."
While these two events were very different — Amazon Prime Day was heavily advertised and Jet.com launched just with PR — there was one surprising common aspect: radio listeners.
Jet.com: Radio listeners showed up fastest to the game
Two weeks after Jet.com's July 21, 2015, launch, market researcher Ipsos surveyed Americans to get an early look at awareness and usage of the new shopping site. Ipsos compared awareness of Jet.com among heavy/medium media users.
The findings? Radio listeners were most aware of the new website! Twenty-one percent of radio listeners were aware of Jet.com followed by TV viewers (14%) and Online users (13%).
What about Jet.com site visitation?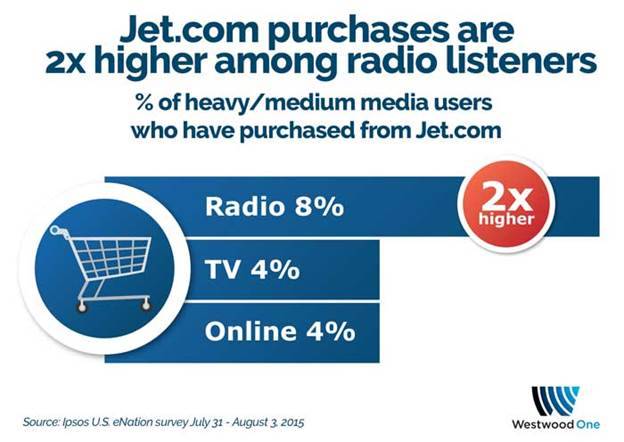 Up until this point, Jet.com had not advertised. Awareness and visitation occurred as a result of news media exposure and word of mouth. Compared to TV viewers and online users, radio listeners were more likely to be aware, have visited and made purchases at Jet.com.
Amazon Prime Day: Radio did the best job converting awareness to purchase
Amazon advertised its Prime Day sale event on television, online and radio. According to another Ipsos study, radio was most effective at converting awareness into Prime Day Purchases!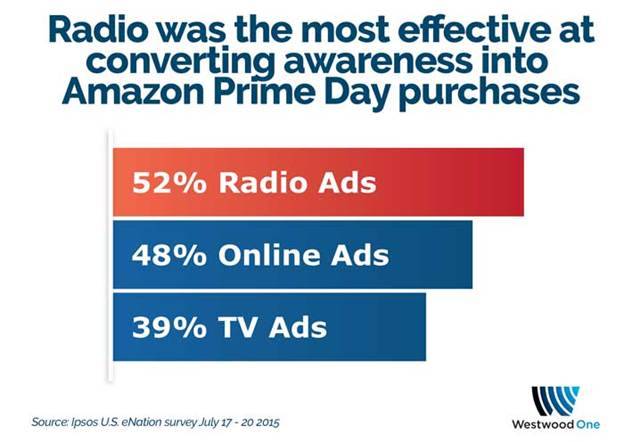 Of those exposed to radio ads, 52% made a purchase versus 39% of consumers exposed to TV ads and 48% of consumers exposed to online ads. Radio's "cost per awareness point" was nearly twice as efficient as TV.
So what is it about radio listeners and e-commerce?
A new e-commerce site launches only with PR and radio listeners come flocking to Jet.com. Amazon advertises its Prime Day sales event, and radio has the highest conversion of awareness to purchase.
One explanation could be busy working persons with families. The profile of the e-commerce shopper and radio listener are a perfect match: working Americans with larger households and $50k+ income.
According to Nielsen, 77% of radio listening comes from people that work full- or part-time. Compared to heavy television viewers, radio has a much heavier concentration of working persons with families.
People who save time by shopping online are working and on the go – just like radio listeners. As the soundtrack of the American worker, radio is the engine to reach online shoppers.
How can radio help drive online sales for you?
Pierre Bouvard is CMO of Cumulus Media | Westwood One Follow me on and .
Twitter | LinkedIn