Guest Post By Zach Sang: 5 Strategies To Reach Millennials Through Radio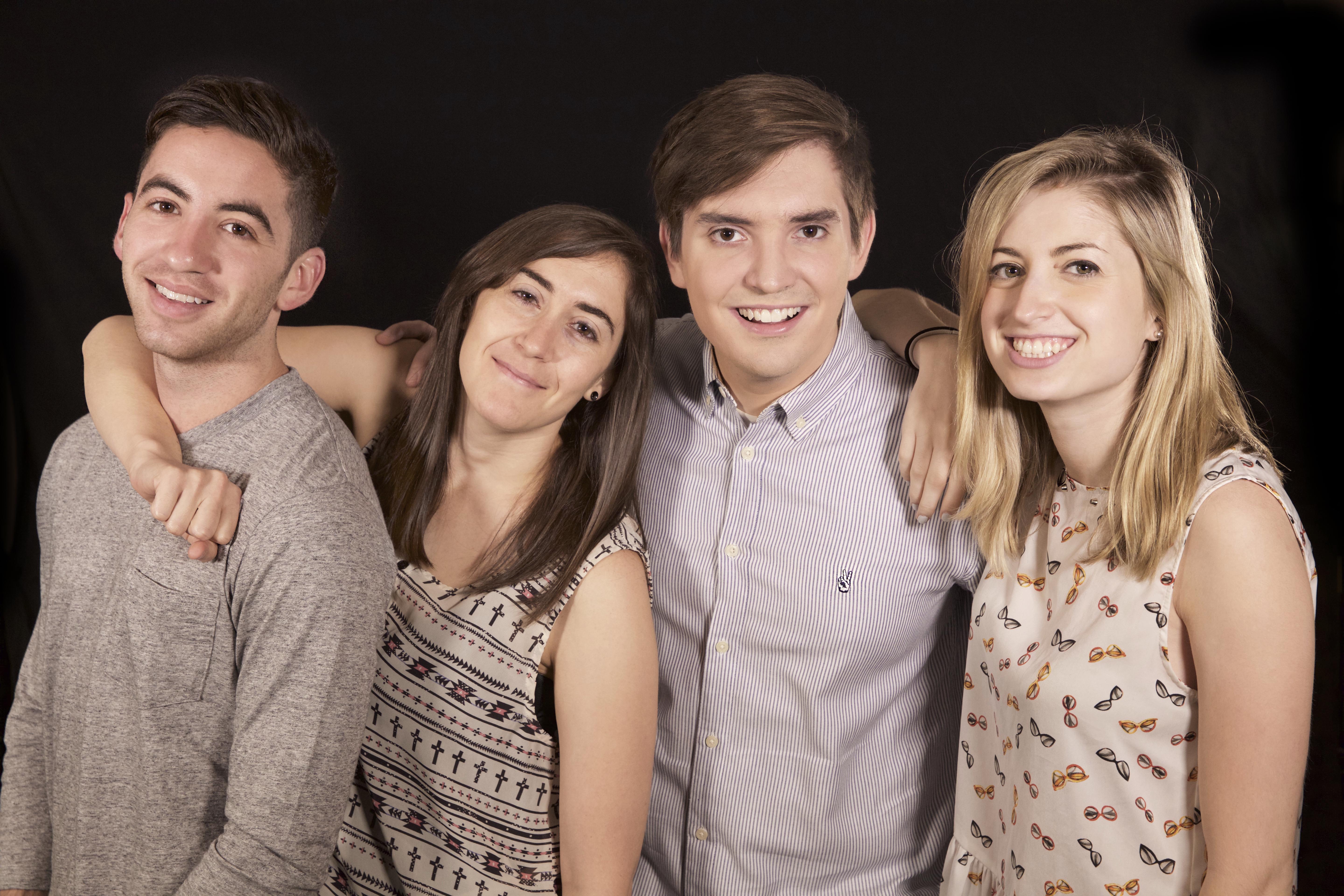 'Zach Sang & the Gang' is a show for Millennials, by Millennials.
From left to right: Dan Zollot, Heather Connor, Zach Sang, Jillian Gutowitz
A note from CMO Pierre Bouvard: Today we are handing over the blog to Zach Sang, host of the nightly "Zach Sang & the Gang" radio show. Zach represents the younger generation of radio, and always puts "social first" in his radio program in order to reach younger listeners.
Zach is a social media influencer with a robust following among Millennials. We looked at Nielsen's N-Score data, which ranks celebrity influence, to prove this. When compared to other radio personalities, Zach ranks above average in all categories among 18- to- 34-year-olds (likeability, dependability, role model – even good-looking).
I asked Zach to share his advice for marketers about how they could be more successful at reaching his coveted generation.
by Zach Sang
If someone says "young people don't listen to radio" they're wrong. Radio is THE number one mass reach medium for Millennials, reaching 93% of adults 18- to- 34, followed by smartphones. As a Millennial myself, I can attest that I don't' watch as much live TV, but radio is still very much a part of my life. Meanwhile, we're also tweeting, texting, Snapchatting … So how can you as a marketer reach this highly valuable and distracted generation?
I started my radio show almost eight years ago from my bedroom as a 14-year-old radio fan. Since then I've tried to construct a radio world for Millennials by Millennials. As I immersed myself in the online and on-air radio world, I learned a few things about my generation that stations and marketers might find useful.
#1 Be a Part of the Show
You hear the term "native advertising," and it applies to Millennials more than ever. Younger listeners want product placement to be authentic — even if we know it's a product placement.
At Zach Sang & the Gang, we continue to work on how to present brands and products in a genuine way. We've found that live reads about a product in our own voice are way more effective than a script. And sometime you don't even need the voice.
For example, we recently did live endorsements for Pure Silk Shave Cream and approached it in a way to weave the product in the show. Check out this tweet from a listener who heard us talk about it on air: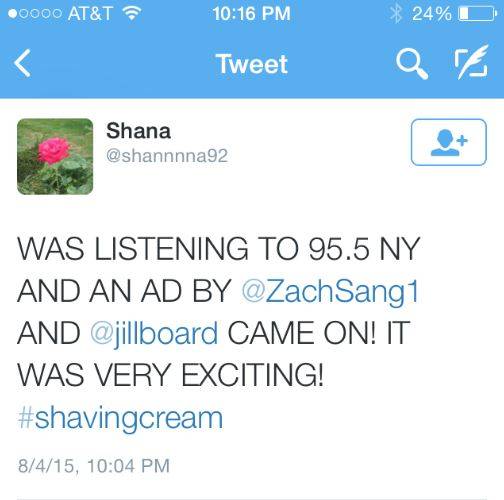 #2 Engage with Listeners on Every Platform
As Westwood One's VP of Social Media, Lori Lewis, always says, "It's critical for brands to understand what your audience is doing when they may not be listening to you. It's more than just Facebook."
The latest Nielsen study shows that 18- to- 34-year-olds use two media the most: radio and their smartphones. I like to say we don't just do one show – we do six shows in one. We aren't just on the radio: we're on Snapchat, Twitter, Facebook, Instagram, YouTube, and more. For brands, we look for ways to make them a natural part of the stream. For example, talking about a product on the air and then also sharing pictures of the product in the studio across our social channels.
On a recent show, we noticed a trending topic on the Internet of "granny panties" outselling thongs. Our two female gang members, Jill and Heather, created a video where they analyzed their underwear in a YouTube Video and then discussed it on air with listeners while also tweeting about it and sharing the video on Facebook. Cross-platform conversation — and that was just about underwear!
#3 Get Personal
Millennials, especially on the younger side, grew up in a world of sharing personal experiences. I love to connect with my listeners on a personal level. It's all about keeping it real. They are having their first break-ups, getting their first jobs, going to college – and so are we on the show! It's totally relatable because we're sharing the same experiences.
I once challenged the audience to call their best friend and tell them what they mean to them and why you like them. The touching stories were amazing. You'd be surprised by the level of engagement you get when you bring your listeners into the conversation.
#4 Stay Involved & Invest in the Community
Millennials are known for being a socially conscious and collaborative generation, passionate about issues like LGBT rights and the environment. The radio is an easy place to start a conversation about topics that genuinely interest us.
For example, when the Supreme Court recently ruled to legalize gay marriage, we threw an on-air party to celebrate "love is love." It was a shared watershed moment for our generation — "where were you when you found out that love won?" When you can integrate a brand that supports the same causes, the synergy is seamless and amazingly effective.
#5 Connect to the Stars & Add to the Conversation
Considering the stereotype that Millennials have a short attention span, I'm amazed at how many people will watch long-form videos of artists in our studio. A constant stream of pop stars and celebrities come into the studio for crossmedia discussions on the air, social, and video — Kendall and Kylie Jenner, Iggy Azalea, R5, and Kelly Clarkson, to name a few. Our video views number in the millions.
Connecting to stars is a proven way to grow your following. When Hillary Duff stopped by the other day, we saw the number of people who follow us on social media go up. According to the social data site Affinity Answers, my common fan growth with Hillary went up 188.4%. After Selena Gomez was in the studio last month, our common fan growth went up 246%!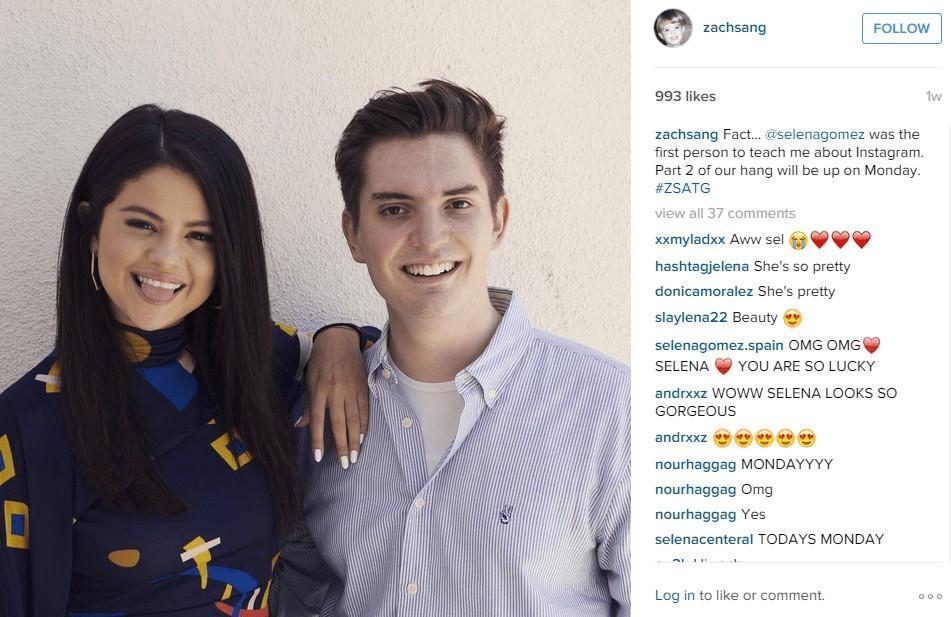 Brands should ask themselves, how can I connect to what people are already talking and tweeting about? We know that artists, causes, and personal sharing are the tickets to Millennial minds, so become a part of the conversation…and the next generation will follow.
Zach Sang is the host of "Zach Sang & the Gang," airing nightly on radio stations across the country.