NFL On Westwood One Reaches 1 Out Of 5 Men 18-49 In America
by Pierre Bouvard
We know that the NFL on the radio reaches millions of fans. We've never known how audience accumulates during a game and across the season.
Radio audiences are only reported for average weekly estimates. We never see how radio audiences build over time.
For the first time ever, Westwood One, the official audio partner of the NFL, partnered with Nielsen to understand how audience reach grows through the season.
Here are some of the findings:
The NFL reaches 6 million listeners (persons 6 and older) in the first weeks of the season — unique reach soars to more than 21 million over the course of the season (a 3.5x increase). Once the playoffs heat up, NFL coverage attract 5 million new, unique listeners.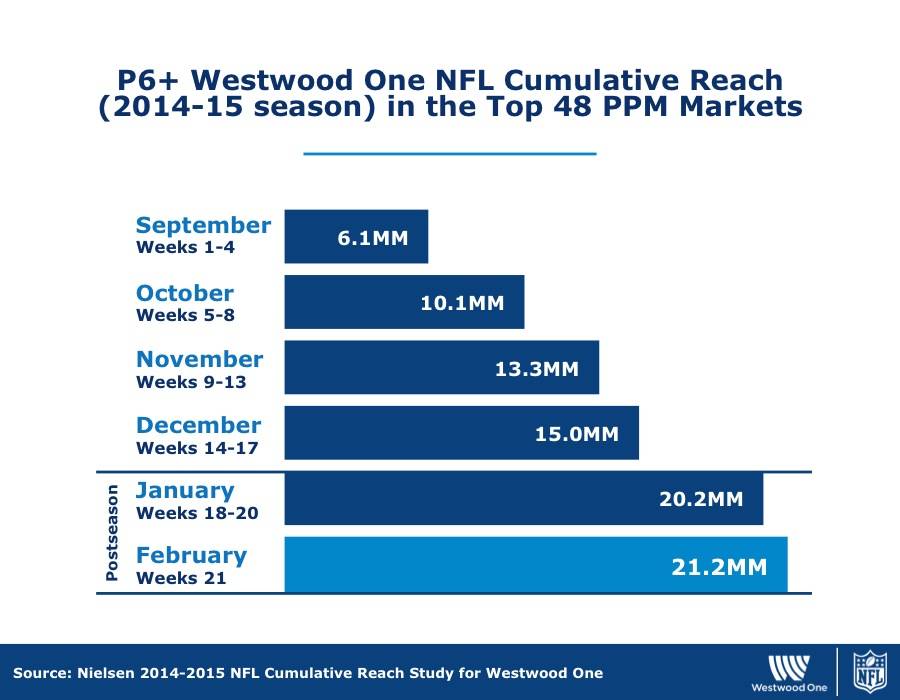 The NFL on Westwood One reaches one out of five men 18-49 in America! The NFL on Westwood One reaches one out of four men 35-64.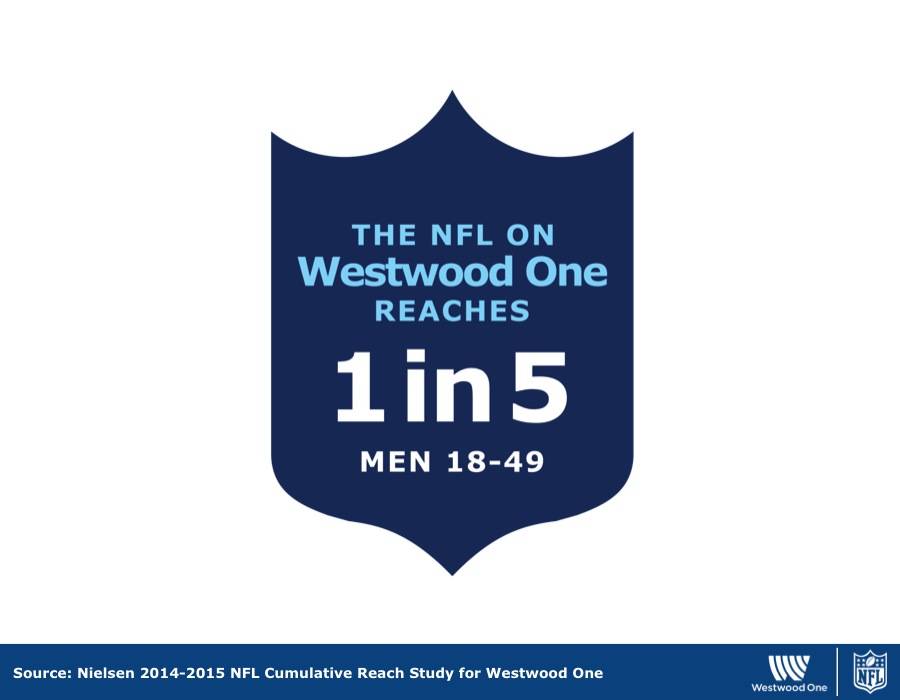 Nearly 80% of NFL on Westwood One tuning occurs away from home.
Radio is the "best available screen in car" for catching NFL coverage. Nielsen location of listening analysis reveals that 35% listen both at home and away from home; 43% listen only away from home.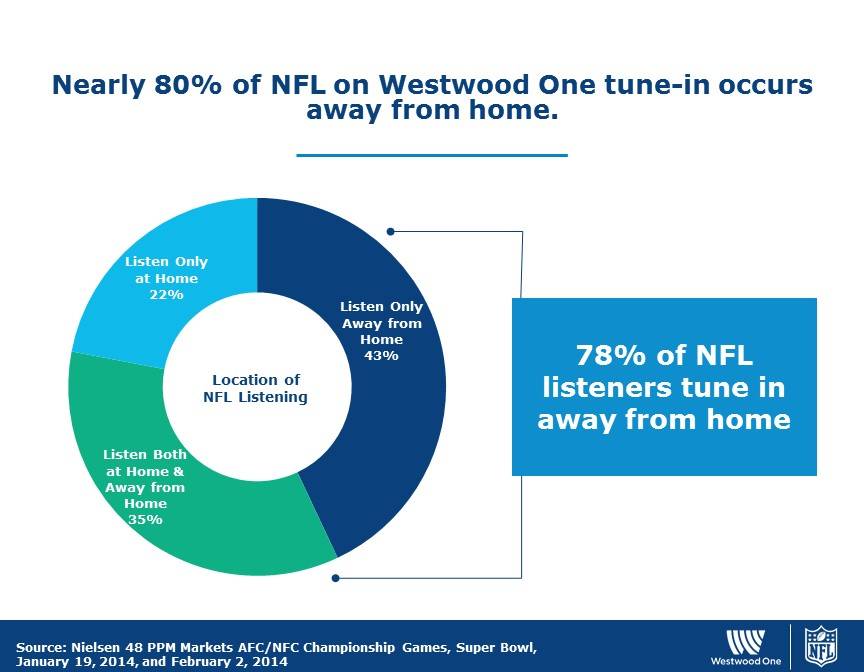 With a large amount of tuning occurring in-car, unique audience builds throughout a broadcast as fans tune in throughout the course of the game. We catch different listeners during different segments of the broadcast.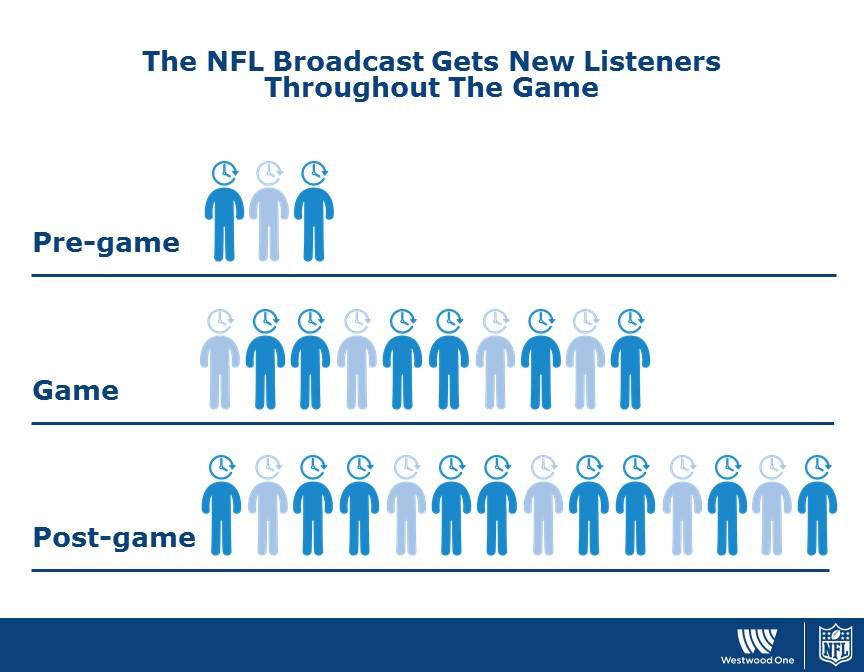 The moral of the data? Season-long advertiser investment yield significant reach. Buying deep in the broadcast and long in the season results in massive reach.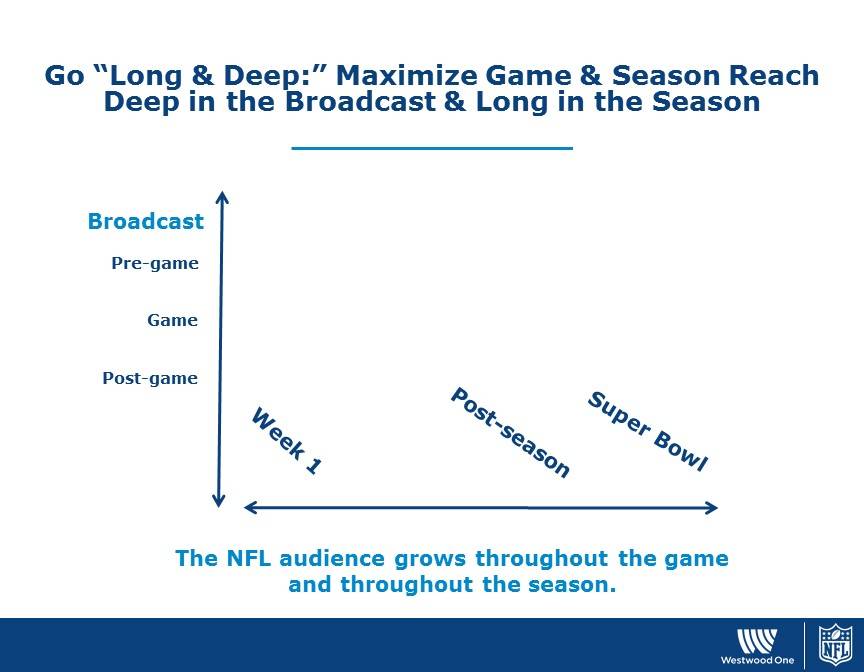 How this study was conducted
This study is a historic first. This is the first time a panel unification has been conducted by Nielsen for sports on the radio. Panel unification is somewhat like making a sauce reduction in the kitchen. In cooking, a reduction is the process of intensifying the flavor of a sauce by simmering and evaporating.
Nielsen started with the 80,000 person Portable People Meter panel and looked for respondents who were in the panel through the entire NFL season. In addition, Nielsen insured PPM respondents met the panel qualifications. This process is called sample unification. This means panelists used are both in-tab and in-sample for most or all of the days used in this analysis. The final sample for this study consisted of 6,700 PPM respondents who met all the qualifications.
It's important to note that this study only looked at Nielsen's top 48 Portable People Markets. This study did not include all the audiences in the other half of the U.S. population that are measured by one week diaries. Nor did the study quantify the reach accumulation via Westwood One's NFL streaming platforms and SiriusXM.
Pierre Bouvard is Chief Marketing Officer of Cumulus Media | Westwood One.