Did You See What Netflix & Pandora Did Last Night? How Streaming Stacks Up To Radio & TV
Did you see what Netflix and Pandora did last night in the Nielsen overnights?
The answer is no. That's because Nielsen doesn't rate streaming services.
Nielsen's overnight TV ratings just include cable and broadcast networks and shows, no Netflix. Nielsen's radio ratings (formerly Arbitron) only include AM and FM stations, no streaming radio services like Pandora.
But check this out: here's a ranker from the April 27, 2015, Ipsos MediaCT's TV Dailies service, which includes viewing to streaming video. The table below refers to any viewing within the previous week. (TV Dailies is a syndicated service from Ipsos MediaCT that tracks awareness and interest in upcoming new and returning TV shows weekly among a representative sample of 3,300 TV viewers ages 13-64.)
Past Week Network/Service Viewers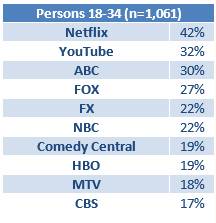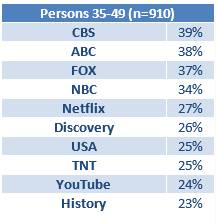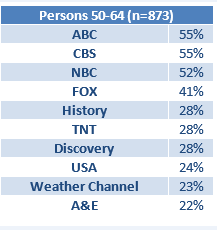 Source: TV Dailies, Ipsos MediaCT; April 27, 2015
Among 18-34s, the top two TV networks in reach are Netflix and YouTube! Among 35-49s, Netflix is number five and YouTube is ranked 9th.
Is Netflix viewing having an impact on linear television?
Some on Wall Street think so. Alliance Bernstein reports Q1 2015 18-49 cable and broadcast prime TV ratings are down 10.5% over the last year. Kids cable networks (2-11 total day) are down in Q1 2015 a whopping 17.7% over last year. Todd Juenger of Sanford Bernstein delivers an ominous conclusion:
"We believe the U.S. television industry is entering a period of prolonged structural decline, caused by a migration of viewers from ad-supported platforms to non-ad-supported, or less-ad-supported platforms. We favor companies that have the least exposure to U.S. advertising, the most exposure to sports, and advantaged positions internationally."
Some say the TV ratings erosion is occurring because Nielsen is not yet measuring tuning on new distribution platforms such as on gaming devices, tablets, and smartphones.
Rich Greenfield from BTIG research cites Alan Wurtzel, president, Research & Media Development, NBCUniversal, who marvels, "I have to give Netflix huge credit, when we ask consumers do they like the service, they don't like it, they love it … I've always been concerned with the fact that by selling our product to Netflix it's always been a double-edged sword. We are teaching consumers a behavior that will come back to kill us."
Are streaming services having the same impact on AM/FM as Netflix is on TV?
To answer that question, Edison Research, the firm behind the 20-year annual tracking study of online audio, "The Infinite Dial," has fielded a study called "Share of Ear." (Edison is the firm that conducts all the exit polls for all American elections for ABC, CBS, CNN, Fox, NBC, and the Associated Press.)
How do Americans allocate their time to the various sources of audio available to them? AM/FM is eight times bigger than Pandora.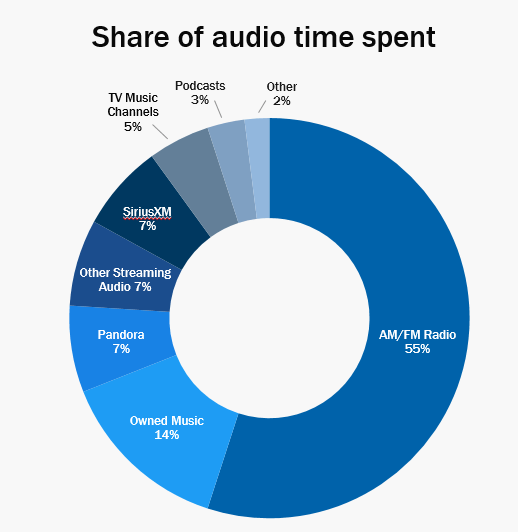 Source: "Share of Ear," Edison Research, Q1 2015
From the just-released Q1 2015 "Share of Ear" study, Edison reports Americans' share of audio time spent goes first to AM/FM at 55%, followed by consumer-owned music at 14%.
Despite its notoriety, Pandora's actual share of listening is quite small — the same size as SiriusXM satellite radio and a little bigger than time spent with cable music channels.
How does Pandora's daily reach compare to AM/FM Radio? AM/FM's daily reach (74%) dominates Pandora's daily reach.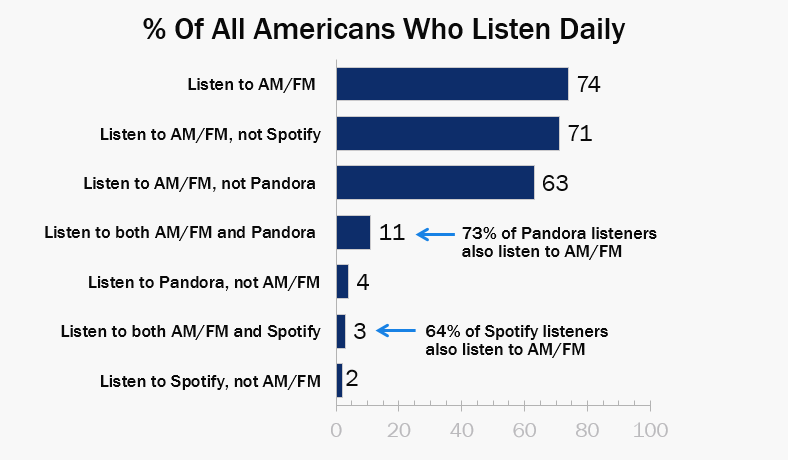 Source: "Share of Ear," Edison Research, Q1 2015
Eleven percent listen to both AM/FM and Pandora, while only four percent of Americans are reached daily by Pandora and not AM/FM. A majority of Pandora (73%) and Spotify (64%) listeners also listen to AM/FM. Few Americans are reached daily by Spotify (5%).
Why isn't Pandora having the same impact on radio as Netflix is on television?
Some assert Netflix is succeeding based on exclusive and popular content, such as the wildly popular "Orange is the New Black" series. "Daredevil," which debuted recently on Netflix, is its 17th original series. According to The New York Times, Netflix is planning 320 hours of original programming in 2015 — about three times what it offered last year. If the television networks stop selling shows (to Netflix), CEO Reed Hastings says, the company has a game plan: "We just do more originals."
Pandora, on the other hand, does not seem have a corner on exclusive and popular content to the extent of Netflix. No doubt, the music service seems to be replacing time spent with consumer's own recorded music. Netflix has a handful of competitors (Amazon Instant Video and Hulu), but Pandora has a whole bunch of competitors, and more emerge by the day.
Thank you Ipsos and Edison for measuring what's not currently reported.
While Nielsen does not currently measure Netflix and Pandora, kudos to Ipsos and Edison for quantifying the actual magnitude of streaming services. In television, it's clear Netflix is having a major impact, especially among younger viewers. In radio, Pandora and Spotify have a small niche, but are dwarfed by AM/FM.
Pierre Bouvard is Chief Marketing Officer of Cumulus Media | Westwood One.