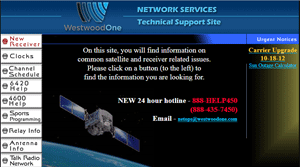 If you are a current affiliate looking for broadcast-related support on the Wegener platform:
Other Technical Support
We're here to help! If you have any questions regarding schedules, affidavits, or commercial and spot audio, please use the form below to email our Operations Team or call (1) 888-HELP450 (888-435-7450).
Option 1 – Satellite and Storq delivered services
Option 2 – Show prep/Commercials
Option 3 – Affidavits
Option 4 – TM Studios
Option 5 – Radio Voodoo
Option 0 – Further assistance
Westwood One affiliates having broadcast issues can call:
Broadcast Center 24-Hour Technical Support – 1.800.877.0007
Need help getting set-up for commercial and spot delivery from Westwood One's Content Delivery Network?
Westwood One prides ourselves on excellent customer service, both day & night. We offer hundreds of formats, programs, and services. Please help us direct you to the right person who can answer your question. Choose from the list of departments below or use the "Other" field to narrow the subject down. Once submitted your email will be forwarded to a team member that will respond to you right away. (To direct your email faster, please be sure to designate a reason from the drop down menu below.)